In need of some easy dinner recipes? Cooking can end up being a far too stressful when you're cooking for a whole family. For some, the element of time is not on their side. For others, the main goal of their food shop is to buy as many ingredients as they can at their cheapest price, but can leave you feeling unsure of what to make or making repetitive meals.
Well, after previously submitting her story to our This Is Family series, Meraymi returns to the Happity blog and has been kind enough to send over some cheap and easy dinner recipes. Including a hearty bean chili, a tasty baked yoghurt chicken, and an easy roasted tomato pasta. They have care, heart, and absolutely anyone can cook them.
Thanks Meraymi. Chow down everyone!
---
Being versatile is so important as it makes life easier and you don't have to stick to strict cooking rules because the result is always to get the dinner done with minimal effort without it being unhealthy or a huge strain. In my book, any recipe on a busy day that doesn't require chopping or washing up multiple cooking utensils and pots is always a bonus.
I hope you like these recipes. You can adapt and alter then to suit your, and your families, needs and they are really easy to put together. Enjoy!
---
Easy Dinner Recipes 1: Slow-Cooker Bean Chili With Rice
What I love about slow cooker recipes is you can just leave them to do their thing and you can go away and forget about it without the anxiety of thinking dinner will be ruined. This is one of them. This is great to batch cook and freeze for lazy days when you don't want to cook from scratch again. It also makes a fabulous packed lunch for working parents as it easily heats up in the microwave.
For this recipe I tend to use up my store cupboard ingredients. I always make sure to have a few tins of black beans, kidney beans or just mixed beans. All three work together or you can just use a variety of two. This also works if you want to do half beef mince and beans. However you would have to fry the beef separately before putting into the slow cooker.
The spices are how I like the strength of my chili with a bit of a kick but don't be afraid to experiment, add as much or as little as your family like, there are no rules! If you want to go extra with this add some smashed avocado, coriander, sour cream or even grated cheese.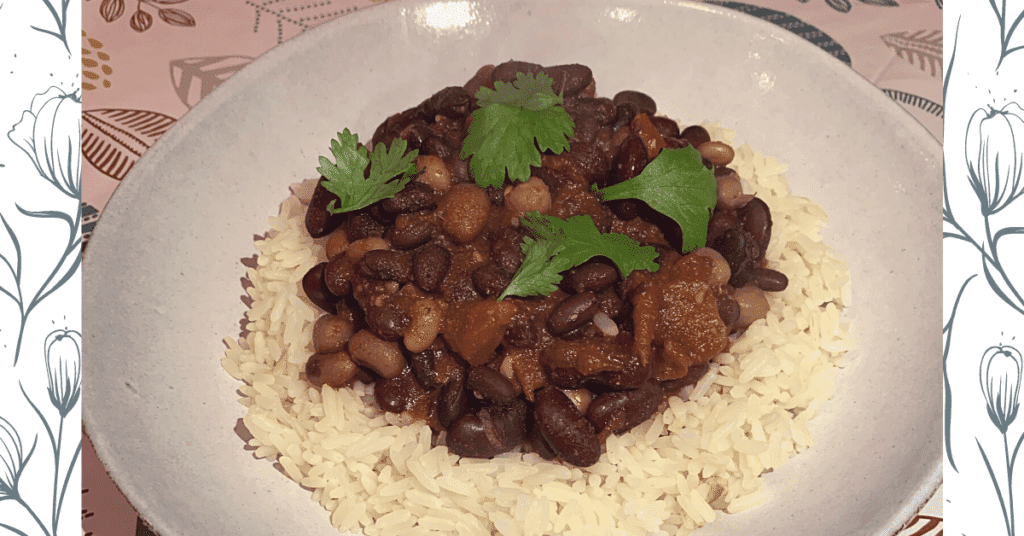 Ingredients:
Black beans (1 can)
Mixed beans (1 can)
Kidney beans (1 can)
Chopped tomatoes (1 can)
1 heaped teaspoon of paprika (smoked or regular)
1 heaped teaspoon of cumin powder
A teaspoon of chili powder
Half a teaspoon of ground coriander
Sprinkle of dried chili flakes
1 Beef or Vegetable (or vegetarian or vegan friendly) stockpot or cube
Water
Salt and pepper
(Serves 6)
1. Strain the beans and rinse before adding to the slow cooker.
2. Add the tinned tomatoes, garlic paste, spices and stockpot or cube with a generous grinding of salt and pepper.
3. Using the tomato can fill up with water and add to the slow cooker.
4. Give everything a stir and place the lid on. If you are preparing this 3 hours in advance cook on setting 2, for any longer setting 1. This can be left to cook up to 6 hours in advance.
5. Check every so often to give it a stir and taste, add salt and pepper to your preference and if any more spice needs adding go ahead. If the chili goes a bit thick for your liking just add a dash of water to loosen it up.
6. Serve with long grain white rice, or if you are using a cheats method microwave rice ! This also goes well with tortilla bread if you want to try something different.
---
Easy Dinner Recipes 2: Baked Yoghurt Chicken With Potatoes And Mushy Peas
This is a recipe for if you happen to have a little more time on your hands and don't want a stew or curry type dinner.
I hated peas growing up, I found them bland and uninteresting, I think if my mum had served them up like this I would have been more inclined to try them and enjoy them too! The creaminess of the peas on the side is so popular in my house it's one of my husband's favourites and he will make it with anything such as homemade fish and chips or steak. Yogurt gives it a nice texture but if you don't happen to have this, a knob of butter, dash of cream or crème fraiche will also do.
The core ingredients are the chicken, potatoes and peas but everything you cook with them can essentially be found in the store cupboard. The potato tray back I enjoy with red onion but can be done with a brown onion and sprinkling of cheese. Or if you have any other vegetables in the fridge to use up, please do! Peppers, courgettes and even aubergine pair very well, just dice up and add in. Or even just a side salad if you don't fancy the mushy peas.
Adding vegetables really does get your 5 a day in and I love roasting them it's just the easiest way to get them onto the plate.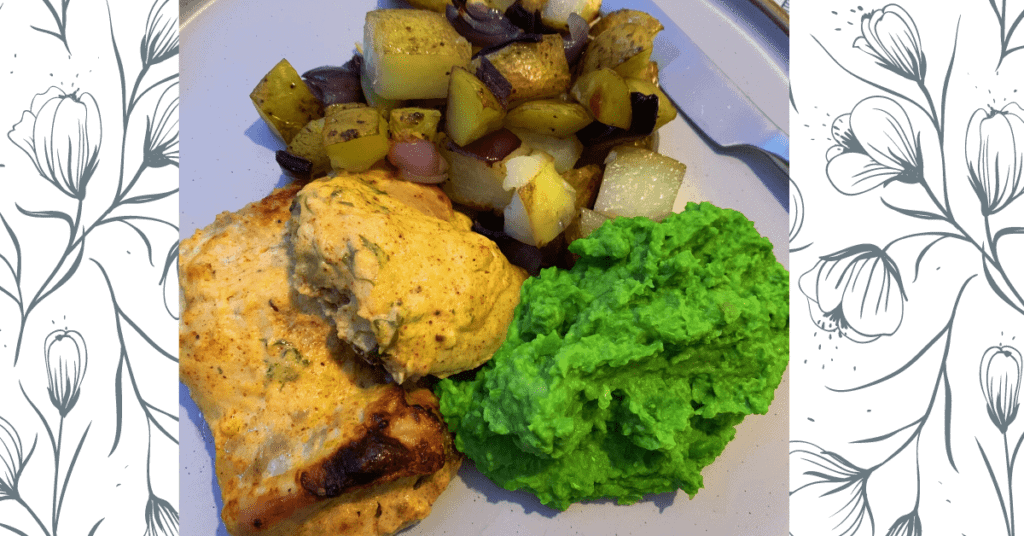 Ingredients:
6-8 Chicken Thighs
240g Greek or natural yogurt
500g-600g White potatoes
1 large Red onion
Olive oil
1 tsp Paprika
Garlic powder
1x Lemon
For the Mushy peas:
300g Frozen peas
1x tsp Garlic paste (optional)
1x tbsp Natural yogurt (optional)
Salt and pepper
(Serves 2 adults and 2-3 children)
1. Place the chicken thighs in a bowl and add yogurt, squeeze the lemon juice in with paprika, garlic powder, salt and pepper. Combine thoroughly, cover the bowl and keep in the fridge. You can make this ahead and leave in the fridge from 1-24 hours before using.
2. Dice the onion and put onto a separate baking tray. Roughly chop the potatoes into bite size cubes and add a drizzle of olive oil and season with salt and pepper give the onion and potatoes a stir so everything is combined.
3. Place the chicken on a foil lined baking tray. When the chicken cooks the fat from the yogurt will run out but this is fine as it will leave a nice coating on the meat. The foil just makes it easier to avoid spillage and discard it when it's finished cooking.
4. Place the chicken and potatoes into a preheated oven at 200 Celsius/ 180 fan/ gas mark 4 for 30 minutes. You may want to give the potatoes a stir half way through cooking.
5. Boil a saucepan of water and add the frozen peas. Once cooked drain and put back into the saucepan. Add a dollop of yogurt, a sprinkling of salt and teaspoon of garlic paste. Then blitz with a stick blender until you have a mushy pea consistency.
6. Serve with the chicken thighs, potatoes and peas.
---
Easy Dinner Recipes 3: Roasted Tomato Pasta
This recipe is incredibly easy and versatile. It's quick and can be done at minimal effort. It's ingredients can be picked up at bargain prices and can be batch made. Therefore if you are a bigger family or want to make a larger pot for freezing or leftover packed lunches (especially if you are working the next day) just double up on pasta, add another onion and throw in some extra tomatoes or even some red or yellow peppers.
I like to blitz up the vegetables into a sauce but this isn't compulsory and is just as good stirred in straight from the oven if you don't have a blender to hand.
Who doesn't love cheesy pasta? Any grated cheese will suffice, I tend to use whatever is available in my fridge at the time. Cheddar, mozzarella, Parmesan or even Machego! They all work beautifully.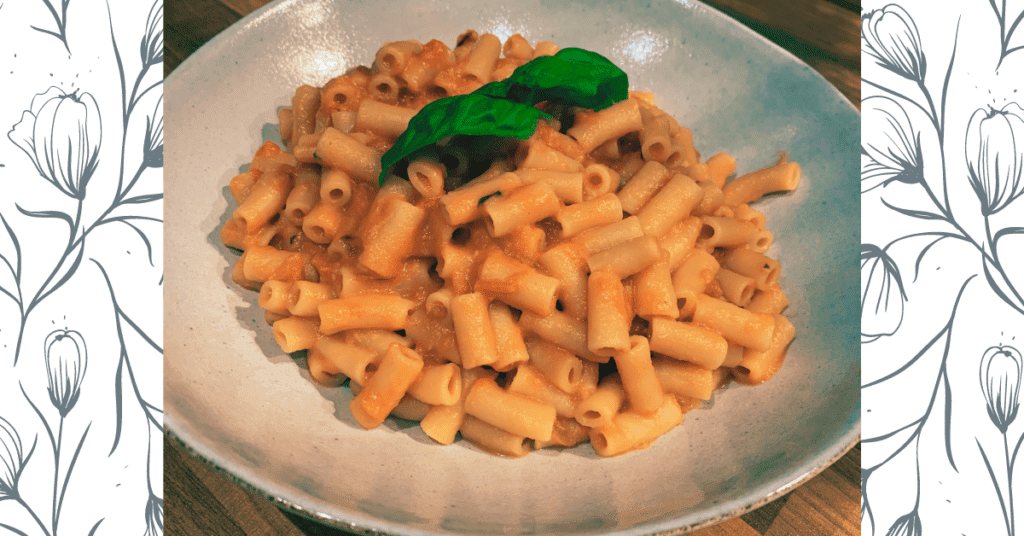 Ingredients:
5 or 6 tomatoes
1 punnet of cherry tomatoes
1 large red onion
4 garlic cloves
Olive oil
Salt and pepper
Fresh or dried basil
250g pasta
Single or double cream (optional)
Grated cheese of your choice
(Serves 2 hungry adults, or 4 children)
1. Quarter the onion and place in a baking tray with the tomatoes and garlic. Sprinkle over some salt and pepper and drizzle with olive oil.
2. Place in a preheated oven at 180 degree Celsius / 160 fan oven / gas mark 4 for 25 minutes.
3. Bring a large pan of water to the boil and cook the pasta according to the packet instructions. Once cooked drain.
4. When the vegetables have finished roasting, tip them into the empty pasta saucepan. Use a stick blender to blitz them all into a thick sauce, if you wish to go the extra mile by making it creamier add the cream to your desired consistency.
5. Toss in fresh or dried basil with a grinding of salt and pepper as you like. Then stir in the cooked pasta and serve with a generous sprinkle of grated cheese.
---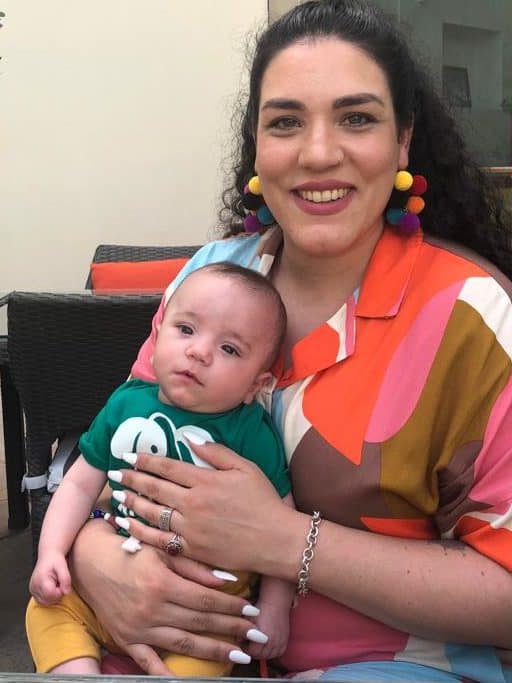 Thanks Meraymi for these great dinner recipes! You really have demonstrated that cooking a dinner for your family can be as easy as 1, 2, 3!
To help put a face to these recipes, Meraymi has also shared a picture with us of herself and her beautiful son, Matteo. You can follow Meraymi at @poetryinactionn on Instagram.
She has previously shared a story with us on our This Is Family series the past, offering some insight into what it was like having a premature birth. You can read that post here.
We hope that you give some of these recipes a go and can try something new today. Happy cooking folks!
If you find yourself trying out these recipes, then please do share your results on Instagram! And make sure to tag our page @Happity.co.uk!
---
If You Liked Meraymi's Post, You Might Also Like:
Matteo Arrived Early – This Is Family (Also Written By Meraymi!)
11 Totally Doable Ways To Fit Self-Care Into Your Schedule