Easy peasy Easter crafts for toddlers that you'd be hopping mad not to try!
With Easter just around the corner we've put together some super cute makes for little ones. From cheery chicks to little bunnies. All made from things you're likely to have in the house (or can buy really easily from craft stores or supermarkets)
Have fun!
Little egg box bunnies

These little bunnies would look gorgeous placed on top of boiled eggs at your Easter breakfast table. To make them cut out the egg holders from an egg box. Paint them white, grey or brown (acrylic paint covers really well). We cut the bunny ears from the pointy bits of the egg box and glued them to the back. We then added some finishing touches to our rabbits by sticking on googly eyes, a pom-pom nose and drawing on mouths and whiskers.
Cheery chicks

We love these cheery chicks! Cut an oblong out of card. Your toddler can have great fun covering it by sticking on yellow feathers. We picked up a pack from The Works for £1! If you don't have feathers then they could stick on scrunched up balls of yellow tissue paper instead. Once your chick is covered cut out little shapes for the beak and feet and glue them in place, popping on some googly eyes to finish.
Pretty printed flowers

This is such a fun way to print some cheery spring time flowers. Make lots of cuts (about 3-4cm long) along one end of a toilet roll or kitchen roll tube. Then fold back all the cut lines so that they fan out (see photo). Now for the fun bit! Your toddler can dip the flower 'printers' in paint and print onto a piece of paper or card. They can keep printing with different colours to make a lovely flower shape. To finish we painted the centres of our flowers in yellow.
Chirpy chickens

We love how characterful these little chicks are! To make them we folded down both sides of the top of a toilet roll to make a curved shape. Then painted the tube yellow. And to finish we glued on googly eyes, yellow feather wings and a little beak cut out from orange card. Your toddler might have all sorts of different ideas to decorate their little chick.
Tissue mosaic Easter eggs

This is a really simple and calming craft for little ones. Cut egg shaped from card and cut lots of little squares of tissue paper. Then your little one can spend a happy crafternoon sticking down the tissue to the egg, overlapping each square. Once they have finished decorating their egg and it is dry you can trim round the edges to neaten it up. These make pretty Easter cards or even Easter bunting if you make enough!
Funny bunny masks

Draw your mask on a piece of card and then cut it out. Cut out two large holes for your toddler to be able to look through. Then you can let your little one loose to decorate their funny bunny mask. They could cover their bunny face with little squares of white tissue paper, white pom-poms or cotton wool balls or even white feathers. Add a pom-pom for the nose. You can add elastic so that your toddler can wear their mask and hop about!
Easter crafts for toddlers: Hatching chicks

How cute are these little hatching chicks? We used corrugated card to make ours but plain card works too. Carefully break an egg shell so that you are left with the bottom half. Then take a strip of card and roll it into a tube – the right size to fit inside your egg shell. Cut out shapes for the wings, beak and feathers. Then stick all the little details on to your hatching chick. You could also make pom-poms from yellow wool and use them as the chick's body instead. Then stick on googly eyes and feathers to decorate.
"Handy" Easter greetings cards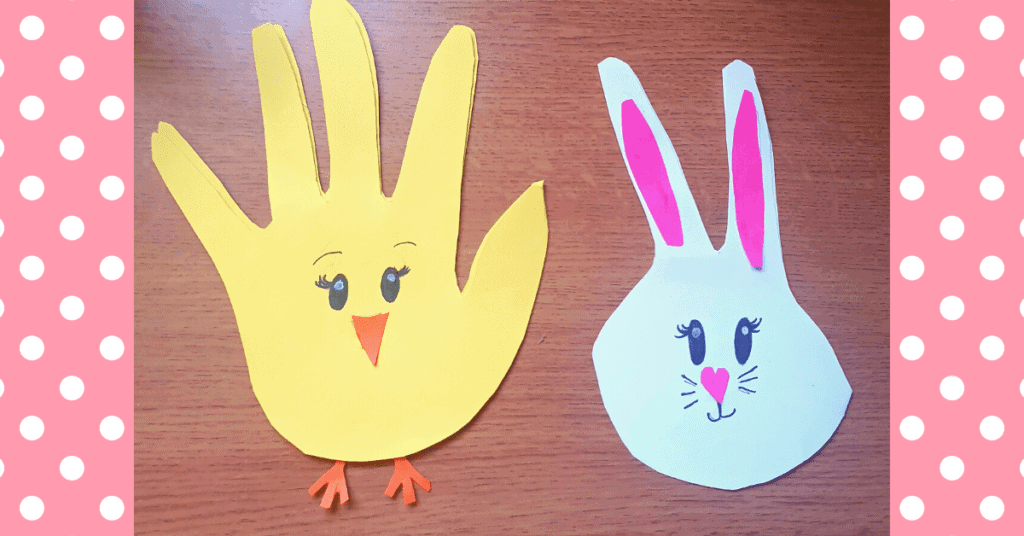 What a lovely card for your toddlers to give to a family member! Simply get your toddler to draw around their hand on a piece of (either coloured or white) card towards either the left or right of it. Fold over the card in half close to wear they have drawn around their thumb, and cut around the shape. Then, get your little ones to create their own cute little animal and hey presto! You have your very own "handy" Easter card!
A cup full of "hoppiness"- easy Easter bunny chocolate cup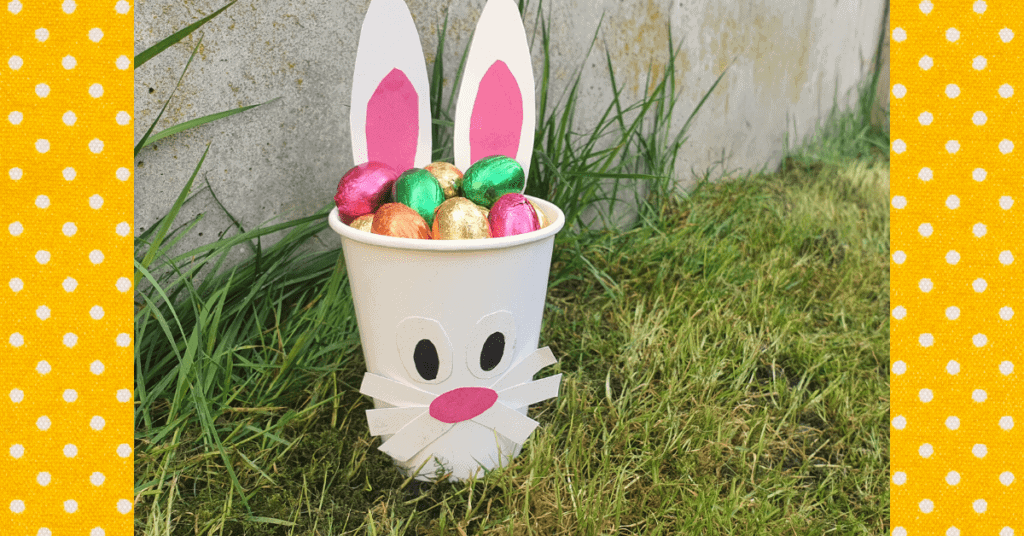 A lovely little friend to keep your toddler's chocolate treats in. All you will need is a cheap paper cup, some white and pink card, some child-friendly glue, toddler-safe scissors and a black pen for the eyes (Or googly eyes if you have them!) Cut out two ovals on white card, two slightly smaller ovals on pink card, and then some extra pieces for the features, and glue it all on! This is one of the Easter crafts for toddlers that can make some good practice for developing some of your child's motor skills -even if all they can manage right now is sticking the features on the cup. And the end result will help them feel chuffed with making a useful little friend that stores all their sweet treasure inside!
You Might Also Like:
9 easy & adorable nature crafts for kids
15 rainy day activities for little ones