Happity is a big list of little activities helping you to search for and find the right baby or toddler class near you. Whether you're looking to entertain your little one or want to go somewhere you can meet other parents, we've got all the info you need to get out and about. Fast!
Having started in April 2017 as a public beta in just 4 postcodes we've now got London covered with thousands of listings, and we're expanding all the time. When the pandemic hit we went UK wide as all our classes were online. And now we're growing and bringing Happity to all areas of the UK.
Find a baby or toddler class near you
How to search for classes and activities
We're committed to supporting parents in the early days by making this one thing super easy for you. All you need to get started is your postcode or location. Choose a particular day and enter the age of your child to focus your search. You can then use our nifty filters to hone in on the perfect class fast – whether that's a Drop-In, a Free Trial before you commit, something suitable for Young Babies or even an activity For Parents.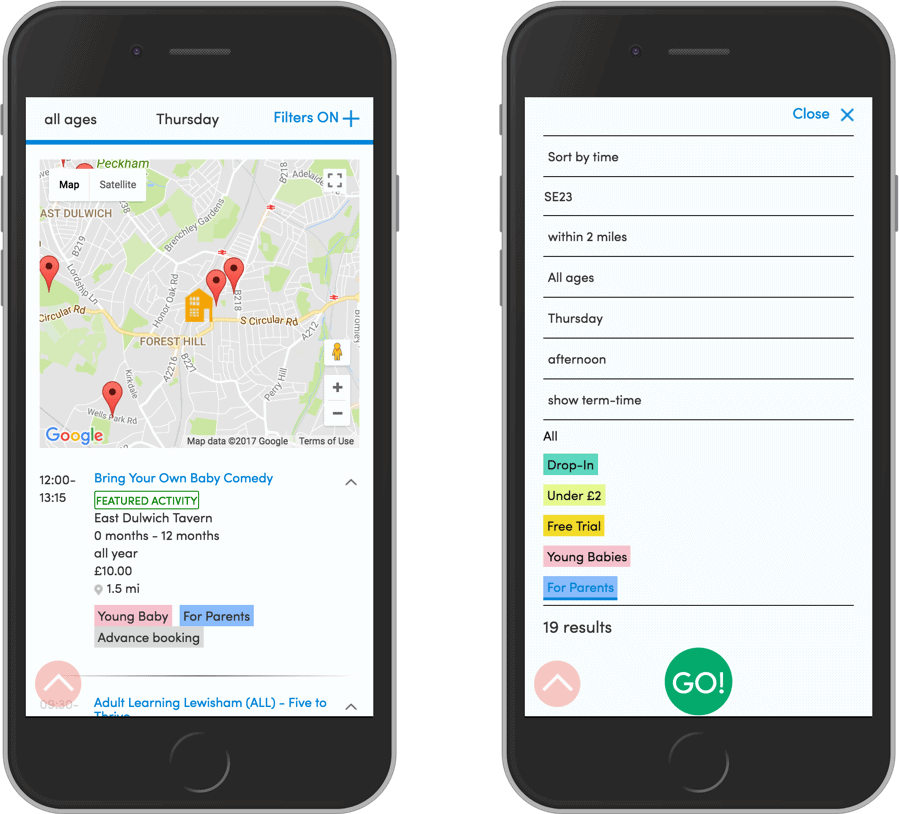 Browse
If you prefer, you can browse our listings by venue or by provider so that you can see what's happening with your local favourites day by day.
Where am I going?
Check out your search results on our handy map so you can see where things are and how best to get there.
Run a baby or toddler class?
If you're a provider and would like to list your class or group please register your details . With a Happity membership you get a whole heap of fantastic features. As well as extra marketing to help get your classes seen by more parents. We love to work with parent-led businesses and to explore ways to help your business grow – so don't hesitate to contact us!
Listing your classes is FREE!
And, if you choose to upgrade to membership (to use our booking system and get a whole heap of other benefits) then it's only £37.50 per year +VAT – with your first £500 of bookings commission free. Membership is FREE for charities and CICs.
Busy? Then we can get all your classes listed on Happity for you with our free VA service for anyone signing up to Happity for the first time.
Who are we?
Happity is powered by a team of flexibly working mums. Our founder Sara Tateno learnt to code when her son was 6 months old, while her husband took shared parental leave. She's passionate about finding #workthatworks and encouraging more women to consider careers in tech.
Emily is our other co-founder. As a PND survivor she is passionate about connecting parents through baby and toddler classes. Find out more about her story here.
Team Happity is growing all the time. We have welcomed several new team members over the past year. All who share our passion and drive to connect parents and support small businesses.
Want to get involved? Get in touch – we'd love to hear from you!
Visit Happity now to start searching for your perfect baby or toddler activity