Lockdown has been a rough time for everyone, especially mothers, families, and those providing baby & toddler classes. However, during these trying times, Happity has stayed hopeful. We have remained passionate and driven in pushing for the importance of baby classes.
Our fully remote working team has gone from strength to strength as we've welcomed more and more members into the family. What started off as a small support team has now grown with new faces bringing renewed energy to help spread the Happity name.
But, despite having been running since 2017, only a few of us had actually met in person! That is until recently…
Where did Happity, and it's passion for baby and toddler classes, begin?
Co-founders Emily and Sara set up the company as mothers themselves. Both understand the struggles that mothers go through with PND and the loneliness.
Both have had previous successful careers. Emily is a former employee at innocent smoothies and Sara is a former employee at BBC Radio One. But, the two of them were united (and we are so glad they were!) through their joint passions.
What was their mutual drive? To simultaneously help parents learn how to maintain their mental wellness while also providing an easy place to find baby classes. And, thus, Happity was born!
To read more about Emily and Sara's stories, click here!
Who is in our team?
Happity has welcomed many more likeminded individuals with the same ambition to help mothers through these difficult times. With this they have welcomed many members!
Nicola, the social media star (and a mother of two fully grown daughters) with a creative minds that has no bounds. Lisa, a mother and a true people person with a whimsical delightful aura. Sophie, a mother and a master of advertisement. Andy, a father and a tech wizard capable of several technical feats.
And then we also have our great team of young kickstarters!
Alex, a mother and an Admin superstar who can dot the i's and cross the t's like no other. Leanne, Happity's very own Bard, except instead of writing epic poems like Homer, she focuses on epic blogs. Jack, a marketing muse who brings his own creative flare to the marketing team.
Kayleigh; a zestful mind with a great passion for the work she does. And we recently gained a new member to our team: Adelayo! She will be Andy's assistant in the challenging world of tech support. She has a great passion for coding and can't wait to get stuck into the new tasks Happity has planned for her.
This has become known as the Happity family, and as you can tell, it will continue to grow exponentially in the coming years.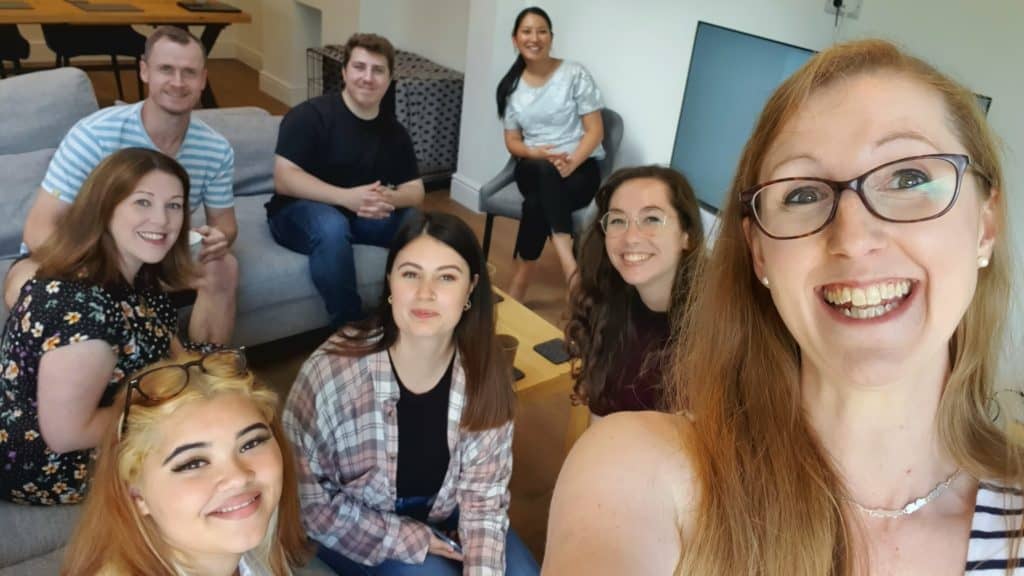 Team training (in person!)
Only a few of us had actually met before. With coronavirus having still been a risk, we haven't had the chance to, until now!
The opportunity to meet each other finally arrived on the 10th of August. Thanks to Lockdown restrictions being lifted we were able to celebrate Happity Day as a collective. We still remained vigilant however, each taking lateral flow tests beforehand to make sure we were preventing any potential spread.
The day started off with a team building exercise run by Sara. We looked at how we can better utilise our work time. This then led into a little quiz in which we were able to identify what type of workers we all were.
The results ranged from the prioritiser, to the planner and others such as the visualiser. This fun little quiz helped to give the team a better idea of how each of us works best and how we can better work together. (You can find out your own personality type here!)
Mental wellness with the baby and toddler classes crew
After putting our brains on full blast with the team building, we then took the opportunity to put them on ice as we went into a group yoga session to give us all an insight into the feeling of a clear mind and a method to relax. This involved a 10-minute meditation period, listening to guide talk us through the way we can engage our muscles and connect with our body while lying effortlessly on the floor.
After a glorious looking lunch, which Emily had generously provided for us along with a glass of prosecco each, it was Emily's turn to run a training session.
Emily conducted a session that helped us evaluate our own self worth and what we all value in our lives. As a trained life coach, she helped us to better grasp our aims and how we can all individually better ourselves through our day to day lives.
This would help us to gauge the values that Happity as a company also holds dear; through its commitment to helping with the mental wellbeing of all its clients.
It's not all fun and games working for Happity… Apart from when it is!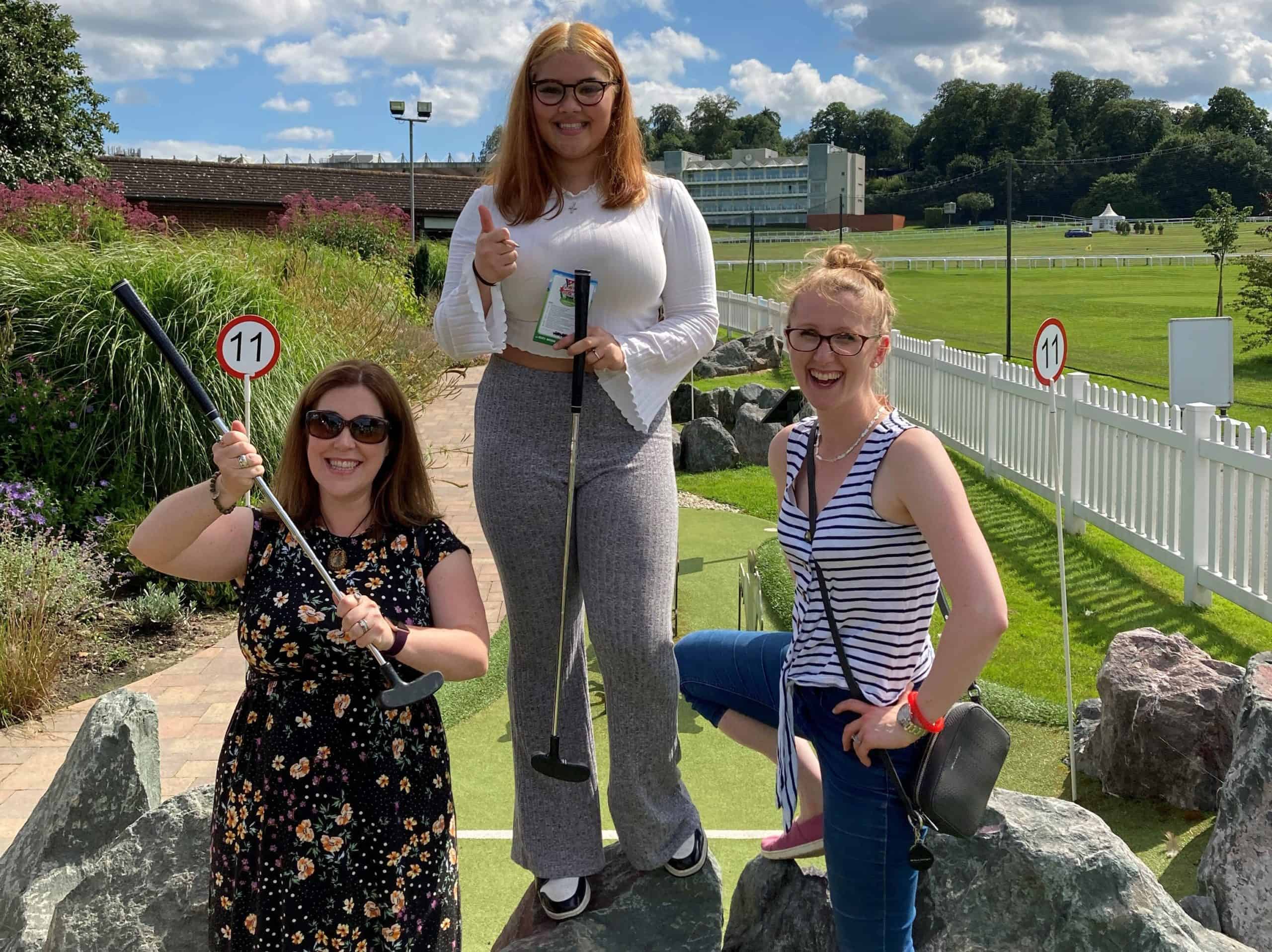 With the 'work', done it was time for the challenging part… Crazy golf!
All of us raced up to the golf course for a horse racing themed extravaganza. There were highs, there were laughs and there were miseries as we all realised that none of us were as good at golf as we had once thought.
At the end of the day Kayleigh was the official winner, yet all of us had a greater sense of victory.
We had come together on a lovely day to celebrate the work we had done and the company that we had grown to become accustomed to on what turned out to be a unforgettable Happity Day.
We had such a lovely day. And we've actually put a reel together showing you the best bits! Check it out here – and be sure to leave us a like and a comment!
Would you like to join our award winning baby and toddler classes team?
If our team sounds like a group that you would like to be a part of, then here's some good news: you could be! We have some great opportunities within Happity ready and waiting to be filled.
If you are aged 16-24, and are on Universal Credit, then check out our opportunities here. If you're 24 or over, check out our opportunities here!
Hopefully this will be the first of many Happity days for us to share!