Growing a baby means that your body changes pretty dramatically. You can end up with a mum tum (or baby pouch) that won't go away no matter how much you try. Or boobs that have changed in shape and size. Or wobbly bits that you never had before.
You spend nine months learning to embrace maternity clothes. Whether they flatter or hide your bump.
After birth – you face a whole new challenge in what to wear.
You could be clinging onto maternity clothes that are 2 sizes too big for your body. Or maybe throwing on outfits that you don't particularly love but also aren't taking too much thought away from your day.
But, at the same time, it's surprising how much of an influence your clothes have on things like confidence and self-love.
So how do we try and move past the panic in the morning and allow ourselves to feel more body positive? How do we feel good wearing the clothes we're wearing?
Leanne from Team Happity recently discussed this on a Happity lunchtime live. Read on to find out what she had to say on the matter!
---
It's tricky to feel body positive in the "no thoughts" outfit…
When time is precious, and we're against the clock, experiencing body positivity is pretty much an afterthought (or never-thought!). But sadly, when we also do have time, most of us aren't focusing on clothes. I think that we all have that same comfort outfit actually. The stretchy bottoms (probably maternity pants), t-shirt with a hole in it or a very visible stain on the front, and hair put up in a messy top-knot/pineapple bun.
There's nothing wrong with having a "No thoughts" outfit. It's easy to throw on, and is suitable for the routine gymnastics that the day will throw at us, as well of those few moments of calm where we can grab a cup of coffee and put our feet up. But, the unfortunate side to this outfit, as practical as it could be, is that it doesn't do tons for our confidence.
We don't feel our most fabulous in an old t-shirt and jogging bottoms. But after having that as your outfit, every day, for a significant period of time, it can actually be quite daunting to wear something else. Wearing a skirt in public feels like too big of a jump outside of the norm.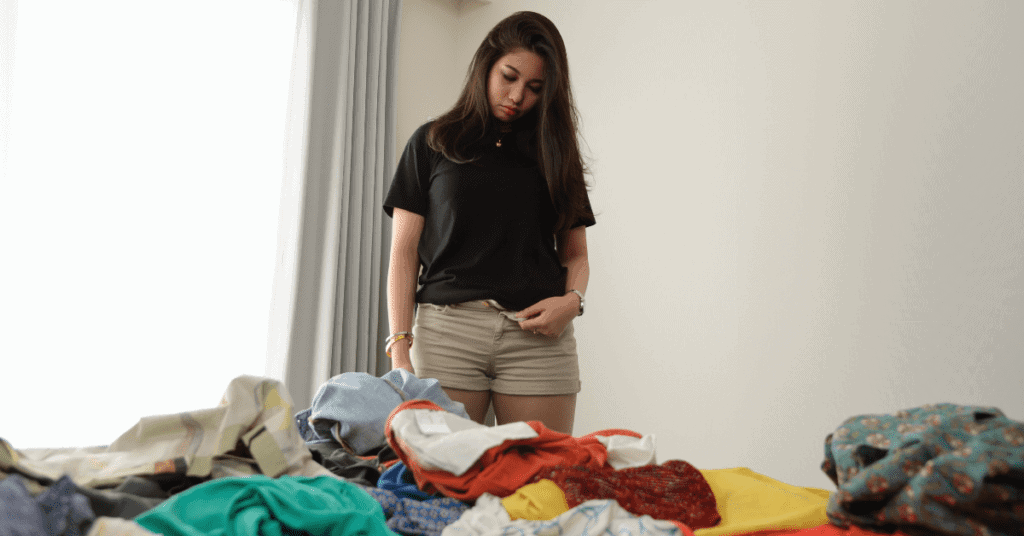 We can feel strangely afraid of clothes. It's too much additional pressure and stress added to the day to be worth the hassle.
One of the reasons we may be afraid of certain pieces of clothing is the fear of exposing part of ourselves that we wanted to keep buried under the fabric. That the idea of being more "visible" or feeling more exposed was a really daunting concept (and still is!).
Confront your inner doubt and let your body positivity come out!
When I was in the process of losing weight a little while ago I hadn't bought any new clothes that were adjusting to my new body size. I was weirdly okay with oversized bras but was desperately adding belts and stitches to old trousers to try and stop them from falling down. So, it seemed about time to go and buy some new clothes.
That was the first time in my life where I bought a crop top. A crop top is the opposite of what I would normally wear, and I felt like I didn't have a good enough body for it. "No, only a certain looking body can wear that," warned my inner doubts.
Yet, some part of me really wanted to just try it.
The top was exposing my belly, a part of my body that I had been trying so hard to cover up in the past, and was so so worried about being judged about it. I was shaking from the nerves, genuinely trembling and sweating, and this was just while I was alone in my room. But, I also just loved how I looked with it and how I felt wearing it. It made me feel cute.
The first time I wore it out in public was terrifying. I was holding my hands in front of my stomach or using a jacket to try and cover up the exposed skin. But the more I wore it out and about, I relaxed. And the more I relaxed, the more I realised that actually, no one was staring.
I was especially loving my new outfit during the sweaty summer weather. For 2021 the thought process was "suns out, tums out!" a phrase that I never in my wildest dreams have been saying in the past
Body positivity takes a conscious effort!
I suppose like most things that are looking after ourselves or making a change: practice makes perfect. Body positivity takes practice. The more small changes we make and give things an extra little thought, the more it begins to feel natural to us.
It's just fabrics and zips and buttons! We shouldn't feel afraid to wear clothes that may be a little more dressy than usual if they manage to boost our confidence and our moods. Trust me, if you like what you are wearing, your confidence will truly bloom!
So, with that all being said, I just wanted to give a few tips and some advice that I've either learnt, tried or heard from others. Because it can be a mental adjustment that takes practice. These aren't anything too massive, but they might be a good place to start.
---
1. If you go into a clothes shop, challenge yourself to try on one "daring" piece of clothing that's outside of your comfort zone
This is a fun thing to try out just to test your toes in the water of new clothing. In the fast-paced moving world of fashion and viral trends, there is always new clothing concepts that feel like they've come from a different reality. I never pretend to understand it, but it can be fun to explore. One time, my friend had convinced me to wear a pair of glossy leopard print "pleather" trousers, and a raincoat material snotty green t-shirt. I thought it would be an ache on the eyes, but the noise that I was making walking around in it was somehow worse. I sounded like a rubber duck in a Tesco carrier bag.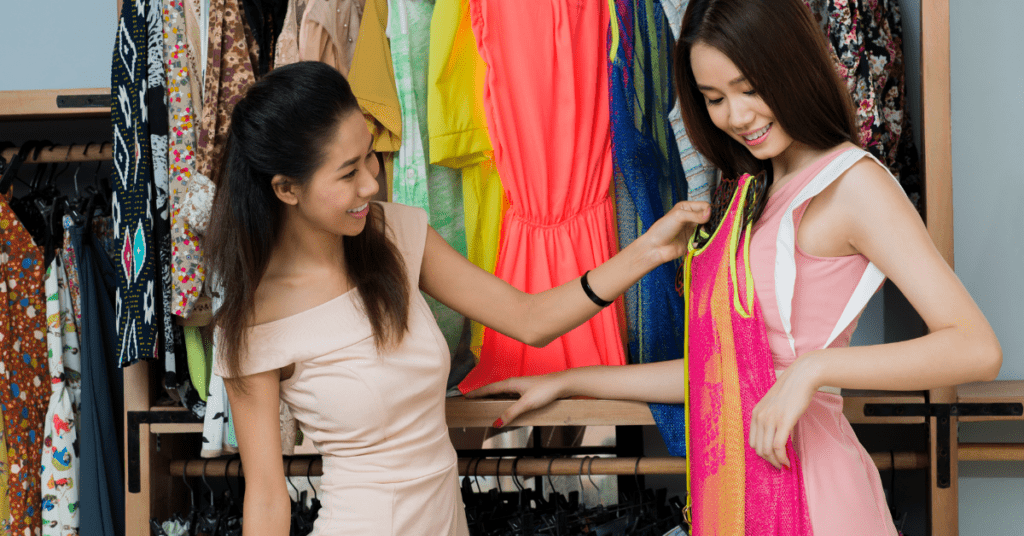 But you know what, trying on the most outlandish thing I can find in the shop for a laugh actually has taken away that little fear of trying on clothes that are outside of my comfort zone. I do feel like I'm far less afraid to try on clothes that are a little more colourful or show another side of me.
2. Try and have one outfit every week that you've planned beforehand & thought about it before wearing it
Time isn't always a friend for us, and choosing an outfit if you have a touch of clothing anxiety can really take a lot of time and mental strain.
If you have a free moment, why not take a glance through your wardrobe and pick out an outfit that you like. Whether that's a nice top or an unusual dress. And then, tell yourself you're going to wear it on a specific day. You have it planned, decided, and then you still just need to throw it on the morning of that day. Less of a panic that morning, and no time wasted in the haste of that morning rush.
3. Being frugal can add to your body positivity!
One of the main reasons that a lot of us will be put off from going to go and buy new clothes probably comes down to the price tag. New clothes require disposable income that, most of us, otherwise don't have.
But it doesn't have to be that way. As long as you're willing to try out using second-hand clothes.
Maybe try visiting charity shops for your new outfits. Following the lockdowns, a lot of people were having sort outs of their wardrobe out of sheer boredom. This means that the charity shops are overrun with new clothes. And they're nice clothes too. The last time I went to a charity shop, the changing room was shut. But, when you buy any clothes, you have two weeks to return them. So you can try things on at home and bring them back if you really don't like them.
That, and you would be surprised at how excited little ones can get at visiting charity shops. It's like a hidden trove of random pre-loved belongings, and they'll be fascinated by the aged books or fossils like "CD's" and "VHS tapes" 😉 . It makes for a fun activity to take your kids to too!
4. Donate or bin some of those old comfort clothes to feel more body positive
For me, one of the hardest issues I was coming across was actually wearing the new clothes I was buying. I dropped down three sizes, loaded my wardrobe up with cheap, cheerful and cute clothes that I could wear. And then proceeded to continue wearing my "holy hoodie". As in, the hoodie that no longer had a pocket, just a flap and one big hole.
It made me feel a little too panicked to actually just wear some new clothes. I was worried about judgement constantly. And I realised that the only way I was going to actually start wearing my new clothes would be if I got rid of my old ones.
There's a few things out there you can do with maternity clothes if they're still in pretty good nick. If you want to make a bit of money off of them but if you don't want to put too much energy into the selling of the clothes, then using the Facebook marketplace or join some buy and sell Facebook groups that are for specifically maternity clothes or baby/toddler products are a good way to go. For example, a popular group is Maternity clothes buy/sell UK (if you want to check them out!). Or try selling on apps like Vinted or Depop.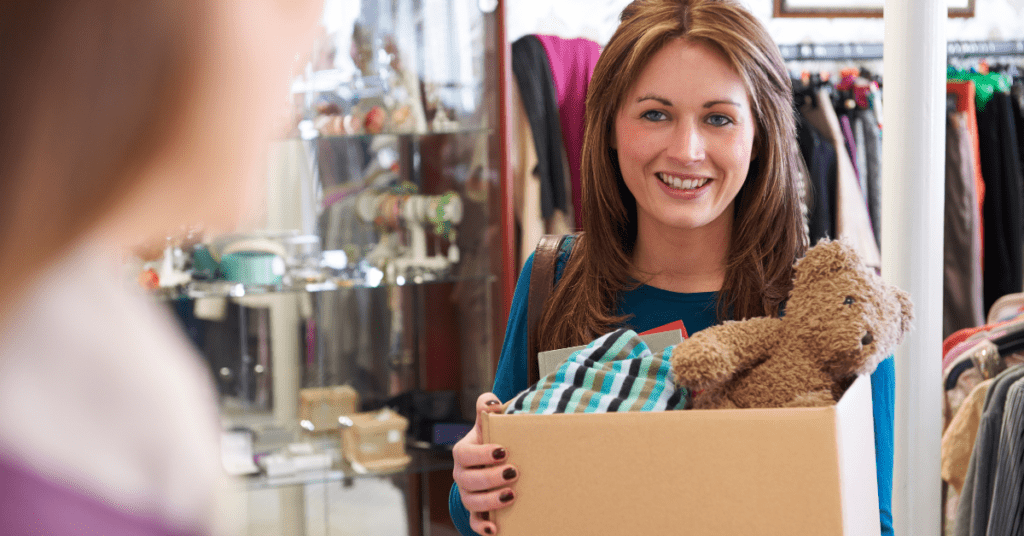 However, if you'd like to simply get rid of them, donating them is probably the best way to go! You have quite a few options for this. You could donate them to charity shops. Or, some local churches collect maternity clothes and baby supplies to directly provide for those in the community who may not be able to afford them. There's also a lot of brands now have started doing "Recycling schemes" that often cover postage and donate to charities.
Have a look around, and see what has the most appeal to you.
5. You are not supposed to fit clothes. Clothes are supposed to fit you.
As much as we can advise people to wear clothes that are away from the realm of a "comfort hoodie", we should also advise the opposite. In order to experience more body positivity, It's important that you don't try and squeeze into something that's too tight. Especially if it's just because it says it's your usual clothing size.
You'll spend the whole time you're wearing it fidgeting and messing around with it, trying to make it sit right on your body. But, of course, this isn't exactly going to make you feel confident while you're wearing it, as you'll constantly be thinking about it.
It may make you feel bad sometimes if what is your usual clothing size, for whatever reason, doesn't fit you. But clothing sizes are finicky! What one brand measures as a size M, another brand measures it as an XL.
At the end of the day, you are not supposed to fit clothes. Clothes are supposed to fit you. The only person who will be looking at the size tag is you, so don't be afraid to go the next size up if it will make you feel comfortable while you are wearing it.
6. Don't be afraid of your stretch marks -A lot of us have them!
I would actually go as far as to say that a lot of us should show a little bit of love to our stretch marks. We like to call them Tiger Stripes instead of stretch marks! As they are badges that show the warriors we are as mums.
You truly shouldn't feel ashamed about stretch marks. Your body adapted to growing a baby. And it's pretty miraculous that it was capable of doing as much. Stretch marks are perfectly natural, and believe me when I say that others won't be judging you for having them. You may get a couple of questions from younger family members, but at the end of the day if you're encouraging them to embrace any marks or scars on your body and not hide them away, then it's a great message to be demonstrating.
7. Encourage body positivity for your sake and your kids
A lot of adults do tend to talk about all the flaws they see when they see themselves in photos or when they look in the mirror they tend to think the worst. We vocalise this, and we actually audibly say "Ew" or "no" or "Oh God". But we never fight to say to ourselves what it is that we like about the way we look. Photos or otherwise!
When we have others in our company who are strongly influenced by what we say and do, we are actually demonstrating how we view ourselves and influencing them to do the same. To look at images of themselves and then focus on what it is they don't like, instead of what it is they like. And, when that happens, it's very easy to actually stop noticing what it is we like about our appearance altogether.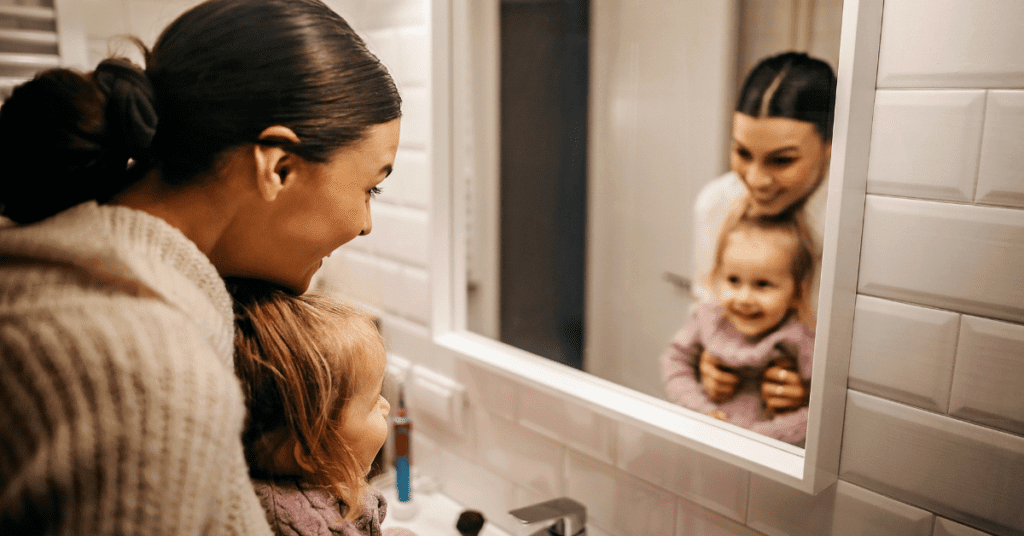 Instead of tearing ourselves down (and influencing others to do the same), we should actually try to demonstrate more strength by looking at photographs and saying things like "I love the way my hair looks in this one" or "My eyes look great in this". It may feel strange to do this at first, but it will truly show courage and make a big change to how you start to look at pictures of yourself. You yourself are making a conscious effort to look at photographs and find something good. And in time, it will take less and less effort to spot what you like.
---
Practice body positivity, loving yourself, and enjoy wearing clothes!
That's all the tips Leanne has! Thanks for reading, and hopefully there's something you could take away from it.
At the end of the day, we're all still trying to teach ourselves to be more body positive. It's a long-winded uphill struggle! A lot of us are self-conscious about our bodies. But, it makes sense in that case for us to need a conscious effort to deal with it.
If you have body positivity tips, then please go and leave them in the comments of Leanne's Instagram live: she has said that she'll be keeping an eye out for them and taking them onboard herself.
If you enjoyed reading this blog post, you might also like:
Simple ways to improve your mood and ignite your spirit
Easy Weight Loss Tips for Busy Mums