Babies outgrow clothes so fast it can be hard to keep up! With little ones outgrowing 7 clothing sizes in just 2 years, it quickly can get very expensive and feels horrible seeing so many clothes go to waste!
A genius rental service is trying to change that. Meet Bundlee.
What is Bundlee?
Bundlee is the UK's first rental service for baby clothes. Pick your Bundlee subscription plan and receive a set of clothes for your little one's size and the season. Then just like magic, conveniently swap clothes as they grow.
Bundlee's baby clothing rental service is a great way to get amazing quality clothes at a fraction of the price – you can rent from some of our favourite brands including MORI, Mini Rodini, Patagonia and more and save 75% on RRP. It's also a great space saving hack as you return outgrown clothes, creating peace in your home.
With sustainability at the core, Bundlee want to provide a better alternative for parents. Clothes that are returned are professionally cleaned and sanitised before being shared with the next renting family. Bundlee's model reduces greenhouse gas emissions by 86% – pretty amazing!
By trying out Bundlee for a month, you'll have saved 7kg of CO2 emissions, helping to create a better future for your little one to grow into.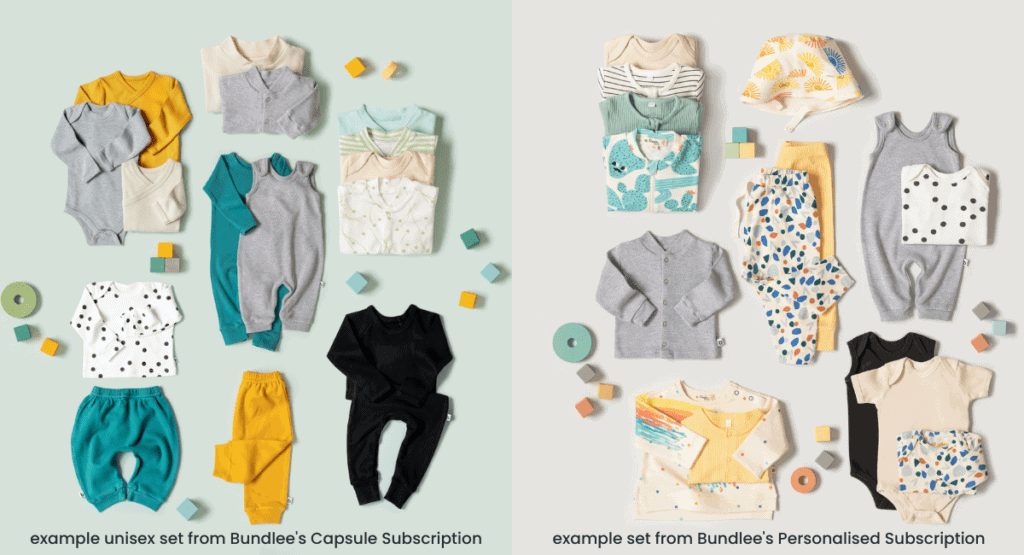 Bundlee offers 2 subscriptions to suit your style. With the Capsule Subscription, Bundlee's expert team will curate a set of 15 quality essentials especially for your baby's size and the season, for just £24 per month. Perfect if you're not sure what your little one will need and would like a helping hand.
In the Personalised Subscription, you can pick your favourite 15 pieces to rent from Bundlee's premium brands, for just £39 per month. Great if you know what styles and brands you want to dress your little one in, or if you want to refresh their wardrobe of hand-me-downs from your first baby.
Bundlee Review: A Review of Bundlee's Baby Clothing Rental Service
We spoke to first-time mum Jaimie, for her review of Bundlee's service. Here Jaimie shares her experience of renting baby clothes for her son, Fitz. Jaimie chose a Personalised Subscription and had her first set of clothes delivered before Fitz arrived.
Why did you try Bundlee?
Sustainability was my number one reason. Reflecting on my own household, I couldn't stomach the amount of waste we would have simply through clothes alone.
I had been actively looking for ways to be as sustainable as possible as a mum, and Bundlee fit the bill! I loved that we could start to teach Fitz green habits from day 1!
Did you have any concerns about renting clothes?
My main concern was that I wouldn't be able to "style" Fitz how I wanted. But when I discovered that I could personalise my bundlee, I was so happy to be able to pick pieces that I thought would suit his personality!
What do you think of the clothes?
I love shopping on Bundlee! The selection keeps me trying prints and outfits that I don't think I would pick out normally when buying. My son wore a lavender Mini Rodini sweatsuit today – I am absolutely obsessed!
The RRP on buying a lot of these brands' clothes means I couldn't justify the purchase – but renting means we can have all the fun without the same outlay. The added bonus is I'm not figuring out what to do with everything when he's outgrown it, or feeling guilty for spending so much on something he only wore a few times.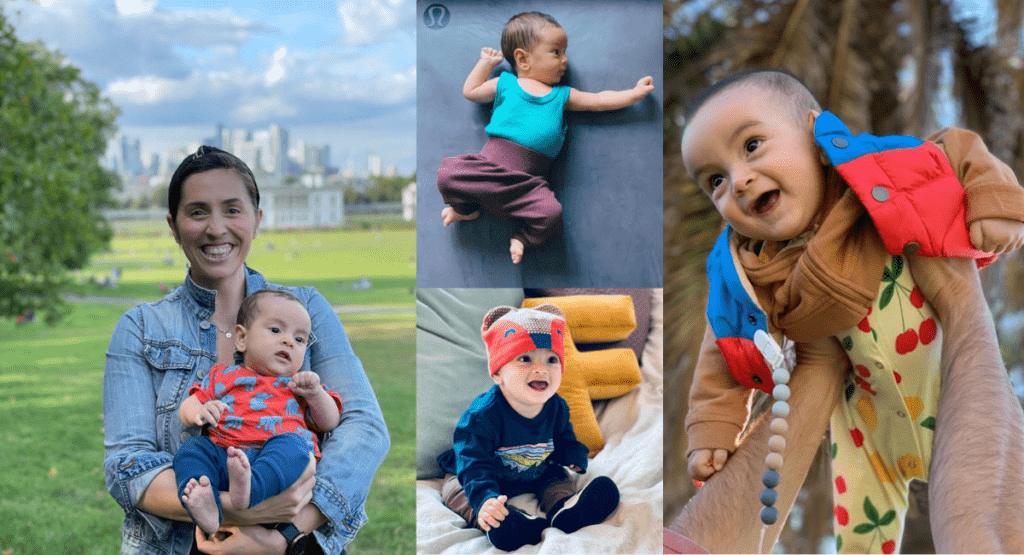 How clean are the clothes?
The clothes are delivered to the cleanest of standards. I've seen the stains my son can put on his clothes, so when I receive my bundlee without a stain in sight and looking brand new – I know they are immaculately clean! The fact that the clothes are sanitised has given me peace of mind.
I look after the clothes like they are my own, but unlike my own – insurance is included for those impossible stains so I don't need to worry 🙂
Do you think it's good value for money?
Absolutely! I've already saved £912 compared to buying the same pieces new. And when you consider rental insurance is included in the subscription, it's a no-brainer. When I look at my cost savings across the year, it's clear Bundlee was the right choice on this alone (although of course there are other reasons!)
Has Bundlee been helpful in any other ways?
Well firstly there is the massive space savings in my home! I'm not storing stuff we don't need and can't use right now. I've also found Bundlee to be helpful in introducing me to other sustainable and quality brands I don't think I would have come across. Brands like Mini Rodini have now become a favourite.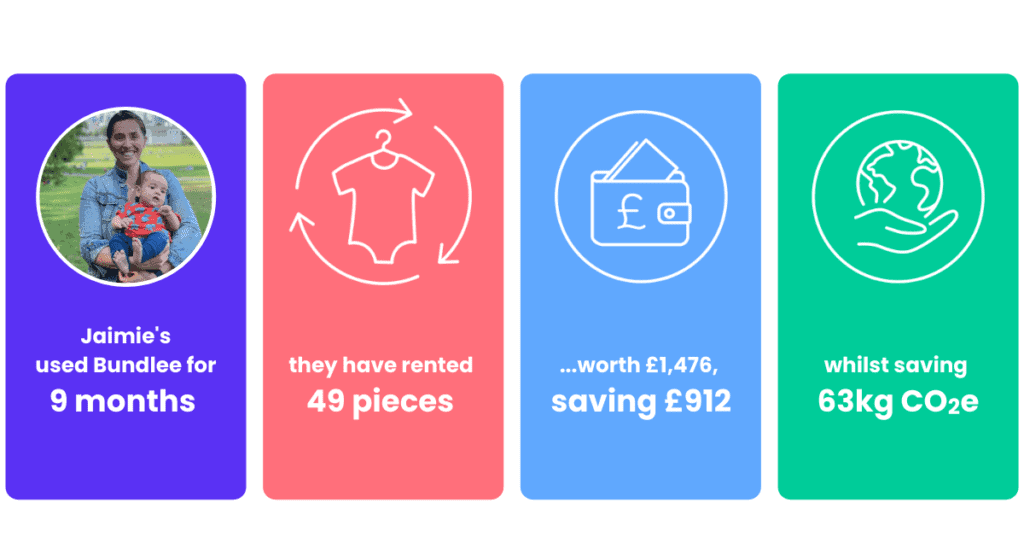 Would you recommend Bundlee to other parents?
I'd definitely recommend Bundlee to all families! You save money and time on buying clothes your children will outgrow quickly – and you can put that money towards meaningful purchases, like a family holiday. Your baby will be stylish and sustainable. And your wardrobes won't be filled with bags of clothes you need to donate.
---
Thanks Jaimie for that great review of Bundlee! It's really interesting to see Jaimie's experience renting baby clothes.
Are you interested in trying out renting baby clothes with Bundlee?
Bundlee have a special offer for the Happity community. You can try Bundlee now risk-free with a 30 day free trial. Just use code HAPPITY30 at the checkout. To learn more and start your trial go here.
---
More From Happity's Blog:
Baby's First Teeth: Reality Bites – And Bites Hard!
11 Totally Doable Ways To Fit Self-Care Into Your Schedule