A childhood friend of mine, Emma, who is a wife, mumma, dramatherapist and home-maker has created an amazing A-Z of ideas to keep littlies entertained during lockdown. She has been posting them on her personal Facebook but knowing how much we all need inspiration I asked if she would be happy for us to share them as posts and a blog and she was more than happy to!
She describes this A-Z as "finding was to keep my little ones (and myself) entertained during lockdown; currently through creating an alphabet themed activity box for my daughter to find each morning."
We are posting a new letters on our Instagram and Facebook throughout the week, which then get added here as they are posted!
I think you'll agree with us, that they are amazing inspiration and she has done a great job!
If you try any of them out, please do tag us on Instagram (@happity.co.uk) and we will share! We would love to see you and your littlies having a great time! Do tag Emma too (@nesting.in.hope)!
Over to Emma!
Hi I'm Emma; Wife, Mumma of two and Dramatherapist.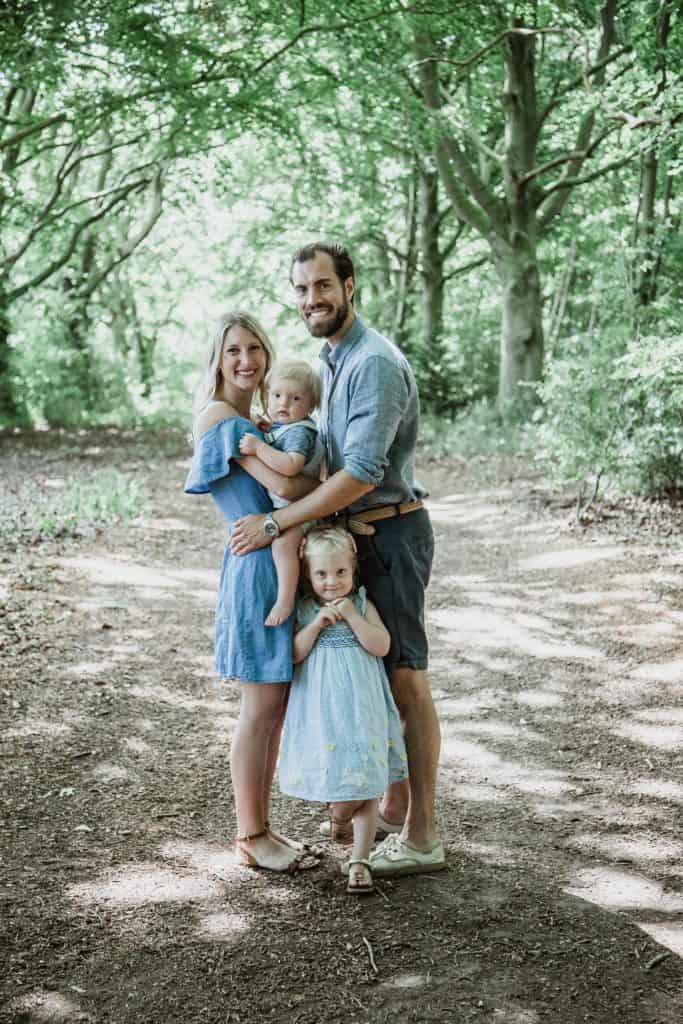 As a Dramatherapist (creative form of psychotherapy) I work primarily with children, adolescents and their families, specialising in trauma, attachment and emotional/behavioural issues.
I've been on maternity leave for the past year and as lockdown set in and my own mum became poorly with Covid19 I found motivation levels to parent took a dip. Creating a daily alphabet themed activity box for my daughter to find each morning helped install a spark back into parenting and made life at home easier. I hope some of these ideas help you too.
Tips:

1) Choose activities that you want to do so you're excited to do it with your child. Some parents love arts and crafts, for others getting messy is a parenting nightmare. Make it fit you and your family.

2) If your child chooses to disengage in an activity you spent time preparing try doing it yourself, I promise it will leave you feeling less downhearted, give you a boost and might even convince your little one it's more fun than they originally thought.
A is for…
Painting APPLES with icing & decorating them with sprinkles ready for snack time, doing APPLE paint printing, having a paper AEROPLANE competition in the garden whilst dressed up as one ourselves, making an AMBULANCE to play in & saving lots of peoples lives (including a toy helicopter and a duck doorstop) and going on an ANT hunt on our daily walk, which started with one very ANGRY toddler who had been refused an icecream & ended with an ANNOYED mum as the toddler then woke the baby!
B is for…
Celebrating my goddaughter's BIRTHDAY over Zoom, painting with BUBBLE-wrap, making BUNNY shaped BISCUITS & a BIRD feeder out of a coconut & (my favourite of the week) an indoor BEAR Hunt using the story as inspiration for some imaginative and sensory role play.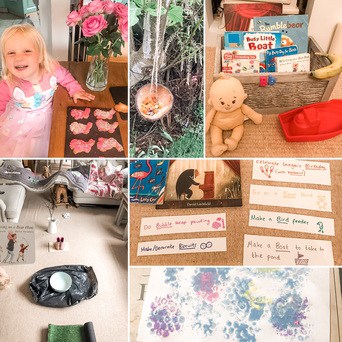 C is for…
Changing the names of a game to 'what's the time Mr CROCODILE', writing/posting a CARD to someone we miss, growing CRESS in emotion themed egg cups we had painted, making a paper chain CATERPILLAR, pretending to build a CASTLE to live in & then packing our bag to go pretend CAMPING.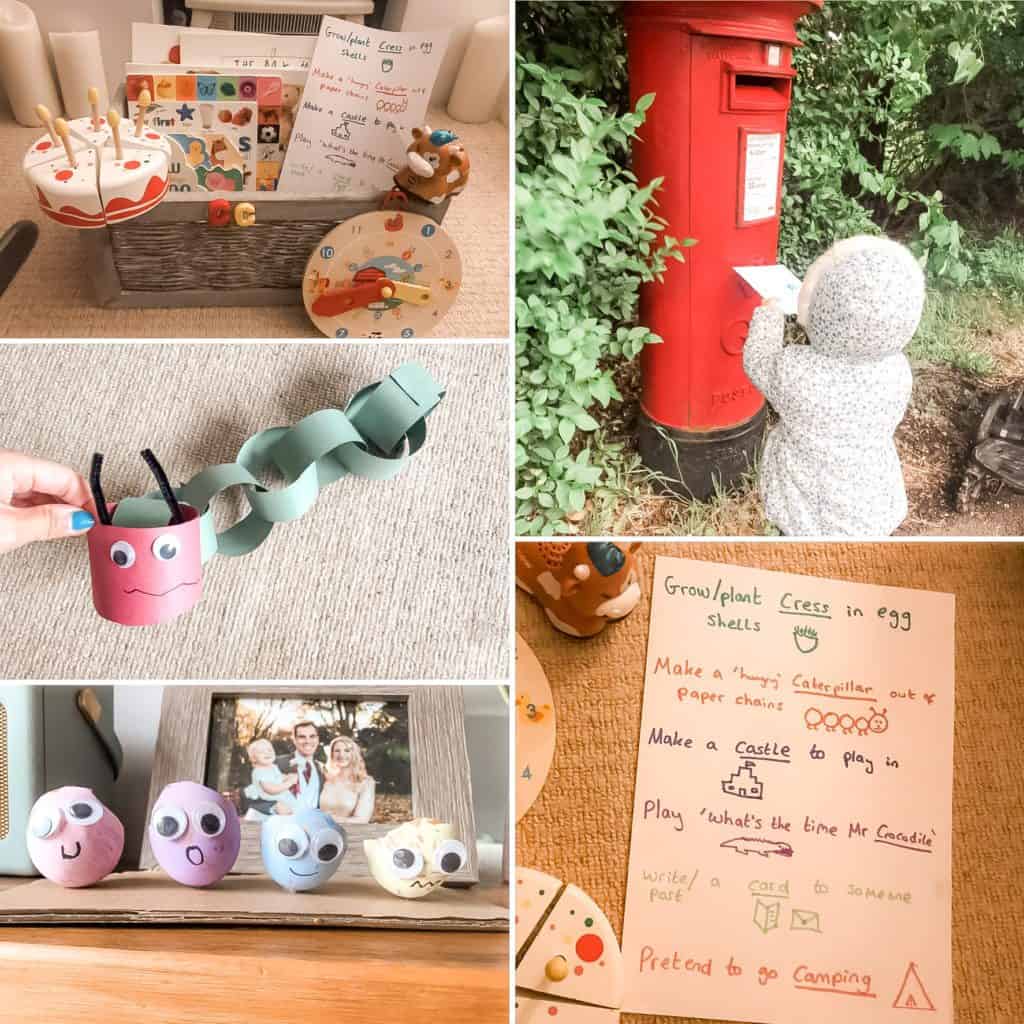 D is for …
Helping Mummy lead a DRAMATHERAPY Zoom session, DANCE competitions, DRAGON craft, playing DOCTORS with teddies, hiding toy dinosaurs around the house for a DINOSAUR hunt & squeezing in DAISY chain making once the rain stopped.
@nesting.in.hope
#dailyABCbox
#alphabetbox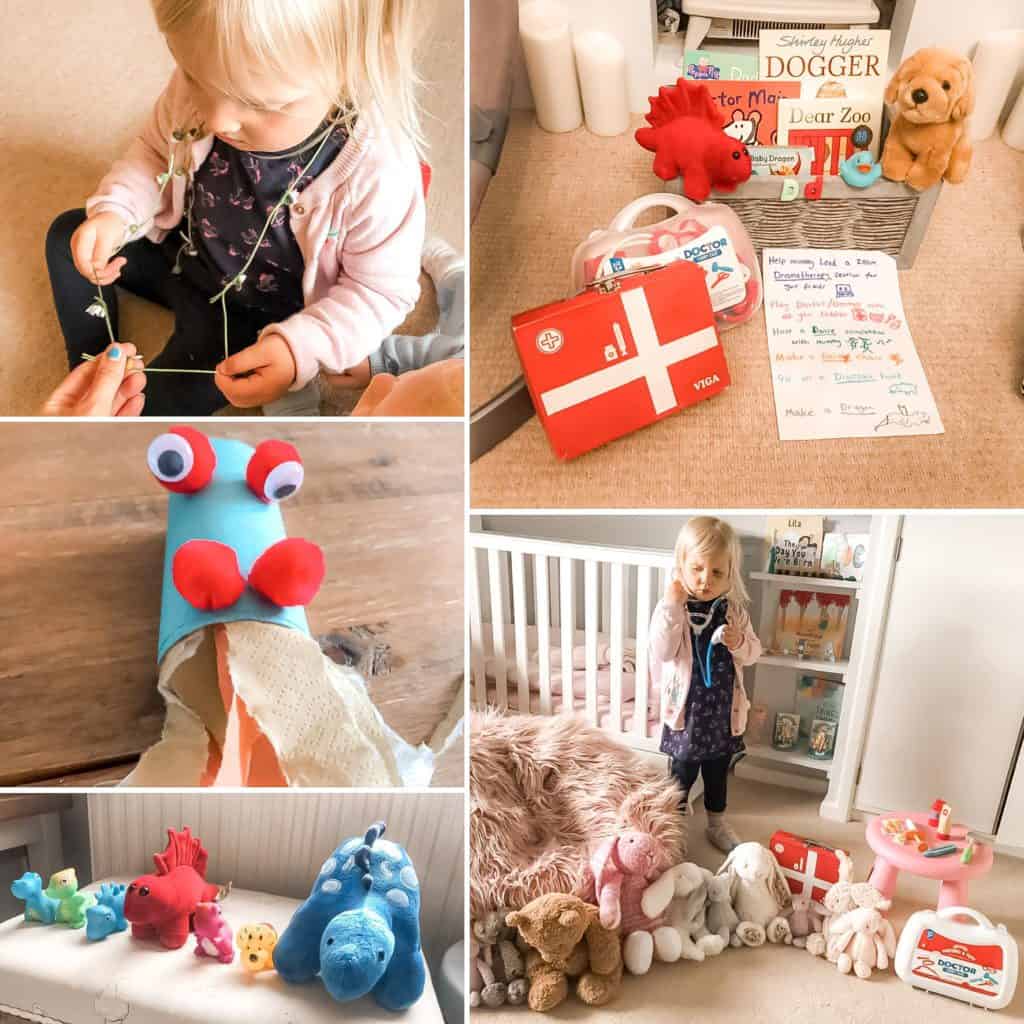 E is for…
ELEPHANT hand prints, bringing EASTER back for EGG hunts in the garden & chocolate nest making, small world play using her EMERGENCY vehicles & dressing up as ELSA to dance, sing and watch Frozen.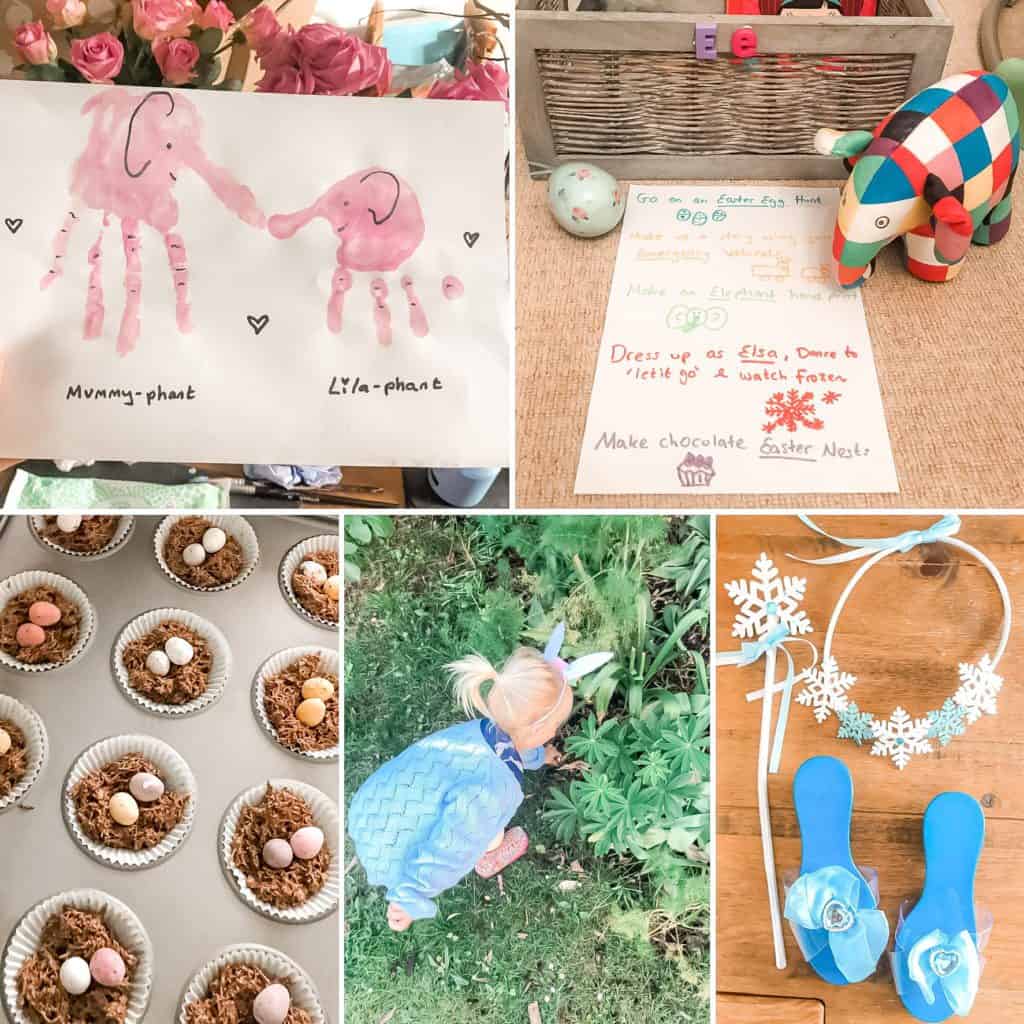 F is for…
FIREMAN and FAIRY-themed obstacle courses, FISHING games, making a FROG and FOX out of paper plates and collecting FLOWERS on our walk to make 'nature FACES' back at home.
G is for…
Making a GUITAR out of cardboxes, sticking GOOGLEY eyes to objects to make them come to life and eating popcorn in front of The GREATEST SHOWMAN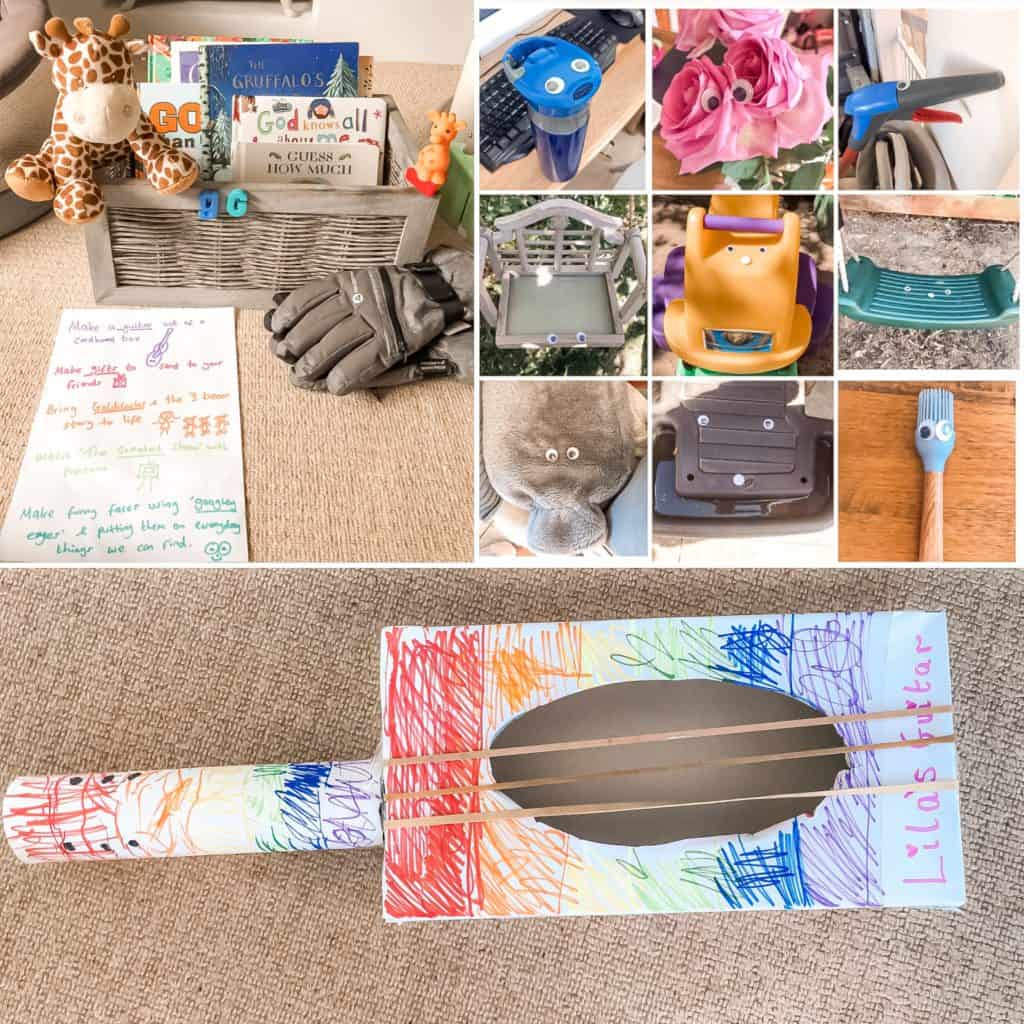 H is for…
Pretend HORSE showjumping in the garden, playing HAIRDRESSERS, drawing around our arms to send a HUG to someone in the post and creating a HOPSCOTCH obstacle course with chalk for our neighbourhood to have some silly fun with.
I is for…
Rescuing a toy duck from a block of ICE, playing ICECREAM shops and then making some to eat from a frozen banana, playing the party game of Musical ISLANDS and ICING gingerbread men.
J is for…
Using a pillowcase for a JUMPING sack race, decorating a JEWELLERY box, making JELLYFISH out of egg cartons, setting strawberry-shaped JELLIES to eat (which I only remembered were still in the fridge when feeding Hudson at 2am!) and acting out the story of JACK and the Beanstalk (where Lila decided we had to socially distance ourselves from the giant because "all the people getting poorly" 🤣 found a fire in the castle that Jack had to put out and then cut the giant – not the beanstalk – up at the end; vicious!)
K is for…
Making a KING crown and then a KITE which we attempted to fly in a local field, KISSING a piece of paper with lipstick on (Daddy 'enjoyed' getting involved too), changing the song name of 'hop little bunny' to be a KANGAROO instead and helping mummy clean the KITCHEN – win win!
L is for…
Drinking homemade LEMONADE, hiding the letters of LILA's name around the house for her to find and then hang up in order on a washing line, making LADYBIRD cupcakes, playing LORRY 'Pooh Sticks' (waving at them as they travel under a bridge from one side to the other) and collecting LEAVES on our way home to put in order from LITTLEST to LARGEST.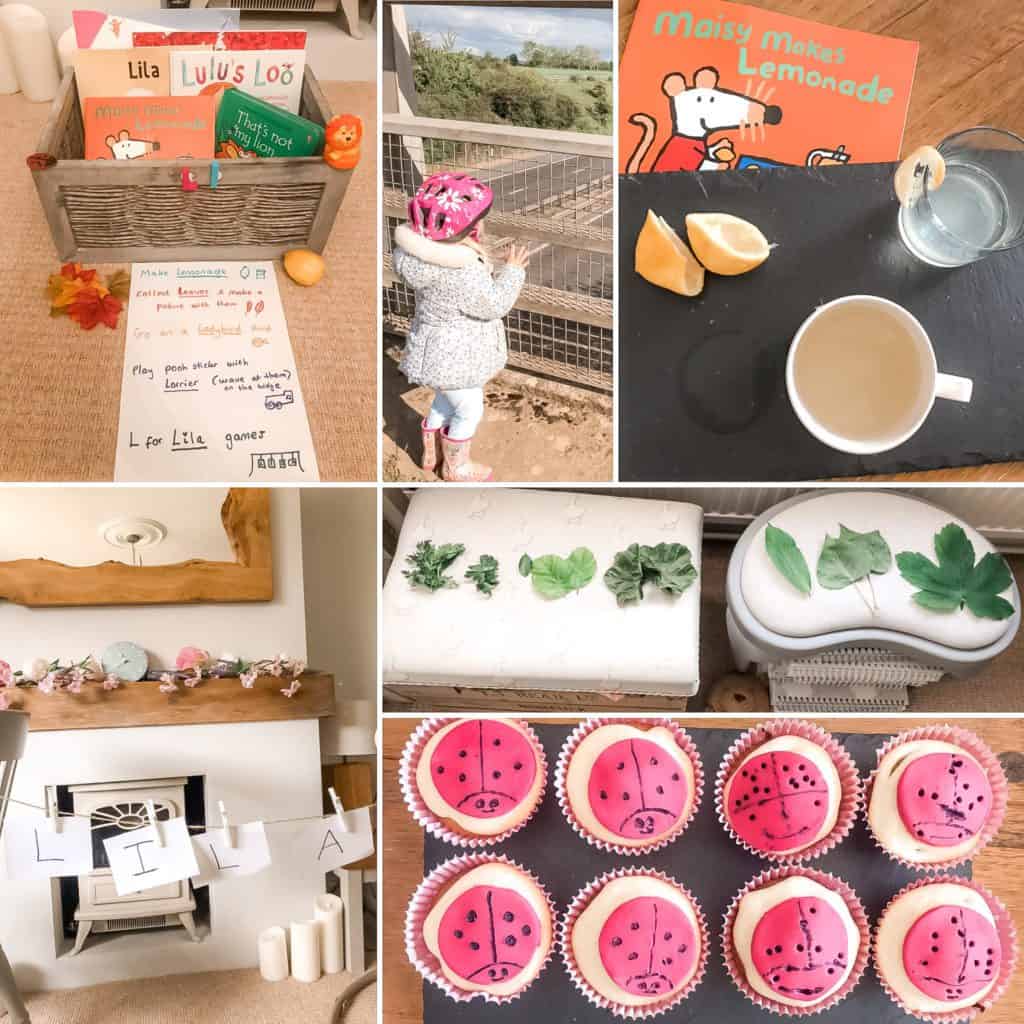 M is for…
Playing the MEMORY tray game (guessing which object is missing), making MUD hot chocolate, paint-printing using silver foil to create a MOON and finishing the week with an obstacle course that featured waving a MAGIC wand at MONSTERS in a cave, feeding a baby MEDICINE and pretending to be a MONKEY and a MOUSE 🤦‍♀️🤣)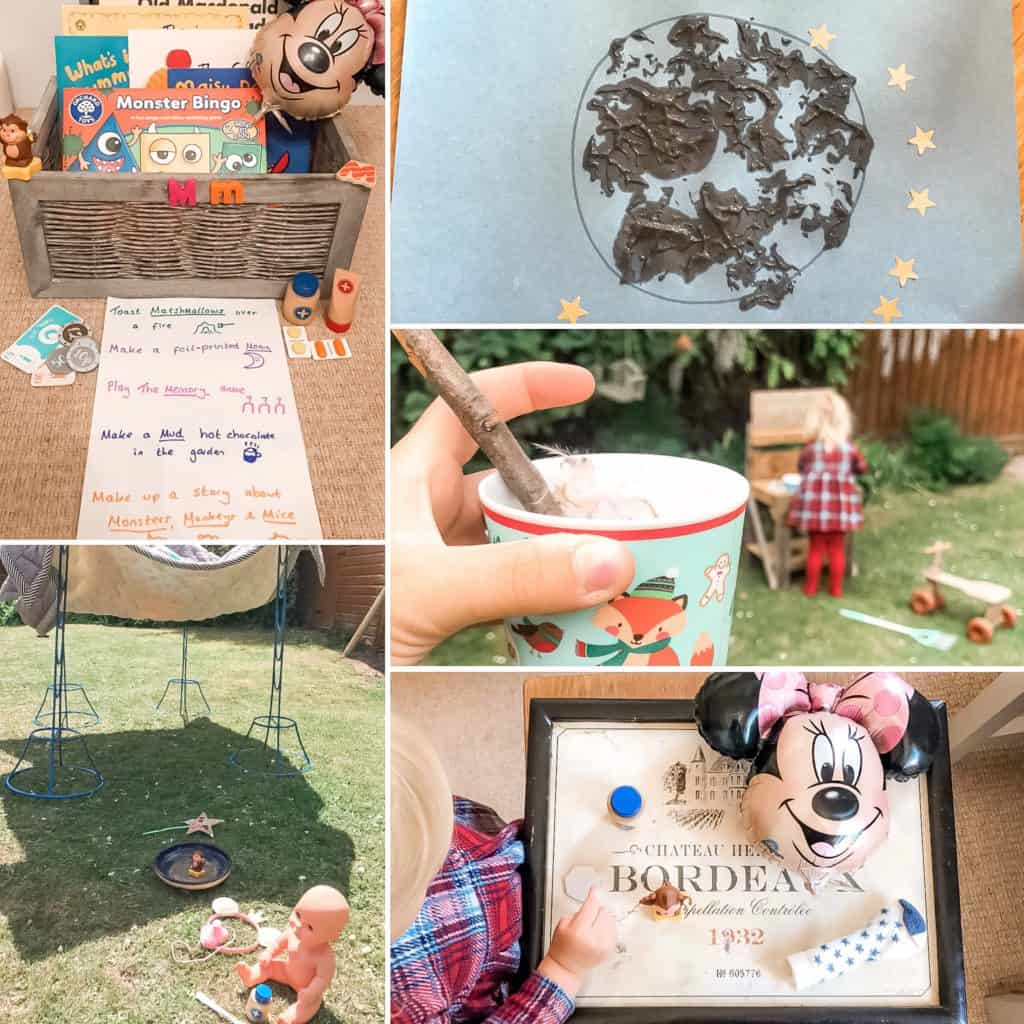 N is for…
N is for going on a NATURE hunt around the garden, making play-dough NATURE bird NESTS, making animal NOSES out of egg cups and paper plates, dressing up to play NURSES, making and eating chocolate Easter NESTS, opening our own NAIL salon and playing pin the NOSE on the snowman.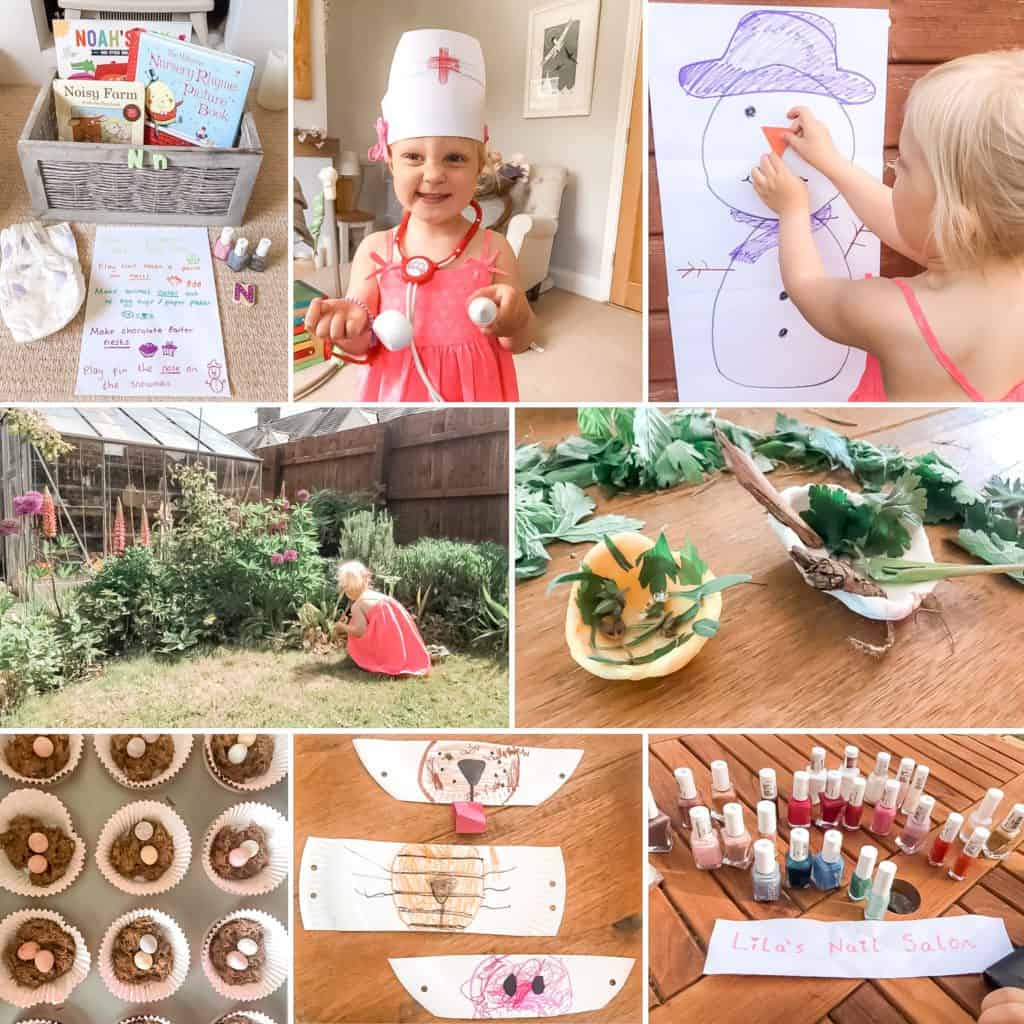 To see the amazing activity ideas hot off the press sign up to our newsletter (scroll to bottom right to input your email) which will also let you know of any classes local to you!
O is for…
P is for…
Q is for…
R is for…
S is for…
T is for…
U is for…
V is for…
W is for…
X is for…
Y is for…
Z is for…