Many of your favourite classes and activities will be taking a break for half term. Just as you got into the swing of your weekly routine you're back to square one with a pre-schooler to entertain. Luckily, we've got some fab suggestions on how to save your week with some fabulous alternative activities.  
You can also search Happity for activities that are on during half term using our handy filter to hide the term-time only classes.  However, we always advise checking with providers before setting off to avoid disappointment.
Out and About
Celebrate creativity at an indoor festival
The Southbank Centre's annual Imagine Children's Festival runs from 7 to 18 February. This festival for children run by children is always worth a visit. It's also a great, central venue for meeting up with friends from other parts of London.
Book ahead to see one of the many live shows – there's something for all ages. 🎼🎭🎬🎨🤹‍♀️ Or simply turn up to enjoy free activities from outdoor games, to arts and crafts. There's even a daily programme of free events hosted by CBBC's Ben Shires in The Clore Ballroom at the Royal Festival Hall.
Escape into a land of stories
More imaginative fun can be had at Stratford's Discover Children's Story Centre. Check out the ongoing Julia Donaldson and Axel Scheffler exhibition A World Inside a Book… It's perfect for all little fans of The Gruffalo, Room on the Broom, The Snail and the Whale and The Smartest Giant in Town, to name but a few.
Discover's half term programme also includes special storytelling sessions for ages 0-3 years. To top all that, entry is free on Saturday 10 February for London Children's Book Swap. Take your unwanted stories along and swap them for new ones. 📚📚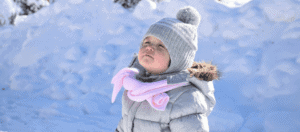 Brighten up your day
Brighten up the dullest February day with Colour: The Rainbow Revealed at the Horniman Museum. The brand new, interactive, family exhibition opens this weekend. Find out how colour shapes our world, create your own masterpieces and hang out in the colourful mood room. 🌈🌈🌈
Celebrate Chinese New Year
Celebrate Chinese New Year at the Museum of London Docklands' Family Day on Friday 16 February.  Welcome the Year of the Dog with a ribbon dancing workshop. Other activities include traditional calligraphy, mask making, storytelling and more. 🎉🎉🇨🇳
Closer to home
Sample some live music
Take your baby to a live music concert with Baby Broadway or Bach to Baby during half term. There are shows happening daily all  over London so there's bound to be one near you! 🎼🎹🎷🎻
Relax with a film
For a cheap, cheerful (and relatively relaxing) treat, a cinema kids' club can be a good shout. 🎬🍿 Most major cinema chains screen cut-price children's films in the mornings during the holidays. Or you could try Picturehouse Toddler Time sessions for shorter screenings aimed at very little ones.
Support your local theatre
London is fortunate to have so many theatres catering for young audiences. We've put together some of the best shows coming to local London theatres next week:
Julia Donaldson and Lydia Monks's The Singing Mermaid 🧜‍♀️is brought to life with puppets and music at Islington's Little Angel Theatre (suitable for ages 3 to 8);
Another of this creative duo's hits, What the Ladybird Heard 🐞is appearing at the Arts Depot in North Finchley from 14 to 17 February (suitable for over 3s);
Seesaw looks at the pull and push of young friendships at London Bridge's Unicorn Theatre (suitable for ages 3 to 6);
Half Moon Theatre in East London presents the story of Bear & Butterfly 🐻🐛🦋 on Saturday 10 February. Find out what happens to Bear and Caterpillar's friendship after Caterpillar undergoes his metamorphosis into a beautiful butterfly (suitable for over 4s);
In Wimbledon, its your last chance to catch Polka Theatre's charming tale of siblings sharing a bedroom, My Brother, My Sister and Me. Its run draws to a close on Monday 11 February (suitable for ages 2 to 5);
SMASHfest UK returns to The Albany in Deptford and Deptford Lounge for its annual week of free disaster-themed arts and science from 12 to 16 February. See the programme for details of the many shows and other activities on offer (suitable for over 4s).
Staying in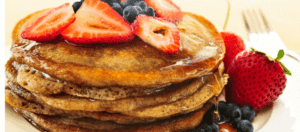 Toss some pancakes
It's pancake day on Tuesday and there will be people taking part in races all over London, as handily summed up in this Time Out guide. Pancakes can also make a great activity to do with the kids. Little ones love to help mix the batter and if the actual pancakes won't flip/stick to the floor/need 3 attempts to get the temperature right* it all adds to the fun from a toddler's point of view. Plus there's a topping to suit even the pickiest eater's taste – what's not to love?!
(*we didn't find this out from our own experience. Honestly…)
Whatever you decide to do – enjoy! Let us know how you're planning to navigate the half term break over on Twitter or Facebook – and share your photos of your pancake creations/disasters…
If you want to get a head start on planning the next half term, you can check out what's right for your baby's age and stage with our handy Baby Class Guide.
Visit Happity to search for baby and toddler classes and activities near you.