In this series of Happity Hacks, our fab contributors recommend their nifty 5 minute toddler activities. Yay – now you can reclaim that precious time to do something else! 👶☕👶🤳
Happity Hack #2 comes courtesy of musician Jude Jagger, whose daughter Ramona loves nothing more than emptying mum's wallet. Jude suggests how not to lose all your credit cards in the process. Over to Jude…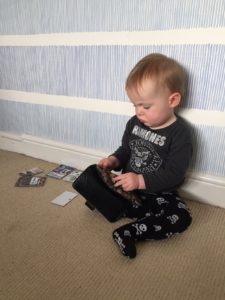 The Hack
Ramona (aged 1) loves to take everything out of my purse. It will keep her quiet for 5-6 minutes, but it's a bit annoying. Especially when you can't cope with having to pick up your credit cards, put them back in the right place and check she hasn't eaten your emergency tenner etc. (Also I like to have the right cards in the right place, anyone else?!)
So I've got an old purse and filled it with old business cards, old job passes, some coppers, plectrums, hair bobbles etc. Does the job and I'm not bothered about losing any of it. Best of all Ramona thinks she's going through a grown up's important stuff!
What you need
A purse with slots for cards and a "clippy" bit for change is the best, the more pockets the better. And yes it leaves a bit of mess while they are playing, but is quick to clear up.
Pinterest level of crafting
Zero skills required!
Bonus time
Extra points if you can get your child to put things back in the wallet (but who are those people?!). This little one doesn't respond to the song I've written for her about tidying up. Most annoying, as it took me 40 seconds to come up with that hit…
Have you got a genius #HappityHack to share? Drop us a line or give us a shout over on social media (@happityBaby). 
About Jude
Jude Jagger is a musician, producer and manager. She has set up a new band The Heartless Wild with a fellow parent, but being a musician mum presents its own challenges. She says: "we both have kids the same age, so trying to practise is a nightmare! We try to get them to join in with the music but they aren't up to our exacting standards yet – ha ha!" You can also follow Jude on Twitter.
Visit Happity to find baby classes and activities in your area.