Looking for an alternative to Hoop app for families? Here's what you need to consider.
As you may have heard, Hoop announced they are closing the app on 17th July. With such short notice, this has left many parents and providers in the lurch, not knowing where to turn to find and book classes.

There are many things to take into consideration when choosing a new booking system – or marketing platform – for your classes. Whichever platform you choose will take some investment of your time, even if the listings are free, so it's important to check whether it will meet your needs.
Happity is currently the only truly integrated platform available in the market. We offer a service comparable to Hoop's, but we operate in a very different way. As a smaller, independent business ourselves, we've grown by working in partnership with class providers that we treat as friends and family, and we care about doing the right thing by small businesses. We've got to where we are today growing organically, supported by word-of-mouth recommendations.
Happity offers both a fully-featured booking system and a discovery platform for parents – we are focused specifically on classes for bumps, babies & toddlers and supporting class providers in this sector via our online Facebook community, and wider campaigns such as our official petition to government to secure clear guidelines for the under-5s sector).
Other platforms only do one or the other – or they might serve a different age demographic. Some services are a marketing site with an external booking partner tied in, but that booking partner serves a wider variety of other types of businesses that don't operate in any similar way to yours.
By offering a fully integrated service, we're able to deliver more powerful features and encourage parents who book your classes to keep coming back. And it's designed with the needs of the baby & toddler sector in mind.
It's free to register an account with Happity.
We are different from Hoop in that our booking service is priced to be competitive with other booking systems. It has all the features you'd expect of your main booking system and costs just 3% commission for bookings (plus Stripe fees).
We wanted it to be affordable to offer block or term tickets through our platform. Longer-term consistency is better for the wellbeing of parents, children, and local communities, and it's ultimately better for your business.
Although it's not necessary to adopt Happity as your main booking system, it's an option that means you can avoid the extra worry of having to juggle spaces between systems to maintain your own margins.
For classes which need an extra boost now and then, we offer Members a separate marketing service that runs like Google Ads on a pay as you go basis. It places you at the top of Happity search results and newsletters, but it's optional – bookable classes will still get plenty of visibility across the site.
We've designed our Membership model to be much more sustainable and affordable for small businesses than being purely commission-based – and as small business owners ourselves, we know how important it is to save the pain of admin!
---
1. What to Look For In A Marketing Platform
How well does it reach YOUR audience?
Whenever you are considering marketing with a new service, it's worth checking out the relevant stats and considering how they apply to you and your classes. Does the target audience match yours? Are they quoting millions of users that live in a different country – or who aren't looking for classes like yours?
Happity focuses on baby & toddler classes, and started expanding UK wide in 2020. Initially London-only, we reached over 200,000 users in the under-5s category last year – about 1 in 5 parents in the area we covered.
Now with our nationwide expansion and advertising campaigns to support, we are set to grow faster than ever. Anyone running classes in the UK may register with Happity.
You can also verify stats independently, such as:
Check how they perform in a site comparison tool like similarweb or semrush. This will give you an idea of how much traffic they get and whether their top keywords are relevant for your classes.
Type your own search terms into Google. What are your target audience likely to be searching for? Does this platform rank well on those keywords?
Happity ranks first page on the most popular keywords like 'baby classes near me', 'toddler football near me', and on brand names for our class providers too.
We also have a high 'Domain Authority', which means that as soon as classes are added to the site in any location that's new to us, these new pages automatically rank highly in Google. (e.g. the BBC has a near maximum rating on Domain Authority, and any new article they publish goes straight to the top of the search results).
How is the platform evolving?
Happity is built by a team of parents. We are passionate about helping others going through many of things we've experienced ourselves (PND, workplace discrimination, the challenges of building a business around family life). That means we are always thinking about our customers and innovating in ways to help their businesses thrive.
Because of our focus on the baby and toddler sector, we also have a deeper understanding of our customers, their businesses, and their parent customers, than many other platforms.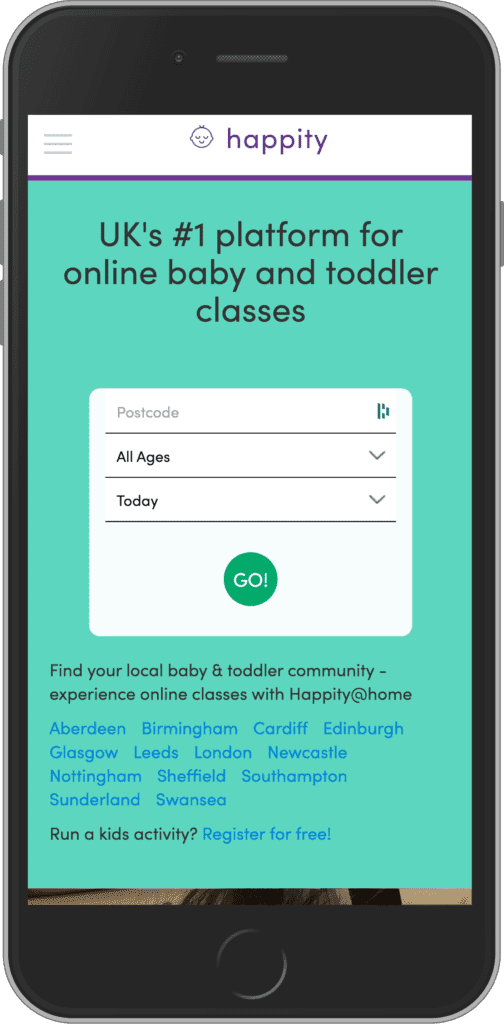 At the beginning of Covid19 lockdown, we helped hundreds of class providers make the transition to online classes overnight.
And now, with lockdown easing we are supporting our class providers through our community group, sharing knowledge and advice on how to return safely, and GDPR advice on how to make best use of your Hoop data.
We are also innovating to help parents navigate both online and in-person classes.
In the last few weeks, we've added a new 'Follow' feature to help class providers automatically build their own email marketing lists as they prepare to return, as well as a testimonials feature.
2. Fully Featured Bookings with Happity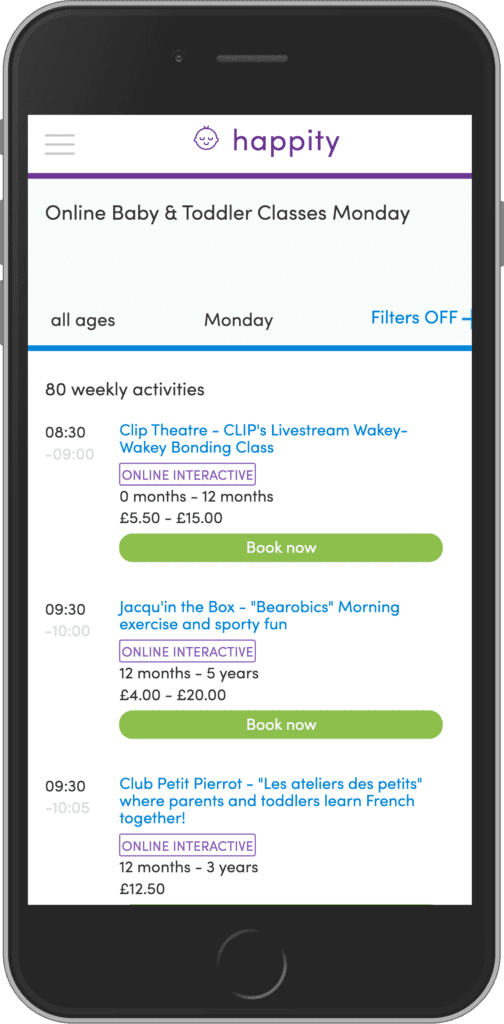 With Covid19 measures now requiring advance bookings, Happity is ideally placed to help you manage your data requirements.
We are able to handle all the commonly used ticket types for baby & toddler classes. Tickets can be purchased as one-off tickets, in blocks, or pro-rated for the term. They can be assigned as trial offers, or sibling discounts.
Classes can also be set as online (with it's own booking confirmation and automated link distribution), or in-person.
More information here.
Registers – your way
Happity provides registers for every class, with an easy way to contact all attendees if you need to make late notice changes. You can also assign teachers with their own secure login and export customers who have opted in to marketing from you.
More information here.
We are constantly improving our systems to help you during Covid19
Having helped thousands of classes get online during lockdown, and now supporting both online and in-person classes, we have a lot of helpful features in the pipeline to help the transition back to normal life (or to help transition back to lockdown should that be required – we hope not, but we are ready!)
Our social mission
We've experienced the social isolation that can come with caring for a newborn, and the all-too-often knock-on impact on mental health.
As a mission driven organisation, we are in it for the long haul, and are here to do what we can to help you throughout this difficult period.
In the last month, Emily has featured in The Sunday Times, The Guardian and on the BBC, campaigning for the rights of mums on maternity – and speaking out about the gender inequalities arising due to covid19. We have also been lobbying government of the need to support the children's activity sector and how we have been affected just as much as the more visible shops, restaurants and cafes.
We are looking forward to a bright new chapter for Happity, coming out the other side of all this stronger and able to deliver our social mission from a bigger platform.
Here are some things class providers say about us
"Happity have been really good and very supportive during this time."
"Because of Sara and her team we were also online a week after lockdown" Incredible work by them" No way we would have achieved that alone"
"They are really good. Our area manager did months of research before deciding on them and we can't fault them. Any feedback we offer them too, they always act on."
Stay safe & well. ️
Sara, Emily and the Happity Team x