It's been a long road to reopening for baby classes. But finally indoor classes parent and child classes are coming back. You might be feeling really excited about the chance to get back to classes – or go to them for the first time. But you might also be feeling a little nervous about indoor parent and child classes too.
Covid safety measures for indoor classes
Rest assured, properly run baby and toddler classes are operating as professional businesses, with high safety standards and your best interests at heart.
Everyone has been working incredibly hard behind the scenes to complete their covid-safety training, undertake full risk assessments, and work with local authorities to ensure classes are as safe as possible. ❤️
What to expect from indoor classes
Here are just a few of the examples of the things you can expect from returning classes:

⭐️markers or mats placed 2m apart or more
⭐️controlled entry / exit points
⭐️hand sanitisers on site
⭐️'one use only' sanitised equipment – no sharing between families
⭐️appropriate use of face coverings (this might be 'mask to mat' in some settings so you can remove your mask once in position – face coverings may need to be kept on in others)
⭐️use of microphones and visors for class leaders, reducing the need to project voices
⭐️smaller class sizes, in larger venues
Some providers also are putting in place extra measures, like having temperature checks on the door, and allowing families to purchase their own kit that they can bring to each class.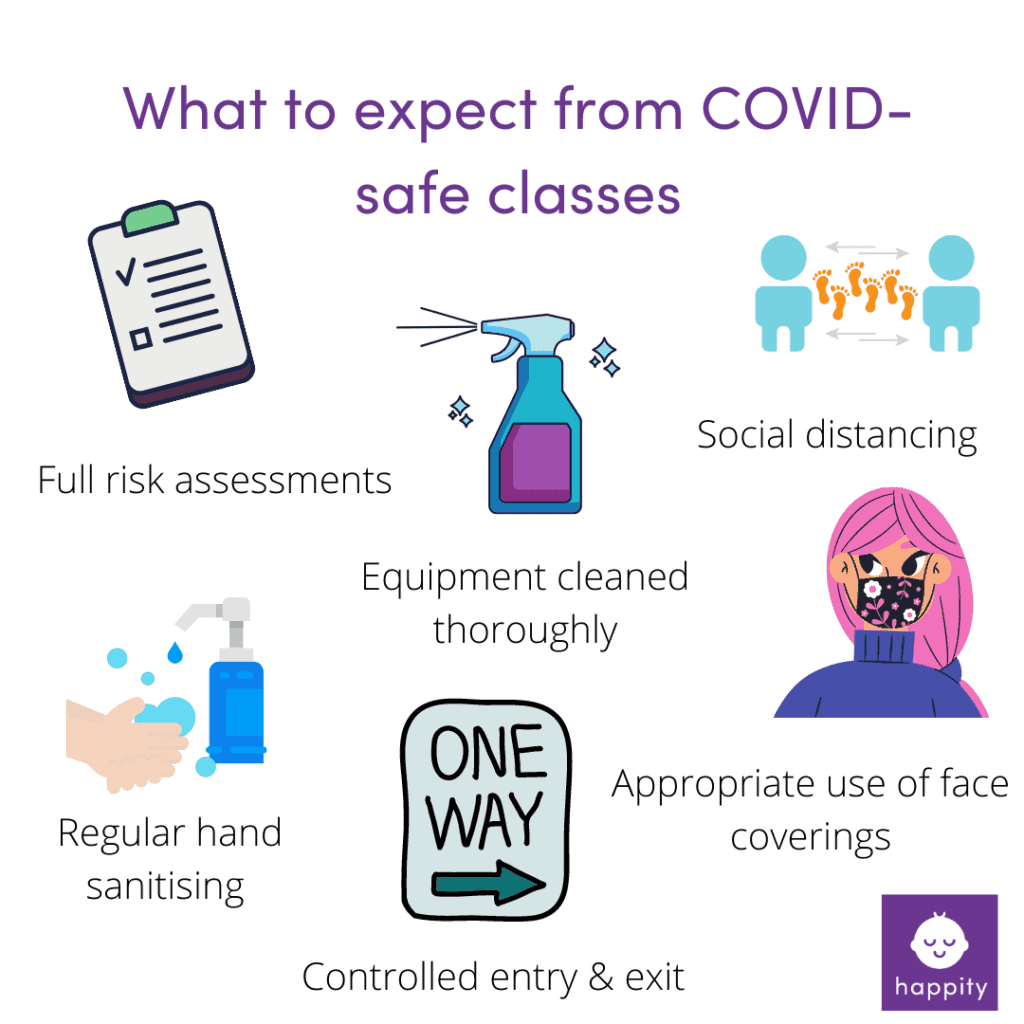 Nervous about joining an indoor baby class?
Even before Covid you might feel a little nervous about going to a baby or toddler class. We get it. Walking into a room of strangers can be daunting. The whole 'new girl at school' feeling can creep up on you.
Feeling like the new girl at school!
Nicola from Team Happity recalls how nervous she felt whenever she went to a new baby class (pre-Covid):
"I was so desperate to meet other mums and make friends. But every time I joined a new class I felt a real rush of anxiety before I walked into the room. I wouldn't know anyone. Would anyone like me? What would I do? How would I talk to other mums?
Most of the time either the class leader or another mum would put me at ease and say 'hello' and welcome me. And having a baby was an easy way into talking to other parents. That's what we had in common and asking questions about our babies was an easy conversation opener"
If you're nervous about going to an indoor parent and child class here are some top tips.
Top tips to make going to a baby group less daunting
Make sure you know where the group is and how to get there – The last thing you want to do (when you're nervous already) is to turn up at a class or group at the wrong time. Research local groups, book your place and maybe even do a recce to make sure you know how to get there.
Start the conversation – Babies and children are a great leveller. It's easy (but daunting) to start a conversation with mother mum at a parent and child group. You can ask them about their child's teething toy, compliment them on their child's outfit, ask the mum if she's been to the group before…Once you've opened up the conversation you might find it leads you to more chat. If not – talk to other mums. You're all there to connect.
Lower your expectations – In lockdown we're all desperate to get out there and meet new mums friends! When baby groups are open we want to walk in and find our new mum BFF instantly! We know you're excited but lower your expectations. A group of mums in a room might have one thing in common – babies around the same age. But that doesn't mean they will instantly be best friends. That takes times. You might have to join more than one group and talk to more mums to meet the ones you really click with. Keep going. It happens. You'll find your tribe in the end.
Don't give up after the first time – you might be shy when you first go to a class. Or your baby might be clingy and not seem to have joined in. You might feel like you've made no connections and feel a bit left out or lonely. Don't give up. It takes time to make friends. Joining a class gives you a shared experience. Smile, be friendly and approachable and keep going. Over time friendships might develop. If you give up after one or two classes feeling shy and uncomfortable you will never know if you might have found friends by sticking with it.
Be brave and suggest a next step – If you have enjoyed talking to another mum at a group be brave and suggest keeping in touch and meeting up again. Chances are they'll be delighted you've made the first move. You could go for a socially distanced walk together or meet up in your garden. Go for it and make that first step towards what could be the first step to making a new mum friend.
Booking your indoor classes
As a community, we care hugely about the safety and wellbeing of parents and their children – and none of us have taken the decision to return to classes lightly. There are higher costs, and greater risks. This means you might find classes need to be booked in blocks, or that they are only transferrable to online classes if there is a local lockdown or the situation changes.
For classes that are coming back, their small biz owners have put in weeks, if not months of planning and hard work, just so that they can get back to you – all the families that have missed them – as soon, but as safely as possible! ❤️
Please support your local class providers – visit happity.co.uk to book your favourite classes.
We would also LOVE you to spread the word about Covid-safe classes by sharing our post on Instagram and Facebook.
Not quite ready yet?
Although the government roadmap allows indoor parent and child classes to return (in England – and hopefully very soon in Scotland, Wales and Northern Ireland) you might not feel ready yet to go back. That's understandable. And totally OK. There will still be many online interactive classes on Zoom. Check Happity to find amazing online classes that you can join from the comfort of your own home.