09/03/2018 by Emily Tredget
The great African proverb that "it takes a village to raise a child" could sum up what MummyLinks (now Happity) is all about. I have definitely found that motherhood doesn't work alone. You need mums both physically and emotionally around you for support. If you try to do it alone, sooner or later you find that you can't. That's why I set up MummyLinks, so when Danielle from It Takes A Village got in touch I was keen to chat!
It Takes A Village is based in Cambridgeshire and aims to share all things family friendly in Cambridgeshire whilst talking about mental health and loneliness. Just up my street! Dani and I got chatting and we soon found that we were very similar – in terms of our life before children, and how we struggled once we had them. So it wasn't surprising that we are now both trying to achieve a similar thing, in different ways.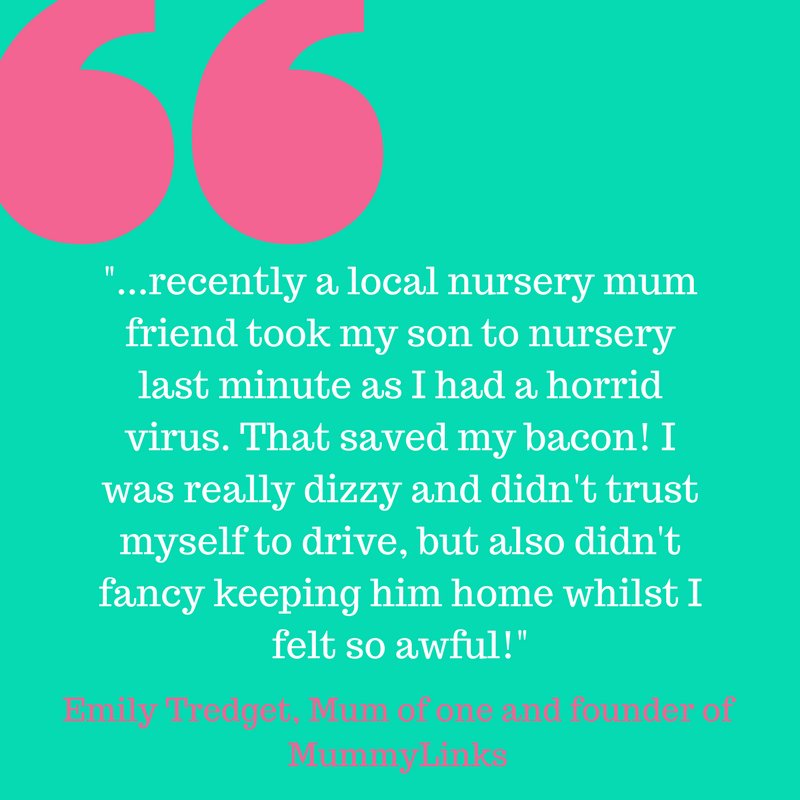 So we have decided to support each other. Because that's what we are both all about. Mums supporting each other – and why shouldn't that mean projects run by mums to help mums supporting each other too!
For the month of March, Dani is running a campaign called #MumsMarchTogether. She is hoping to encourage mums to reach out and make the first move when it comes to connecting with other mums (tick!). It might just be a smile at the new mum in playgroup, a kind comment in passing to a mum in the GP surgery with the poorly baby, an offer of a snack or offer to push the trolley to the mum dealing with a tantruming toddler. Or is could be something bigger like plucking up the courage to ask for another mums number, signing up to something like an app/FB group like MummyLinks or striking up conversation with another mum at a baby group or at the park. If any of these things result in a conversation or even a friendship blossoming, then all the better. But even if it just makes a small difference to another mums day then we're all for it! She is encouraging mums to consider doing some of the aforementioned and then using the # to share their acts of kindness/stepping out of their comfort zone.
So straight away I got involved! I shared of a time recently when a nursery mum friend took my son to nursery as I had an awful virus. I have to admit I did think twice about asking her – I didn't want to put her out, or have her feel I was taking liberties. But then I listened to myself and said to myself "don't be silly. You would want her to ask the same of you, and you wouldn't mind one jot – in fact you'd be proud to help a fellow mum in need". So I asked her, and of course she was totally up for helping!
I would love to encourage you to get involved in this great campaign too. Just pop onto Facebook, Twitter, or Instagram (see her details below) and post using #MumsMarchTogether. If you tag me (@MummyLinksApp) I'll share too!
Dani is also asking people to post about the not so great bits of motherhood. Now this is something equally close to my heart! The #MeYouDontSee campaign that Lindsay from Have you seen that girl? and I started in January is along a similar vein – showing that photos in social media don't always give the full pictures. We encourage people to post a picture of when they were struggling (in most cases with PND and other mental health issues as that's what we struggled with, but we've also had others about motherhood!) and explain a little of what is going on behind the picture. So again, this campaign was something I was keen to get involved with! I don't think mine has gone out yet, but look out for it!
It's been great getting to know Dani and I look forward to working together! If you like the sound of what we are doing then do follow us (Dani is @Takesa_Village and I am @MummyLinksApp) and get involved in our #MumsMarchTogether, #MeYouDontSee or #ShoutieSelfie (due to launch again soon – watch this space!) campaigns! So great to have so much going on and really making a difference in the social media world!