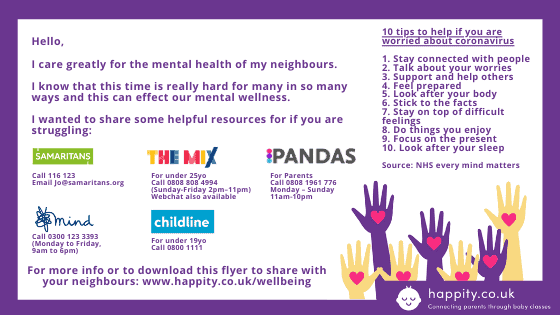 If you need urgent help, please:
Talk to your GP, midwife or health visitor
Head to A&E or call 999
Chat to the Samaritans: 116 123 (for free and won't appear on your phone bill) 
Contact PANDAS: 0808 196 1776 (11am-10pm, specifically for post-natal mental health)
Why is Mental Health Support important to us?
Here at Happity we put mental health at the forefront of everything we do. This is because Emily, one of our co-founders, struggled with Post-Natal Depression and Anxiety for over two years after the birth of her son. It's an awful disease that 1 in 5 mums and 1 in 10 dads struggle with post natally.
Happity isn't just for parents who struggle in this way, but with so many struggling it's important we all know what to look out for and how to help.
This couldn't be more important than now, during Covid-19.
If you are looking for information on Post-Natal Depression specifically please scroll down to that section, otherwise read on for information on how you can get help if you are struggling with your mental health at the moment.
Covid-19 Support
It is important we all look after ourselves and our families during this period of lock-down and transition.
NHS Every Mind Matters shares 10 tips to help if you are worried about coronavirus
1. Stay connected with people
2. Talk about your worries
3. Support and help others
4. Feel prepared
5. Look after your body
6. Stick to the facts
7. Stay on top of difficult feelings
8. Do things you enjoy
9. Focus on the present
10. Look after your sleep
Our resident Clinical Psychologist, Dr Zara Rahemtulla has written a few blogs on helping families specifically:
Keep Calm and Carry On (With Covid-19)
How to help your kids during Covid-19
5 Top Tips for supporting your child with the transition back to nursery or school
What to do when… your child asks about death
We have also pulled together some useful website for if you need help and would like to talk with someone:
If you need urgent help please call 999, your GP, or head to your local A&E department if appropriate.
Samaritans – Call 116 123 or email [email protected]
Mind – Call 0300 123 3393 (Monday to Friday 9am to 6pm)
The Mix – For under 25 year olds: Call 0808 808 4994 (Sunday-Friday 2pm-11pm) Webchat also available
Childline – For under 19 year olds: Call 0800 1111
PANDAS Foundation – For Parents: Call 0808 1961 776 (Monday to Sunday 11am-10pm)
At this tricky time, it is important to ensure that those around you are keeping mentally well.
This is so important over the coming weeks and months, as with lockdown lifting, those that don't have family and friends nearby to support them will feel the most lonely.
And loneliness impacts mental health detrimentally. Research suggesting it is as bad for your health as smoking 15 cigarettes a day.
So please copy this image below, and share it on your social media.
And download the PDF version to print, cut, and distribute to your neighbours:
Thank you.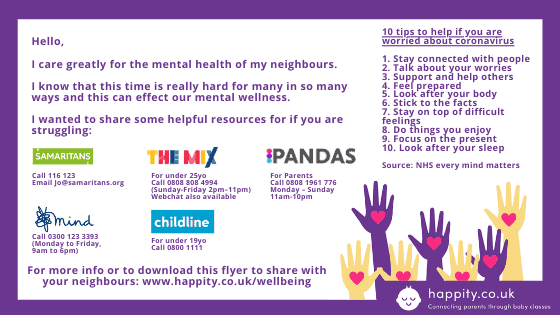 Parent's Mental Health
Ensuring all parents are supported with their mental health is really important to the team at Happity, as both founders and members of the team have each had their personal struggles. Sara experienced a traumatic first birth and flashbacks, and Emily struggled with post-natal depression and anxiety after the birth of her son (you can see some of her posts on Huffington Post).
Our experiences led us to create Happity and to campaign for greater awareness, so that others don't have to feel alone like we did. Helping parents maintain mental health remains right at the heart of what we do.
We know first hand what it's like to struggle as a new parent. Happity is designed to help you find local support, face-to-face, in your parent community. We have pulled together this resource page to sign-post anyone struggling (or supporting anyone struggling) to find more help.
Up to 1 in 5 mums and 1 in 10 dads experience mental health issues in the perinatal period. It's incredibly common, yet many of us don't realise. Help is available. You are not alone.
Dr Zara Rahemtulla, is a Clinical Psychologist who supports our work, and she wrote this blog for us recently on looking after your mental health as a parent during Covid-19. She also wrote this blog about supporting your children.
Happity isn't just for parents who struggle with their mental health, but with so many parents struggling it's important we all know what to look out for and how to help. This is why we run #ShoutieSelfie each year to raise awareness, and show our support for those currently struggling with their mental health.
And it's not just mental health that parents can struggle with. Many parents struggle to connect with their baby after the birth. Babies1st offers Video Interaction Guidance (VIG) to help parents to bond with their baby.
By building on positive moments, VIG helps parents become more confident, attentive and attuned. This results in happier parents and happier babies. To find out more head to Www.Babies1st.net
Post Natal Depression
Mental health struggles can be different for everyone. Emily created this video, with the help of her (as was MummyLinks) community, to help everyone understand what struggling with PND can be like:
And this video provides some insight from those working to help parents struggling:
Blogs
Emily has written a number of blogs during her MummyLinks days on mental health, and had some great contributers too, please find some of these blogs below:
Can Loneliness Lead to Post Natal Depression?
Five Reasons You Need Mum Friends
Is Post Natal Depression a Millenial Issue?
If Post Natal Depression Were a Male Issue Would it be Higher on the Agenda?
Is It Just New Mums That Struggle?
A Blog For All The Amazing Parents Fighting For and Against PND
Guest Blog: A Dad's View on Loneliness
1 in 4 Women Struggle with Mental Health During Pregnancy
16 Things Mums With PND Wish You To Knew
Where to find more information and support:
The NHS has some guidelines on Post Natal depression including symptoms and how to get help.
The PANDAS Foundation helps, supports advises any parent who is experiencing a perinatal mental illness. They also inform and guide family members, carers, friends and employers as to how they can support someone who is suffering.
The APNI helpline is available for anyone affected by Postnatal Illness, new parents finding things tough and in need of advice, support or just some reassurance and a confidential chat about what is going on for you, available Mon-Fri 10am-2pm. Tel : 0207 386 0868. Or Chat live via on www.apni.org
This website, blog and movement is dedicated to raising awareness of Perinatal Mental illness. It provides hope and help for struggling families, and campaigns for better services and support for all.
Disclaimer: Some of the services mentioned on this page have paid a small fee towards the creation and marketing of this page.