Are you a new mum? Becoming a parent is one of the most challenging things we can do. There's the broken sleep, breastfeeding and changes to your body to contend with. Add to that the challenges of Covid-19, and you may feel like everything's just a bit too much. Mums need to look after their mental well being as much as their physical well being. And we know that postnatal depression can affect as many as 30% of new mums.
But what do you do when life with your new baby isn't quite as rosy as everybody said it was going to be? What if you can't stop worrying. If you feel isolated. Or your mood is consistently low?
Melodies for Mums
Breathe Arts Health Research are currently running, Melodies for Mums. This free support is a singing programme for new mothers who may be experiencing anxiety, low mood, stress, loneliness and possibly be at risk of or have postnatal depression.
This isn't your average mum and baby music group. Firstly, it is completely free, ensuring accessibility for women of all socio-economic backgrounds. Groups of 10 – 12 women are led by a trained musician. Instead of popular nursery rhymes, women learn everything from folk songs and lullabies to gospel, in a range of languages making it a culturally inclusive environment. The songs explored are focused on creatively stimulating and challenging the women taking part, which makes them different from many mum and baby groups.
While the little ones will definitely get a lot out of the session, we're specifically here to support mums. We want to offer mothers a joyful shared experience, that connects them to other women as well as their baby. There's no need to share or go over anything that's troubling you in the sessions. Just show up and get ready to sing!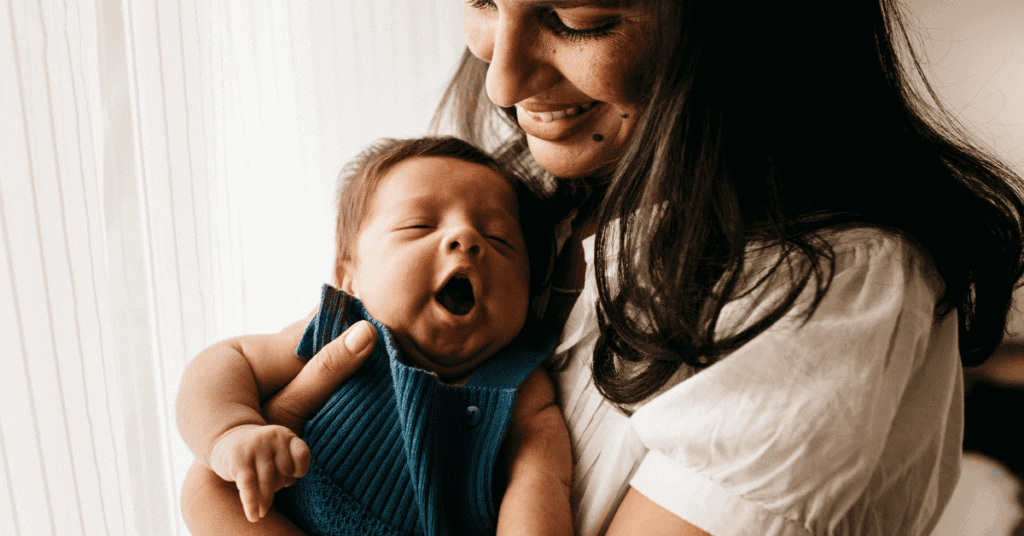 Pioneering research into maternal mental health
Melodies for Mums is a model based on really pioneering research which, for the first time ever, looked at the benefits of singing on symptoms of Postnatal depression specifically. We know that PND affects between 13-30% of new mothers… a broad bracket because so many mums don't seek help or recognise their symptoms of being something more serious than the baby blues. So it's hard to know exact numbers… but its high! And of course, during and as a result of this pandemic, the fear is this number will drastically increase.
This research by Royal College of Music and Imperial College London investigated the impact on PND symptoms across three groups – 10 weeks of social care, social and play activity and singing activity. It was the singing programme that showed a faster improvement in PND symptoms, 1month earlier than the others. With PND, we know it's important to address symptoms as early as possible so this was a key finding.
How singing can improve mental wellbeing in new mums
From this research, we also know:
Stress hormone levels (cortozol) levels reduced in mothers after singing activity
There was a 41% reduction in symptoms of PND in 73% of women who took part
Opportunity to meet other mothers facing challenges in a familiar group setting, which is important for maternal mental health
Improved mother and baby bonding through singing over play
Gives women an emotional outlet where they can express themselves
A tool to use at home with baby – improving confidence
How Covid has impacted mental health of new mums
Navigating through the pandemic as a new parent, must be extremely challenging. Especially with less tangible support available, prolonged periods of time without seeing friends and family and disrupted daily routines. There is a concern that mums suffering with maternal mental health will not be able to access the support they need.
Recognising that lots of services, offers of care and activities are on hold because of COVID, Melodies for Mums has been redesigned to deliver the programme online. Running the sessions in this way increases the opportunity for mothers to get involved, as the location is not an issue. It also gives mothers who would ordinarily feel shy in group settings the freedom to join from the comfort of their own homes.
Melodies for Mums is recruiting for a number of online programmes, open to women with young babies up to 9months, from across the UK. To sign up
Visit www.breatheahr.org or email us at [email protected] to sign up.
Hannah Dye – Head of Programmes, Breathe Arts Health Research
If you have PND we have a wealth of information, support and help in our PND section.