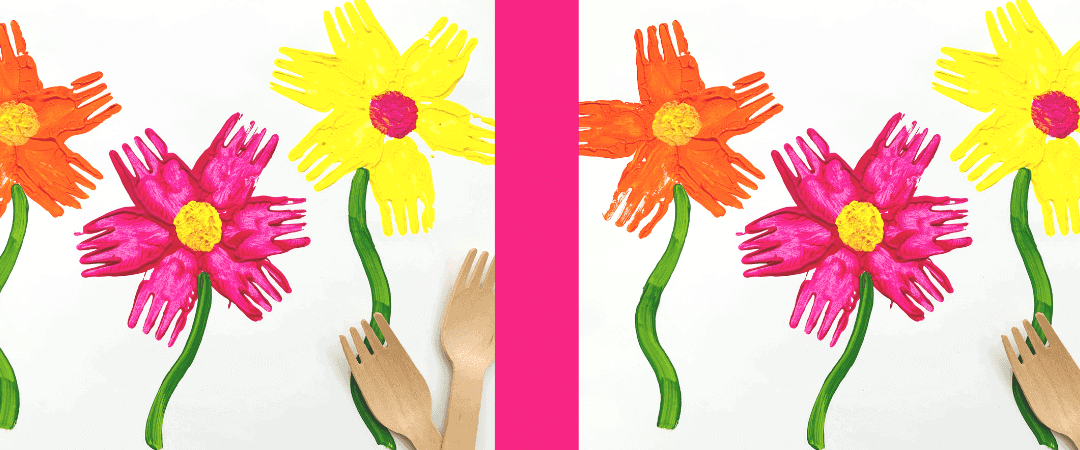 Spring is just around the corner and to get you in the mood we've put together some quick and easy nature crafts for kids. These are all two activities in one as you can spend a happy time collecting leaves and petals, sticks and pebbles on a nature walk. Then you can spend a happy afternoon crafting and making activities from your treasures.
Have fun!
1. Nature crafts for kids -Little leaf animals
Gather a bunch of leaves on a walk. Try and find leaves of all sorts of shapes and sizes and pick up any little pine cones, flowers and seeds that you can find too. When you get home, challenge your child to arrange the leaves on a sheet of paper to make an animal.
Let them make their own imaginary animals or monsters if they want to! They might like to use pens, paint or googly eyes to add extra details.
2. Lovely leaf printing

Pour out some paint onto a paper plate (or into little bowls) and ask your child to paint the underside of a leaf – covering every thing, including the stalk. Then ask them to place their leaf, painty side down, onto a sheet of paper and press it firmly. When they lift it off they should see a beautiful leaf print! They can make as many leaf prints as they like. They might want to try using more than one colour on each leaf to see what effects that makes too.
3. Nature crafts for kids – Fork print florals

Printing with forks can make the most beautiful spring flower paintings. Just dip the back of a fork (we used wooden forks) into paint and print on a piece of paper or card. Single fork prints look a bit like tulips. Or a circle of fork prints look like daisies or gerbera! We painted the centres of our flowers and added stalks with green paint too.
4. Swirly whirly sticks

This is a really simple make that little ones will love playing with.
Find some nice sticks on a walk and gather some ribbons (you could also use strips of tissue paper or strips of fabric). Tie them to one end of the stick to make a swirly whirly wand that toddlers can hold. They will have hours of run running about the garden or park waving their swirly sticks and coming up with all sorts of imaginative play.
5. Nature hanging window frames

Give your child a basket or small bag and ask them to gather lots of different leaves and flowers on a walk or from the garden. Cut round pieces of card and punch a hole in the top. Now your child can stick their nature treasures all over the cardboard frame to make a pretty picture. Thread some ribbon or string though the punched hole to hang in front of a window.
6. Nature crafts for kids – Painted pebble friends

Why not let your children paint their own little pebble friends?
They can simply paint them with different colours and patterns (try giving them cotton buds to print dots over a painted background). Or they can make them into rainbows or faces or even animals. You can varnish your pebble friends once the paint is dry by brushing on a coat of watered down PVA glue. This makes them nice and shiny and makes the colours pop.
7. I spy nature walk

Turn a walk into a treasure hunt with these adorable I-Spy Nature Walk printables.
Your toddler can tick off each thing they spot along the way, making an everyday walk much more fun. We've made I-Spy sheets for a nature walk as well as a walk along the streets.
8. Messy mud kitchen

Remember making mud pies as a child? It's just so much fun. Embrace a bit of mess and mud and set up a mud kitchen for your child to explore.
It doesn't need to be anything fancy. Just pop some bowls, spoons, baking trays, sieves – any kitchen equipment that is either old or can easily be washed – onto a bench or table. Or even just on the path or patio. You could set up bowls of shells, pebbles, grass, flowers and seeds too. Add a bowl of water and a small jug to pour. And let your child make mud pies and potions and squish and stir to their heart's content.
9. Easy peasy bird feeder

Don't forget your feathered friends! Little ones will not only love helping you to make and hang bird feeders but will then wait with excitement to spy who comes to visit them.
A really easy way to make a bird feeder is to cut and orange in half and cut out the flesh. Make holes in four sides (at the compass points) with a fat needle and thread one piece of string along one diameter (through the two holes that line up) and one piece of string through the other two holes. Your strings will cross over (as shown in the first photo). Tie the ends of the strings but, for now, keep them hanging down. You can fill your bird feeder with a mix of seed and either lard or peanut butter. Then bring the strings up to the top and hang in the garden.
More you might like:
15 easy to do rainy day activities for toddlers
A-Z of activities and play ideas for toddlers