When we were contacted by the House of Commons to talk about the impact Covid-19 was having on family mental health due to a petition (found here) that had launched to extend maternity leave (signed by nearly 250k parents!) we grabbed the opportunity with both hands – it's something we care passionately about
With the start of Covid-19 we found ourselves in the privileged position of having the tech, the passion, and the knowledge to help parents with what they needed most – to continue to support their child's development, and to maintain their mental health. This is what we have always been here for.
As lockdown began we supported hundreds of our providers in going online within hours. So they were back up and running, supporting parents across the UK, and keeping their livelihood – with a new class format (interactive zoom classes) which actually benefit familys' and providers' mental health.
You might think we do this as we are a big nasty tech company. But we're not. We are 4 parents juggling working and homeschooling, struggling to survive along with many other small businesses who are unable to get any help from the government or other grants.
But we are not just fighting for our survival, we are fighting for the mental health of parents and children in this awful time, and for the baby class market. Because both are being effected hugely due to the inequalities which are opening up more and more due to Covid-19.
Parents are being forced to resign due to lack of childcare and mental health support. We now face huge inequality, reversing years of progressive work to work towards equality.
And providers in the baby class market are currently teetering. Even if we can go back to baby classes soon, how will a class provider make a living if only say 4 parents are able to attend at once due to social distancing? Or are they going to charge £20 a class?
So we have decided to use our platform to help parents who are trying to be heard. We have decided to launch a #MaternityPetition campaign with the parents who started the petition.
Take action by writing to your MP, asking them to sign the EDM (Early Days Motion – a bit like a petition for MPs!), and local Media.
#MaternityPetition
#MaternityPetition is about supporting families right now to have more certainty for their future. With many parents facing so much uncertainty about child-care options, and work stresses, it is more important than ever to help families find that slice of "happity".
And a key way to do this right now, is to extend maternity leave.
Extending maternity leave would
reduce financial pressure on parents who cannot afford to take unpaid leave
reduce mental stress on parents which impact their children
ease childcare problems
give time for parents to attend groups and support their children and themselves
We also are keen to extend maternity leave in a way that works for our parents, and our providers – to have class providers there and still running for them to attend in those extra months – not to find they can't run as social distancing makes it economically impossible. So we are asking the government to help subsidise or fund classes for a period of time for those families particularly in need.
Extending maternity leave would not only cost less than furlough. This is about investing in the future – supporting parents at this difficult time makes economics sense because not doing do risks storing up devastating (and expensive) problems for the future.
How can we expect a child to be left at a nursery their parents haven't been able to visit, with no settling in period, after month of seeing no other human being except those in their family – most likely no other children? Not to mention that the parent may not be able to afford it as they had been planning to rely on wider family for support.
How can we expect a mother to be able to face the huge transition and mental strain of going back to work (which unless you've done it, you will never truly understand), knowing they are leaving their child in this position, and themselves not seen other humans for months?
Not to mention the discrimination many parents are currently facing in the working environment. At the moment they are the easy pickings for redundancy, as unsurprisingly they are struggling to pull their weight in the office as much as their counterparts who aren't also homeschooling and providing child-care.
Take action by writing to your MP, asking them to sign the EDM (Early Days Motion – a bit like a petition for MPs!), and local Media.
Get involved
Below we have put together a some resources you can use to help you in getting your voice heard at this time. Because together we will be stronger.
We have written two papers which we submitted to the House of Commons as evidence. These cover many aspects, with a focus on baby & toddler classes as this is what they asked us to comment on. They can be found here and here.
For a more colloquial article, you can find Emily's Huff Post Opinion article here.
Feel free to send these to your MP or any members of parliament, council or local media you can.
Templates
For ease, we have created a template email you could use to send to your MP which you can find here. In particular, the template asks them to sign the EDM (a bit like a petition for MPs), this is a key thing for them to sign to get this discussed properly in government.
You can find your MP here: https://members.parliament.uk/FindYourMP
And a template for your local media, which you can find here.
Here is an image you can use on social media to share about this page and the campaign: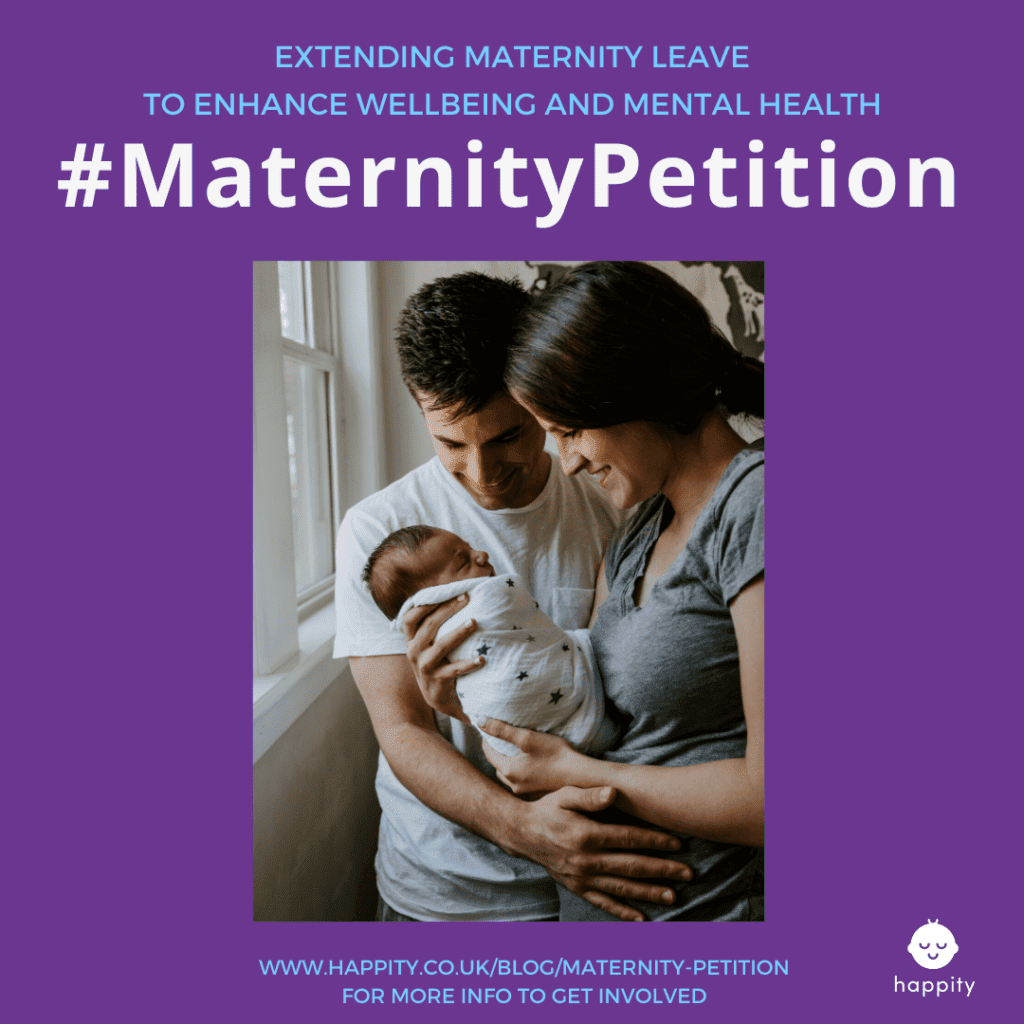 Other ways to support
We would love your help in getting as many influencers / celebrities / organisations behind this campaign (we will add the logos of those organisations supporting this campaign below and are also using our celeb/media contacts to gain support). Please do message those you can – either through personal contacts, or the power of social media to encourage them to support this campaign. Do send them to this page to find out more.
When sharing on social media, please do tag us @happity.co.uk and use the hashtag #MaternityPetition and we will share your post. This will give each post a bigger audience, and is a way we are more than happy to help.
To follow us for more updates please head to Instagram or Facebook.
If you have other ideas as to how we could help at this time, you are an organisation/influence/celeb keen to get involved, or you are media wanting to cover this campaign, please email [email protected]
Supporters