A sneak peak in Santa's stocking at what's on over the coming weeks…

With just two weeks to go and the official countdown on we're fully in the festive swing here at Happity HQ. This Christmas may be a little different but it's not stopping our happity community from enjoying the build up to the most magical day of the year. Thanks to our wonderful providers, there's still plenty of covid safe Christmassy classes happening around the country so that you and your little ones can still experience the enchantment of this very special time.
So if you've found yourself asking "what's on this christmas for kids", or "can I find an online christmas party for the kids", you're in the right place!
In Person Classes
From rocking around the Christmas tree at a mini disco to becoming your favourite Frozen Disney character here's just a handful of brilliant socially distanced in person classes some of our providers have on over the coming weeks…
Christmas Crafts Tree Babies | Wednesday 16th December 10am – 11.30am
Make a simple Christmas tree decoration keepsake at Tree Babies!

Where? Capstone Farm Country Park, Medway
https://www.happity.co.uk/the-sage-village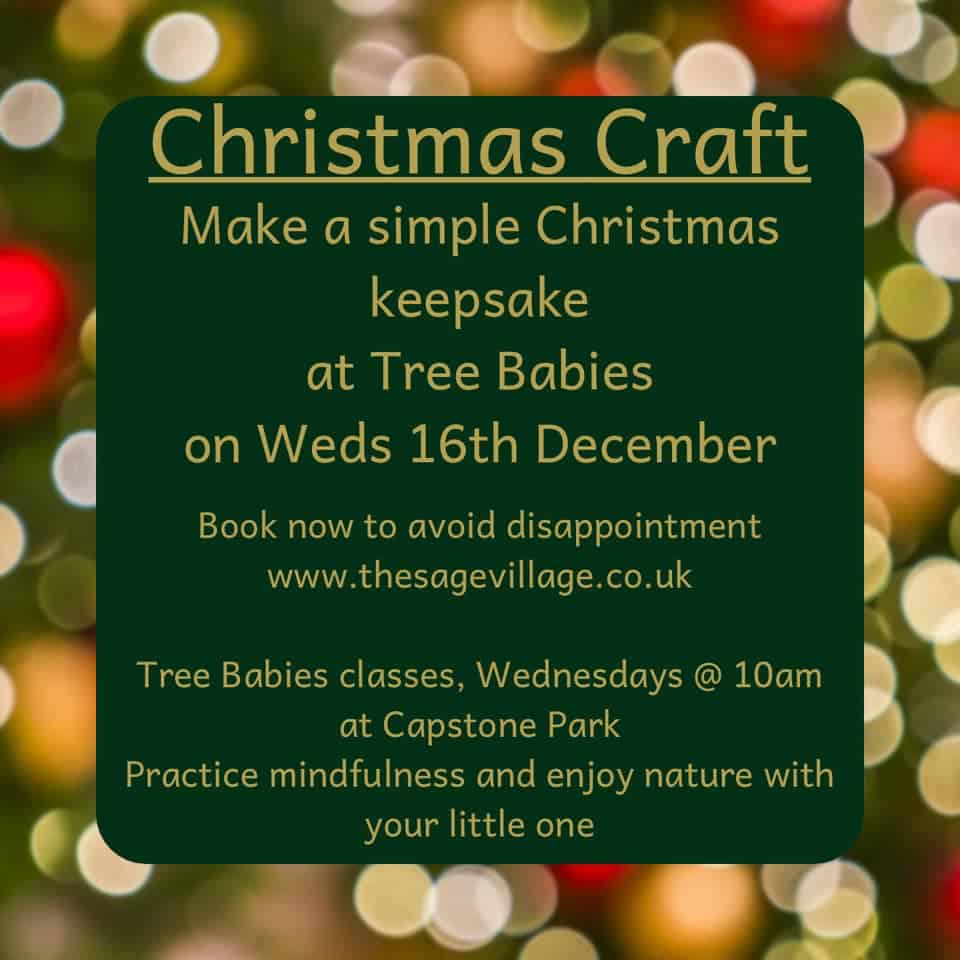 ---
Snow Time! Boss Acting School | Saturday 19th December 1.30pm – 4.30pm & Sunday 20th December 10am – 12pm
Musical moments inspired by Greatest Showman, The Princess & The Frog, Frozen and Toy Story. Christmas competitions, a visit to Lapland and many more!
Where? Wimbledon & Earlsfield https://www.happity.co.uk/schedules/boss-acting-school-london-saint-luke-s-church-snowtime-christmas-workshop
My Gym Christmas Camp | Sunday 20th December & Monday 21st December 1pm – 3.30pm
Christmas party with a special visit from Santa and a short festive movie!

&

My Gym Little Elf meet Santa Party | Monday 21st December 9:15am, 10:20am, 11:25am
Meet Santa from a safe distance in their Christmas grotto. Also featuring games, rides, swings and gymnastics!

Where? Batterseahttps://www.happity.co.uk/venues/baby-groups-battersea-my-gym-battersea
BilinguasingChristmas Themed We Sing Spanish | Monday 21st December 10.30am – 11.15am & 1.30pm – 2.15pm
Festive fun-filled, highly interactive music classes for babies (from 4 weeks!), crawlers, toddlers, preschoolers and their little siblings.

Where? Coventry & Kenilworth https://www.happity.co.uk/bilinguasing/coventry-and-kenilworth
Kidz Live Christmas Special | Wednesday 23rd & Thursday 24th December 9.45am and 10.45am
Join Kidz Live for an unforgettable musical Christmas at our Kidz Live Christmas Special!
We will have a magical time exploring percussion and instruments galore as well as singing along to your favourite Christmas songs.
Where? Barnes Wetland Centre
https://www.happity.co.uk/schedules/kidz-live-london-wwt-london-wetland-centre-christmas-special-thursdays-09-45-10-15
Online Classes
If you're looking to stay warm and cosy indoors but still want to join in with the festivities from home then why not check out our selection of online classes below so that you can be transported to the North Pole from your very own living room!
The Humpty Dumpty Christmas Singalong | Tuesday 15th December 11:00am –11:45am & Friday 18th December 10:30am –11:15am
Join Debs and Humpty for a Christmas singalong session for babies, toddlers and pre-schoolers! With traditional and not-so-traditional nursery rhymes, action songs and other fabulous tunes, they make live music together with ukulele, shakers and other instruments and delight the children with puppets, bubbles and more!

https://www.happity.co.uk/the-humpty-dumpty-singalong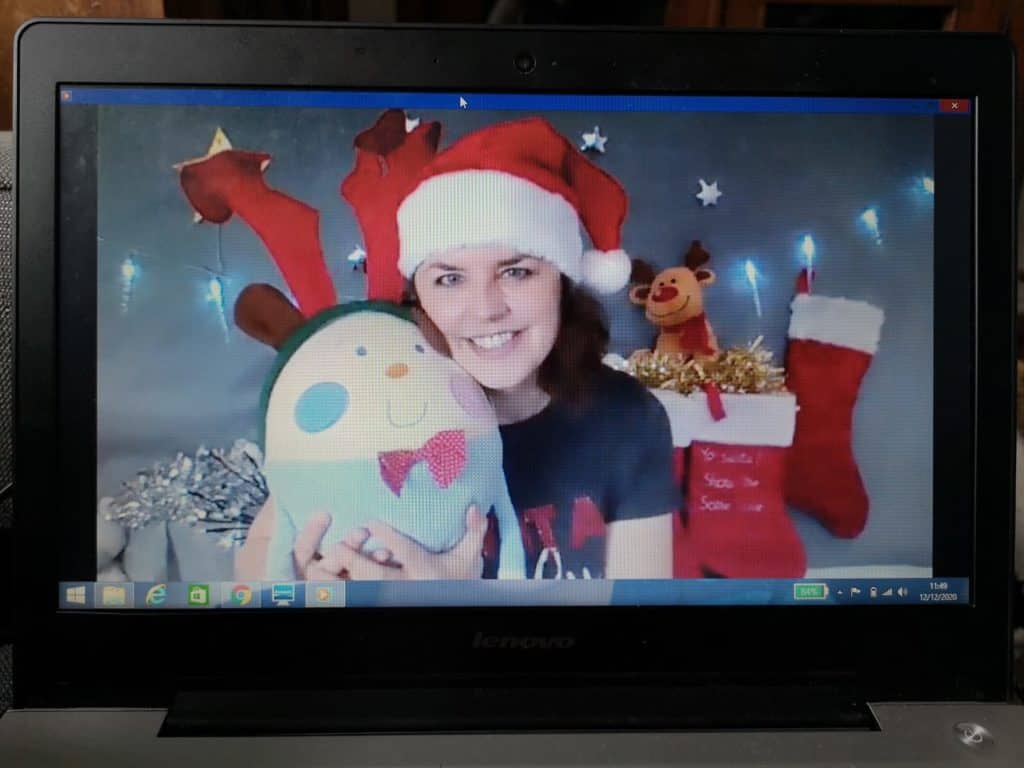 Baby Broadway I'm Streaming of a White Christmas Family Singalong | Friday 18th December 11am
A virtual Christmas family concert, with West End singers

https://www.happity.co.uk/baby-broadway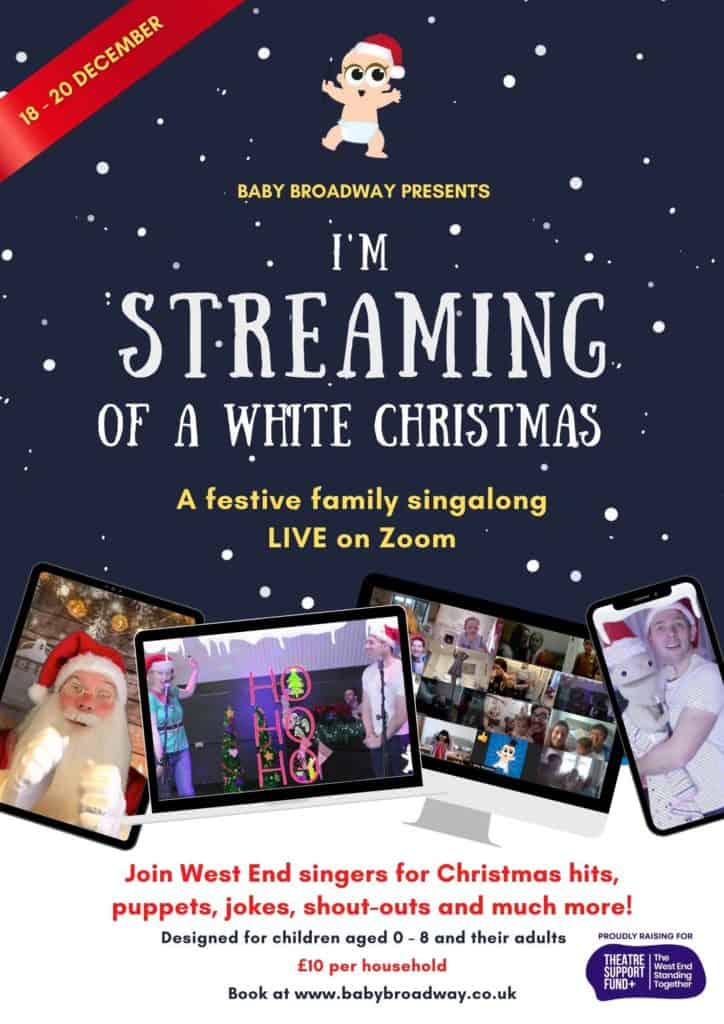 ---
Kiddibops Christmas Music Play | Friday 18th December 09:45am – 10:15am
Dress up your little one in their First Christmas outfit, and share some rhymes, songs and music play together, all with a Christmas theme.

https://www.happity.co.uk/schedules/kiddibops-west-midlands-happity-home-kiddibops-christmas-young-babies-fridays-09-45-10-15
Boogie Monsters Family Christmas Zoom! | Saturday 19th December at 4pm
Live, fun and interactive acoustic Christmas hits and action songs, to get the whole family rocking around the living room!

https://www.happity.co.uk/schedules/boogie-monsters-surrey-happity-home-boogie-monsters-family-christmas-party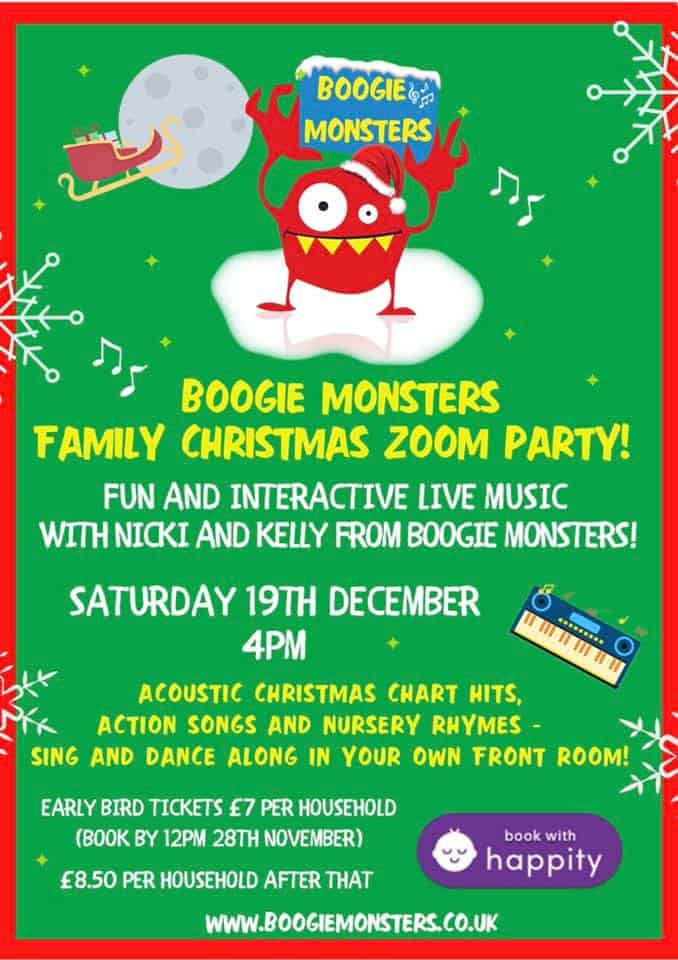 ---
Baby College at Home Christmas Specials | Multiple classes all week long!
A week full of festive fun for all ages! Multi-sensory and cognitive games and more.

https://www.happity.co.uk/baby-college/uk
---
Foxtots Christmas Special | Pre recorded online classes available
Musical instruments, props, original tunes (plus some old favourites!), puppets, bubbles, percussion for the kids, story telling & more!

https://www.happity.co.uk/foxtots-baby-toddler-music-group
Miniature music| Online Subscription
We have a special guest this month. Father Christmas is singing and playing his ukulele! We also have a Julia Donaldson songs singalong Xmas week
It's £5.99 a month to subscribe via the Miniature Music website.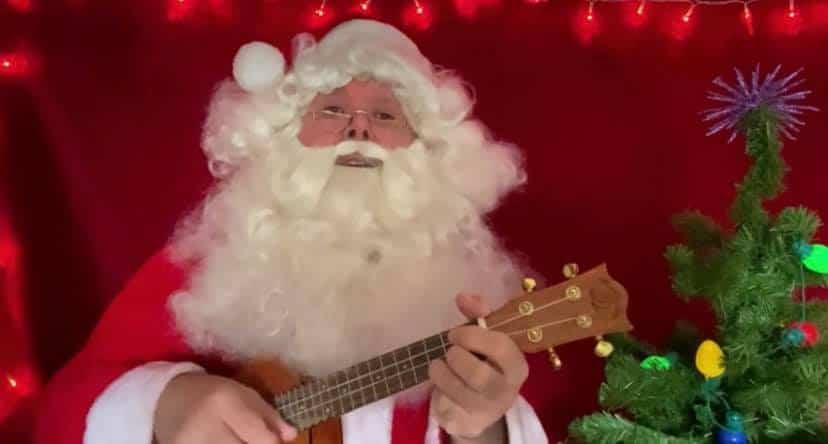 It's been a bumpy sleigh ride for our providers and parents this year and at a time that's all about love and cheer it's important that we all look out for each other. We're thrilled that child and toddler classes have been allowed to safely continue this Christmas and with options both in person and online we can all support this special community that is so important to so many.

The classes above are only a small number of the many wonderful classes happening around the UK this month so be sure to check out what's on in your area by heading to https://www.happity.co.uk/

Wishing you all a happity Christmas!

Team Happity x