Fitting work around family life can be a real struggle. Add in a long, expensive commute, and it can seem like an impossible balancing act. This was the situation Lucy Elkin faced, before she started to work from home.
Lucy went on to found myworkhive, a job-board specialising in remote careers. myworkhive is also a social enterprise, developing free projects to support Mums — and others — to return to work.
Working from home inspired Lucy to start her online business. At Happity our whole team of parents also works flexibly from home, so we're living proof that remote working can really work. Read on to find out Lucy's top tips on working from home; and how you can decide whether it could be the flexible solution for you.
Why working from home works for me
My partner and I moved to rural Suffolk seven years ago with our young children. There were no jobs available nearby in my sector; and commuting would have added hours onto my work-day, not to mention all the extra costs for travel and wrap-around childcare.
Luckily, I was able to work from home — first for a previous employer, and now running my own social enterprise. It means I can do the school-run and easily be at my desk by 9am. I can work right up until it's time to collect the children at 3pm, with no stressful dash back through the traffic to the school gates. I work again after the children are in bed if I need to.
---
How to decide whether to work from home
Working from home (sometimes called teleworking or remote working) is becoming more and more popular. Lots of freelancers and small businesses have been working this way for years, and many companies now allow their staff to work from home, at least part of the time. A few pioneers (such as Buffer and Automattic in the US) have given up their offices altogether, allowing their staff to work from anywhere in the world.
Working remotely doesn't suit everyone and every job, of course. Here are some key things to consider:
Pros
It saves commuting time and costs.
You can job-hunt in a much wider area, giving you a bigger choice of roles to apply for. The world is your oyster!
Some people find they are more productive working from home.
You have control over both when and where you are working. Particularly if you can combine it with part-time, job-share or flexi hours. As the saying goes, work becomes a 'thing you do', not a place you go to – making it easier to fit around family life.
Cons
It doesn't suit everyone. If you're a real extrovert who thrives on the buzz at the office, you might feel isolated working from home.
You'll need to be self-motivated and fairly disciplined about getting work done, and separating home-life and work-life.
Not all employers are good at managing remote teams. It can be a miserable experience if you have colleagues who think you are at home watching day-time TV in your PJs and a line manager who doesn't trust you to get anything done. Find a remote-friendly employer if you can.
You might need to get to grips with online project management tools and video conferencing, and rethink how you manage your time and communicate with colleagues (but those are all useful skills to have anyway).
---
Finding a remote job
Self-employed or employee?
First, have a think about what sort of remote job you'd like. This article focuses on working remotely as an employee, but you might be happy to work freelance or start your own business. Around 70% of UK businesses start from home, so remote-working skills will be useful whichever option you choose.
Where to search
It's possible to find home-based job vacancies on job-boards such as Monster or Indeed. Try searching for keywords such as "remote" and "home-based". However, this will bring up lots of jobs that aren't fully remote — they may only allow homeworking for one a day week, for example — so it can take lots of time to sift through the listings to find jobs that suit you.
Specialist job-boards that only list work-from-home jobs are a much better option — although many tend to focus on US employers, or on specialist jobs (such as computer programming).
myworkhive's own job-board lists interesting remote jobs and freelance roles in a range of sectors, with plenty of UK employers. We're just getting started, but we're constantly researching remote-friendly companies, especially those offering flexible, family-friendly hours. Each job we list is vetted to make sure it really can be done from home. Any restrictions on location or time-zone are made clear in the job-description.
Ask your current employer
If you're already working, you could consider asking your employer if you can work from home. Read up on how to make a flexible working request. And remember, remote working is good for employers too, and not just a nice perk for you. It allows employers to cut office costs, attract great staff, and cut their carbon footprint. If they're not sure, point them to myworkhive's guide for remote employers.
---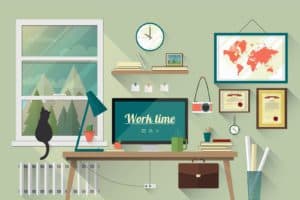 How to make it work: top tips for happy remote working
So once you've found that work-from-home role, how do you make it all work?
Get the details clear
Before you start, have a really good chat with your line manager. Get the details clear. Can you work flexi hours, or do you need to be available during normal office hours? What are you expected to deliver? How will you keep track of progress — and how will you keep colleagues up to speed? What sort of tools will you use to communicate? How will you handle problems such as your internet going down?
If your employer has a home-working policy (and ACAS recommends that they should), go through it together.
Childcare considerations
It's important to remember that you'll still need childcare for your working hours, even if you work from home. Those glossy photos of a Mum cradling a baby whilst effortlessly handling a client call, or working on a laptop while her children read quietly by her feet, are not based on any reality I've ever encountered!
Create a work-zone
You'll need a space that's your work-zone, even if it's just a corner somewhere to set up your laptop and store paperwork. A good office chair really helps to avoid back problems (I learned this the hard way!).
Look after yourself. Make sure you take breaks, and try to set some clear boundaries; when work is always there, it can be tempting to blur the lines between work and home. Some people find it helps to have an end-of-the day ritual, such as sorting out your to-do list for the next day, then closing down your computer.
Get to grips with technology
Take time to get to grips with the technology. You'll probably need broadband fast enough to run video conferencing (if you're not sure, try a few Skype or Google Hangout video calls with a friend to check). Talk to your line manager or IT team about how to keep your computer protected against viruses, how to make backups, and how to keep data secure. Don't wait until disaster strikes — get the basics in place before you start working from home.
Remote working is a skill
Treat remote-working as a new skill to learn. If you've not worked this way before, it can take time to adjust and get into your groove. Try different things — different task-management tools, different working patterns and so on — to see what works best for you.
Some people love the peace of working from home, others need more of a buzz, and prefer to work from a local co-working space or even a café once in a while. Like anything new, it can take a little while to adjust — be kind to yourself, take note of what's working (or not working), and be willing to tweak things as you go along.
Communicate proactively
Be really proactive about communication. Don't rely on email — pick up the phone, and make sure you're active on social working tools such as Slack, Workplace or Yammer if your company uses those. Make sure you're offering ideas, following things up, and generally getting involved.
Be clear about any times you won't be available, so colleagues aren't left feeling frustrated if they can't get hold of you. Some face-to-face time is still useful. Go into the office once in a while for meetings if you can — and leave time for lunch or coffee with colleagues.
If your employer is on the other side of the world, think of other was to keep those informal connections. For example, a video lunch where you eat together with time to chat.
Build your network
Working from home on your own can be lonely, but there are lots of ways to connect, such as going to conferences or local networking events. Some people like to use a co-working space once a week or so.
Co-working venues rent out desk-space. They also often put on talks and social events, and tend to attract lots of startups and freelancers. As a result, they're a great way to meet other people working outside of a normal office. A few even have crèches – in London, try Play Pen Cowork, Second Home, or Third Door.
---
Why I've never looked back
Working from home has been a fantastic way for me to keep my career going, using the skills and experience I built up before having my children — whilst also working really flexibly. My children are older now, but I plan to continue working remotely. I'm not sure I could go back to a rush-hour commute to a busy office!
---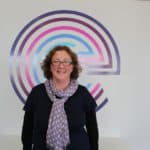 myworkhive Career Camp returnships
Lucy is the Founder of myworkhive, a job-board specialising in remote careers. myworkhive is also a social enterprise, developing free projects to support Mums — and others — to return to work. Lucy says:
"We're currently looking for participants for our first flexible, virtual return-to-work programme, involving a remote work-placement to help you get back up to speed, combined with a supportive, online, programme to help you review your career goals and revitalise your CV. It's free, and will all be delivered online. If you've had a career break of two years or more, we'd love to hear from you. Register your interest in a career camp returnship, or come and say hello on Twitter, Facebook, or email me on [email protected] if you'd like a chat to find out more."
---
About Happity
Happity is a family friendly start up powered by a team of parents, working remotely. Find out more about how our founder, Sara Tateno, built Happity after learning to code on maternity leave. Want to join our Team? Check out our current flexible, remote-working opportunities.
Visit Happity to find baby and toddler classes and activities near you. Sign up to our newsletter or join us on Facebook and Twitter for news and more.