The Hoop app closed. Looking for an alternative for families? Happity is here to help!
Hoop unfortunately announced they would close the app on 17th July 2020. Times were tough during the pandemic, and along with a lot of other small businesses, Hoop sadly shut down. With such short notice, it left many parents and providers in the lurch, not knowing where to turn to list, find and book classes.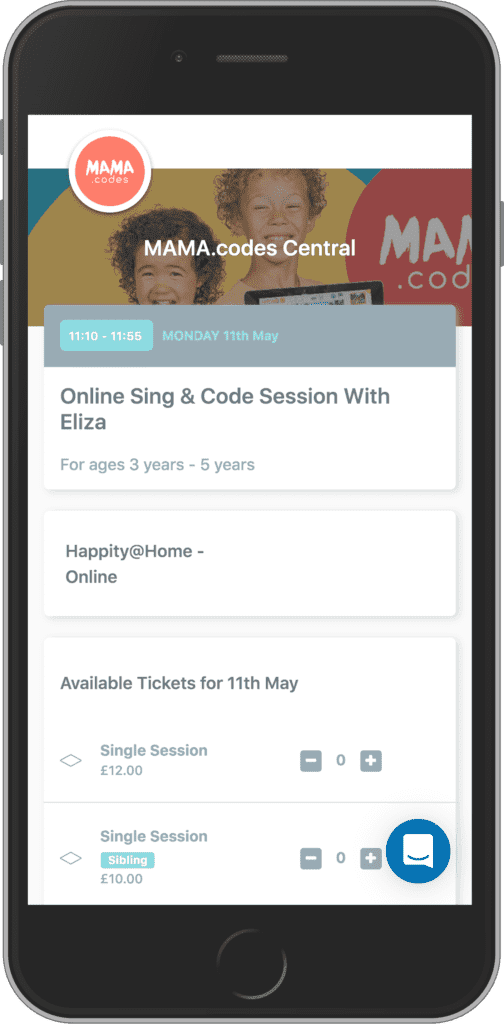 But, thanks to the tireless effort of all the baby and toddler class providers out there, and the extra amount of efforts that have come out of our team, Happity have been able to push their way through it. We've become the perfect alternative to Hoop, and as of 2022, we are being used by over 300,000 parents and 3,000 class providers, it's the UK's biggest platform for baby & toddler classes.
Happity offers a service that's similar to Hoop, helping parents to find and book children's classes through a fully integrated solution. But the difference is that Happity is specifically for the under-5s – and our philosophy is very different.
Changing the world, one baby class at a time.
Over the past 5 years, we've grown organically from the ground up as a small independent business. Created by an all-female team, we are proud to be something of a rarity in tech (a Zebra, rather than a Unicorn!). We are even prouder to be working with small businesses in a sector that's vital for the wellbeing of new mums. We've experienced new motherhood and suffered postnatal mental health issues and truly understand the important work you are doing for society. Baby classes are a lifeline for new mums.
Happity led the campaign for clear Covid guidance for baby & toddler classes throughout 2020. Our petition was signed by 15,000 class providers. We secured meetings with top Ministers and Government policymakers and presented research on the importance of baby classes. We gave evidence in Parliament on the impact of lockdown on new mums and their babies. Our breakthrough finally came in December 2020, when we secured new legislation for our sector. As a direct result of our campaign, parent & child classes were recognised on England's reopening roadmap in Spring 2021.
We've gotten to where we are because our guiding principle is 'do the right thing'. As a result, our user base has grown almost entirely by word of mouth – with class providers and parents recommending us to their friends and colleagues.
---
We are your biggest cheerleaders. Your partner. Your ally.
If you need help with reopening your classes safely, we have created a comprehensive guide on Covid secure procedures for baby & toddler classes (with a little helping hand from our community of over 2,000 baby class providers). If you are having issues with the official Gov guidance or legislation that needs to be fed back to Government, please contact us. You can find the operational guide here (it's free and you don't have to give us your email to get it) – and our Facebook community here (also free!).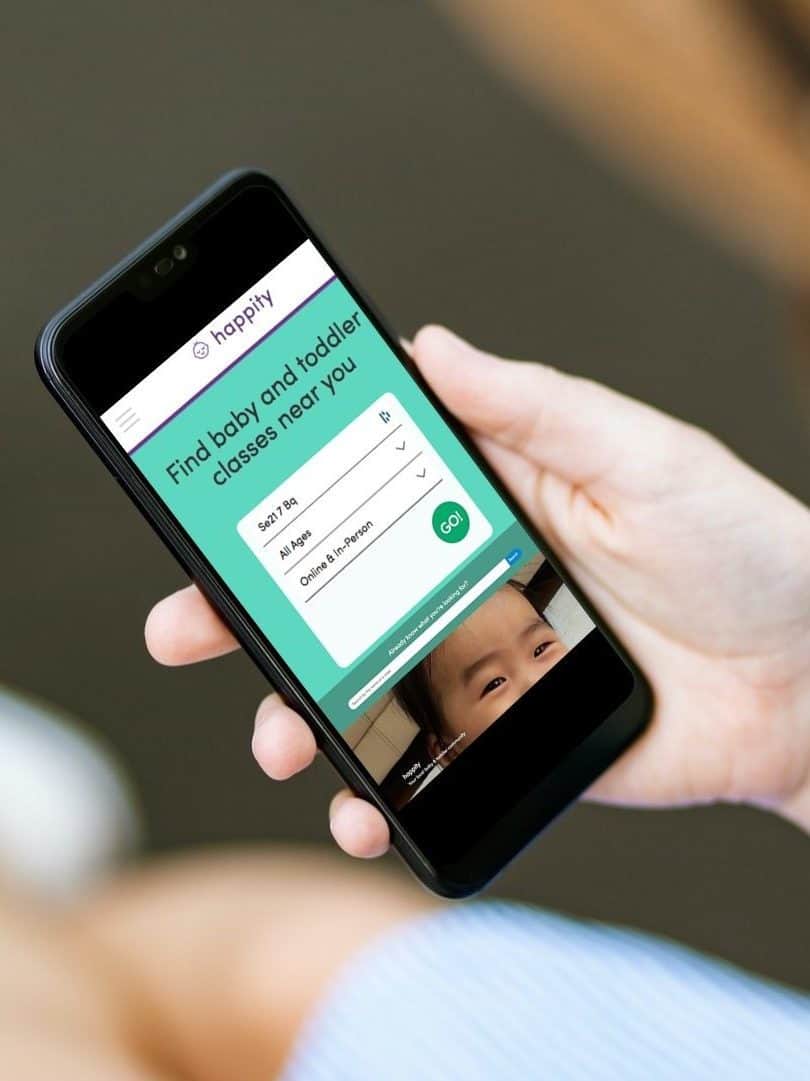 Over 300,000 parents trust Happity already.
Happity reached around 1 in 4 of new parents in its target demographic in 2019, and we are now accepting listings from all parts of the UK. In 2020, both the Evening Standard and The Independent picked us as one of their top parenting apps. 😊
Happity is both a fully-featured booking system and a discovery platform for parents. It is now UK-wide.
Unlike the Hoop app, Happity focuses specifically on classes for bumps, babies & toddlers – supporting a sector where there is a real social and community need. We help people through the difficult days of early parenthood, and have a deep understand of the challenges that face class providers in this sector. Our purpose is to build the technology that YOU would build if you could, to supercharge your business – help combat loneliness in new parents – and make a genuine difference in the world.
You can meet other small biz owners like you from all over the country in our online Facebook community for free, participate in discussions to create the features on Happity that you need, and join in with our wider campaigns to support mums.
Happity is tailor made for the baby and toddler sector – from sibling tickets, to pro-rated term tickets, and powerful search and mapping features so that parents can find exactly the right class for them.
Happity is here to help you grow your business with less effort, and more time for your family.
It's free to register.
… and it's only 2.5%+VAT commission on bookings.
Happity has taken a different approach from Hoop to encourage parents to commit to classes longer-term. We believe this supports their wellbeing, children, and local communities – and it's also better for your business too. Happity makes it easy to manage all the ticket types you need, and it's affordable to offer block or term tickets too. You can also easily view your sales reports, registers, and even share them with external teacher, so you don't have to worry about juggling spaces with another booking system. And when you're not running classes, you don't pay anything.
With all the features you'd expect of your main booking system, Happity is affordable – helping you to fill classes and save time.
---
You don't have to take bookings if you don't want to!
Many class providers in the under-5s sector prefer to run on a drop-in basis (at least pre-covid), or they are part of a larger franchise with it's own booking system – and that's OK with us. We've designed our model to support all types of organisations in the baby & toddler sector, so that mums and dads can always find something that meets their needs. 🙂
For classes which need an extra boost now and then, you can still access marketing services through Happity without taking bookings. Our Promoted Listings service runs like Google Ads on a pay as you go basis. It gets you at the top of Happity search results and into the weekly parent newsletter – no matter whether you take bookings with us or not.
For full transparency – if you wish to get the most out of Happity, we invite you to upgrade to a Members account for a small fee of just £45 INCLUDING Vat for a whole year. This funds our help desk and allows us to give you the support you need. It's optional, but up to 40% of class providers do choose to subscribe. This 'Patreon' style membership model makes Happity sustainable where Hoop wasn't – which means you can trust us to be around supporting you for the long haul.
(For charities, and CICs, we offer a special FREE membership package. Just let us know your details when you register!)
---
Here are some lovely things that class providers say about us! ❤️
"Listed with Happity and I've had 5 bookings in less than 24 hours! Absolutely thrilled!"
– Claire, Tappy Toes
"They are really good. Our area manager did months of research before deciding on them and we can't fault them. Any feedback we offer them too, they always act on."
– Happy Hands Club
"Happity team were amazing in helping class providers transition online. They offered technical support as well as lots of other practical advice. I wouldn't go virtual with Latino Bambino if it wasn't for them rooting for us and families. Very grateful to Happity!"
– Urska, Latino Bambino
"Thank you. From the bottom of my heart. What you and your team are doing is phenomenal."
– Victoria, We Are Footsteps
"It's been challenging and emotional for many. It could, however have been a much harder journey without you and your wonderful team."
– Nichola, Franchise owner
-And a big thanks to Cat from Little Folks Nursery Rhymes for the video message!
---
Happity might 'just' be another booking and marketing platform for baby & toddler classes, but we are so much more than that too.
Come join us on our mission to make life better for new parents and small business owners. Let's do this together. 😊
Much love!
Sara, Emily and the Happity Team x