Are you in the market for a new highchair but feeling overwhelmed by what to consider when purchasing one? We have all been there but don't panic and close down the hundreds of tabs filled with potential options: we are here to help! Finding the right highchair is key to making mealtimes an enjoyable experience for you and your little ones, especially when your little ones are being introduced to food.
Here are the main 5 things to think about when buying a new high chair.

1. Your Child's Safety
The last thing you want is to invest a chunk of money into what looks like a comfortable highchair, only to find it's wobbly or there's loose parts that could injure your baby. A high chair with a stable base and safety belt is key and helps give you peace of mind that your little one is safe in their new highchair (We don't want any tiny fingers getting stuck!)
2. Comfort
Do you ever go to a restaurant and find that you're constantly fidgeting because the seats are just too difficult to relax into? Well, it's the exact same for babies! Being comfortable in their highchair can help to reduce adverse behaviours during meal time such as squirming around in their chair, it may also result in less dinners ending up on the floor!
3. Make Sure You Buy A Highchair That's Adjustable
According to this article by Baby Centre, within the first 6 months your baby will roughly double their birth weight and grow by about 12cm in length! And their growth doesn't slow down that quickly following that.
Buying a highchair that adjusts with your fast-growing little one (They grow in the blink of an eye!) will save you a ton of money in the long run. And will save you figuring out where you're going to store your old highchairs too!
4. Ensure It's Mealtime-Proof And Easy To Clean
Watching your little one explore with food is great fun but it is messy business! Your baby will grab food with their bare hands, splat their hands in it, fling it around, and giggle excitedly all while doing it! It's cute. It's somewhat frustrating. And it does add work to your day when they do it.
An easy-to-clean highchair will help remove some of that excess mess stress and save you time too.
5. Back and footrest support
Your baby is doing a ton of growing and developing at these early stages, and you need to make sure that you are protecting your little one's posture at feeding times. The NHS recommends a 90-90-90 position for safe and efficient mealtimes, as seen in their super helpful leaflet here.
Plus, a good footrest may mean less getting kicked by little feed under the table. A savior for your little one, and for your knees!

Team Happity's Recommendation: Stokke
Stokke highchairs use high-quality and long-lasting materials, combined with grow-with-your-child functionality and timeless design. Their famous Tripp Trapp Chair in particular is a crowd favorite and ticks all the boxes. Well-loved for its unique adjustability, comfort and stable design.
The Tripp Trapp Chair is used by members of the Happity team. Here is what Vince from the Happity team has to say about it:
"We had heard great things about the Tripp Trapp and have grown to love it even more with our two boys. The fact that it's totally adjustable is a big win; our 4-year-old has been using the same chair (with different inserts) since he was 3 months and probably will use it until he's 10!
The NeBorn Set was great at making dinner more social for the baby, rather than sitting in a bouncer on the floor, they were elevated to the table. The chair itself can be easily cleaned but found the straps were tricky to get spotless.
The adjusting of the chair every few months requires an allen key and takes about 15 minutes to get it right. A small price to pay for a chair that will last 10 years plus. Highly recommend it."
Stokke Offer: For October and November while stocks last; Stokke are offering a free Baby Set if you buy a Tripp Trapp from them.
Find out more about the Tripp Trapp Chair on Stokke's website
Disclaimer: Stokke have paid a fee towards this post. This fee will go towards helping more parents find classes and support near them.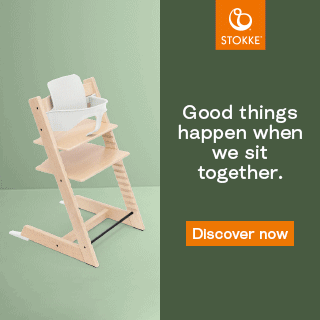 Want to get out and about, have fun with your baby or toddler, and meet other parents?
Search Happity to find everything that's happening for the under-5's in your local area – from music and singing classes, to messy play, arts and crafts, baby massage, gymnastics and more. Simply enter your postcode and child's age to search, and then book your spot in a few taps. Enjoy dedicated fun time with your little one, watch their skills develop, and make friends at the same time. Mums, dads, grandparents and carers will all find something to love!
If You Found This Post Useful, You May Also Like:
When your baby starts to develop their 5 senses
37 weird pregnancy cravings (that you possibly also had)!