From the Christmas Light Express to the North Pole breakfast – here are some magical Christmas traditions for toddlers that they'll love.
Once your toddler is at an age where they really start to 'get' Christmas you can start some family traditions. Traditions that will become part of your own family Christmas year after year. And ones that your toddler will look back on when they are older with fond memories.
Family traditions all add to the anticipation and the build-up to the big day. They create the magic and wonder of Christmas.
Watching the wonder of Christmas through your own child's eyes brings back so much of the excitement you too felt when you were younger.
Here are some of the new family traditions you might want to start as a family, all perfect for toddlers.
1. A special decoration each year as a new Christmas tradition for toddlers
A lovely family tradition to start is to make or buy a special decoration each year. There are a lot of different options out there! If you visit your local Christmas market, you're bound to come across a stall or two selling personalised Christmas decorations. Or, alternatively, you could make one yourself!
You can buy little snow globe baubles where you can insert a photo of your toddler. Or why not visit a pottery painting studio so that your toddler can decorate their own bauble?
Or get the glitter out and make some of our Easy Christmas Crafts for Toddlers.
2. Waiting for Father Christmas
Much of the magic of Christmas for little ones is waiting for Father Christmas to bring presents. There are so many lovely Santa traditions that you can start.
You might hang a "Santa stop here!" sign in the garden. Or put out milk and cookies for Santa – and a carrot for Rudolph, by the fireplace on Christmas Eve.
You could even draw around a large pair of shoes or wellies and cut out foot shapes from card. Then sprinkle flour or icing sugar (or fake snow) over the footprints. Once you take away the card you will be left with a footprint or two outlined in 'snow' as proof that Father Christmas really did arrive!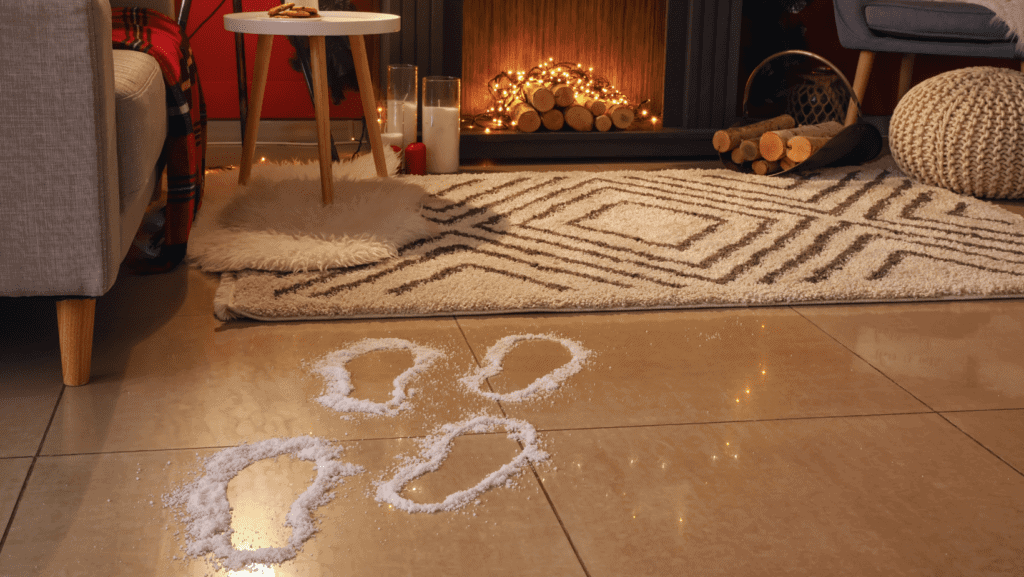 3. Christmas stories by the light of the tree
There are some brilliant Christmas classics out there for bedtime stories just fit for your babies, toddlers and children alike. Reading books in the run-up to the big day is a lovely Christmas tradition for toddlers. Pick out all of your favourites and enjoy the look of wonderment in their eyes!
One of the lovely Christmas traditions for toddlers to start is to pick 6 Christmassy stories, wrap them and place them under the tree. In the 6 days before Christmas, your child can unwrap a book and it can be their bedtime story.
You could also take them to a group that does group reading to feel the joy with other mums, dads and tots.
Check out some of the classes we list over on Happity here!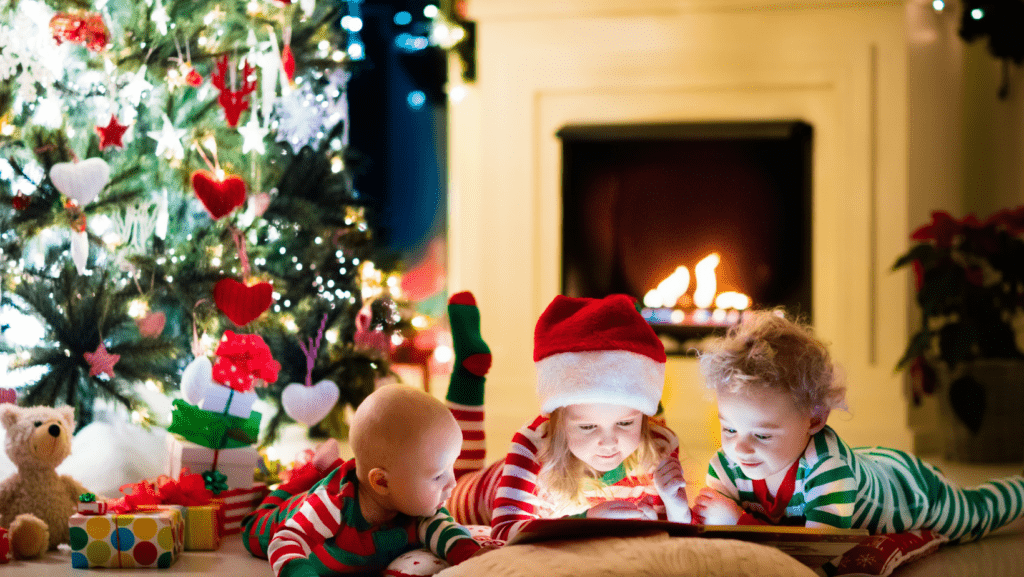 4. Make/buy a personalised stocking for your to create a new Christmas tradition for your toddler
Whether you're putting presents under the tree or filling a stocking -there's something heartwarming about having a personalised stocking for your little one that you will be able to bring out year after year. Whether you're buying one or making one -you won't regret getting a stocking for your toddler.
5. All Aboard The Christmas Light Express
There's nothing more magical than seeing lots of Christmas lights twinkling in the dark skies, in the run-up to Christmas. One late afternoon or early evening you could all go on a drive around your local neighbourhood to see the sparkly trees and lit up windows in the houses and gardens all around you.
You can make this experience even more exciting by making a ticket out of gold card and announcing to your toddler that they can step aboard the 'Christmas Light Express'. You could wear a Santa hat and decorate the inside of the car with tinsel. Throw in some yummy drinks and snacks that they can enjoy on the journey. This will build up the magic even more!
Team Happity have said across the board that it's one of their firm favourite Christmas traditions for toddlers – and older kids love it too!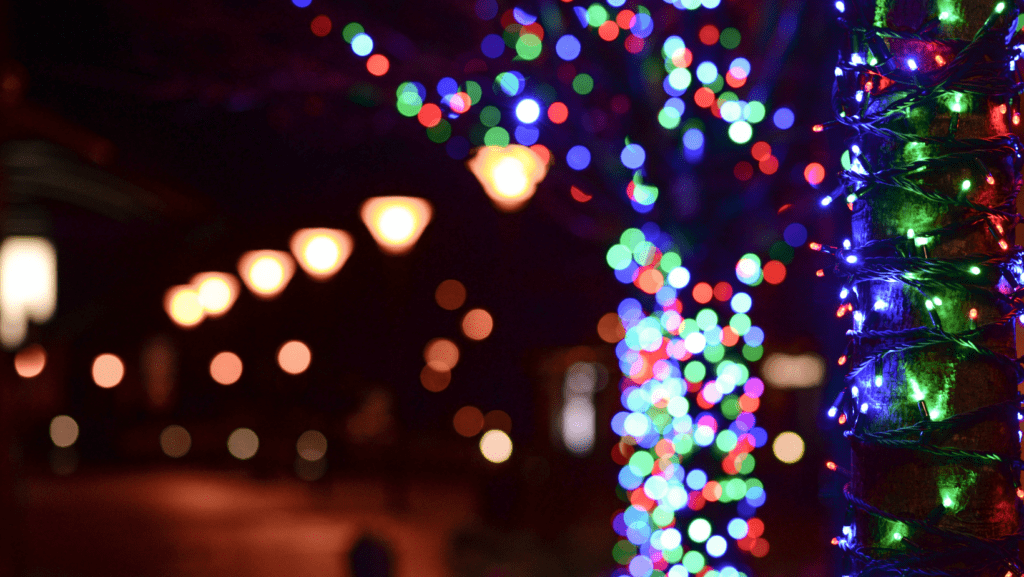 6. New Christmas tradition for toddlers: Visiting Santa's Grotto
There are many places where your toddler can go and see Father Christmas in his grotto. At some, they may even be able to see his reindeer too.
Grottos are pretty booked up this year but if you can get a slot it's totally worth it for that magical feeling of standing in Santa's Grotto and seeing your lovely little bundle of joy staring up at Father Christmas in wonder. You'll keep hold of the photo you take that day for far longer than you expect!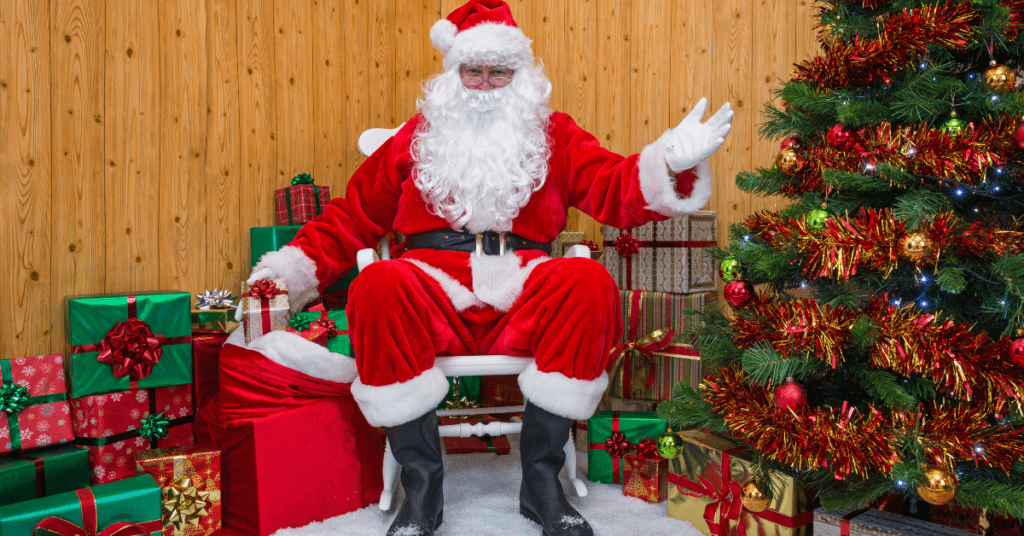 7. Advent calendar and a reverse advent calendar
Toddlers will love opening the doors of an advent calendar and finding out what's inside. At this age an advent calendar with pictures to reveal is perfect. It also helps your little one see how many days are left until Christmas. For them, the wait can seem to last forever!
Another idea to add to our list of Christmas traditions for toddlers to start is a reverse advent calendar. To make one you can stick four wine bottle holders together so you end up with a box with 24 sections. Use a pen to write numbers 1-24 on the sections. Each day your toddler can help you place one item into your reverse advent calendar. The idea is you fill your box with items and – when it is full – take it to a food bank or charity. It's a really nice way to teach little ones about the joy of giving and thinking of others at this time of the year.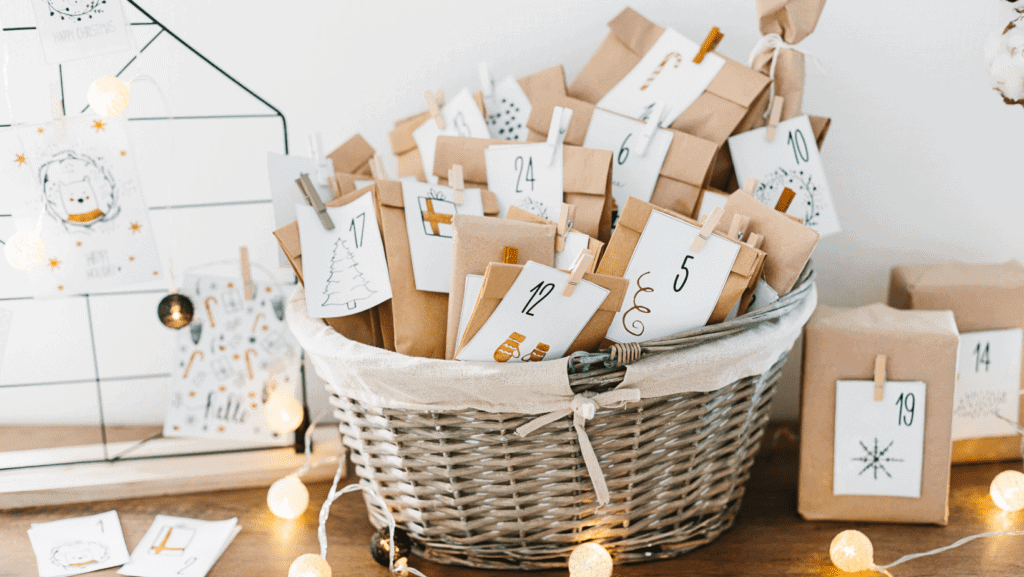 8. North Pole Breakfast as a new Christmas Tradition for toddlers
You might want to start Christmas day in a magical way with a North Pole Breakfast. You could make pancakes and use whipped cream and strawberries to turn them into Father Christmas and serve with a glass of milk or a hot chocolate. An exciting breakfast is a good way to refuel after your (no doubt) super early start to the day! And it makes a nice break before opening more presents or visiting Grandma.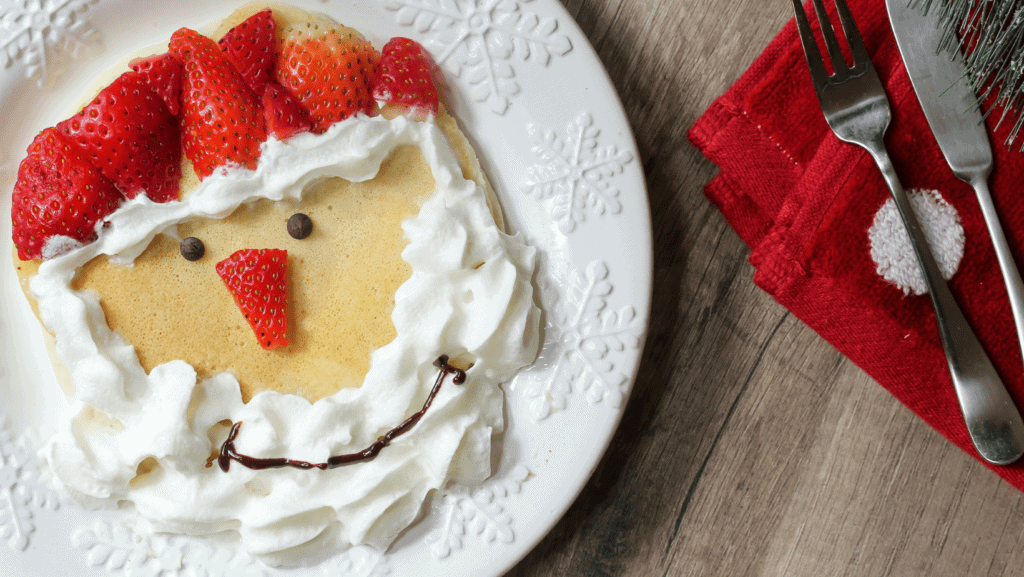 9. Snuggling up to watch a festive film
Christmas just doesn't feel like Christmas without enjoying some festive films. There are some lovely Christmassy animations that little ones will love. Here are just a few:
The Snowman
Trolls Holiday
Olaf's Frozen Adventure
The Snowman and the Snowdog
Arthur Christmas
There's nothing lovelier than putting your PJs on and watching a festive film with the Christmas tree lights twinkling.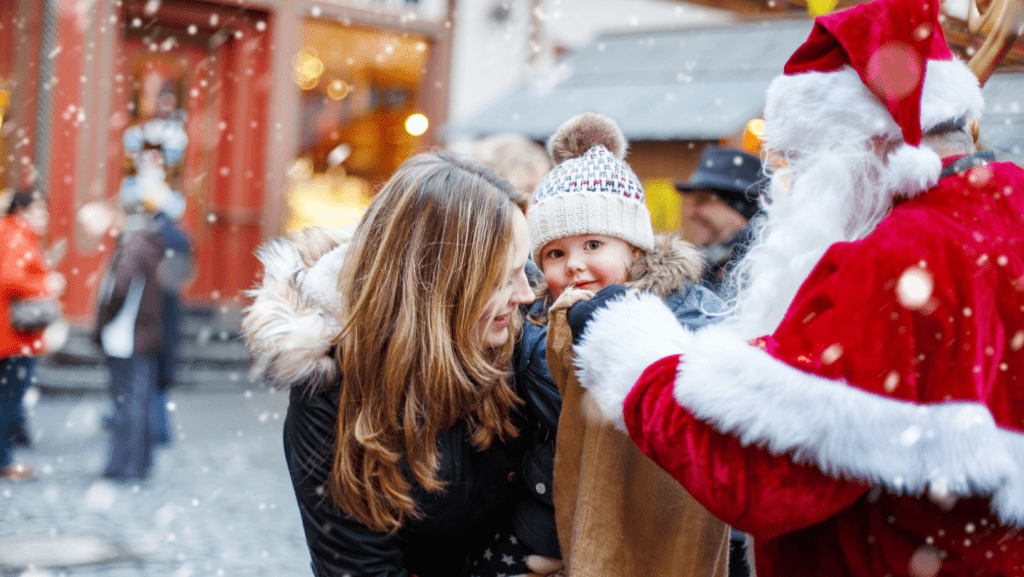 ---
We hope you enjoyed our list! If you want to see some Christmas content from us, our lovely parents and some fabulous classes, jump over to Instagram and check out the tag #HappityChristmas
From all of us at Happity, we wish you a Happy Holidays and hope that you have a wonderful time this Christmas season! 💝
If you liked this blog, you might also like:
Easy Christmas Crafts for Toddlers
How to cope at Christmas if you're feeling low