Sensory bins are an incredible way to introduce new textures and imaginative play for children. But for those with autism and sensory processing disorder, sensory bins can be used as a form of therapy. If you have no clue about how to make sensory bins, there are easy sensory bins to get you started!
When I first started doing sensory bins for my son with autism, I had no idea what to put in a sensory bin. So, my research began! When researching sensory bin activities, I kept a couple of things in mind:
I needed activities that introduced him to a variety of textures to desensitize him
I needed the sensory bin activities to be as easy as possible
With those two points in mind, I found plenty of easy sensory bins to get started!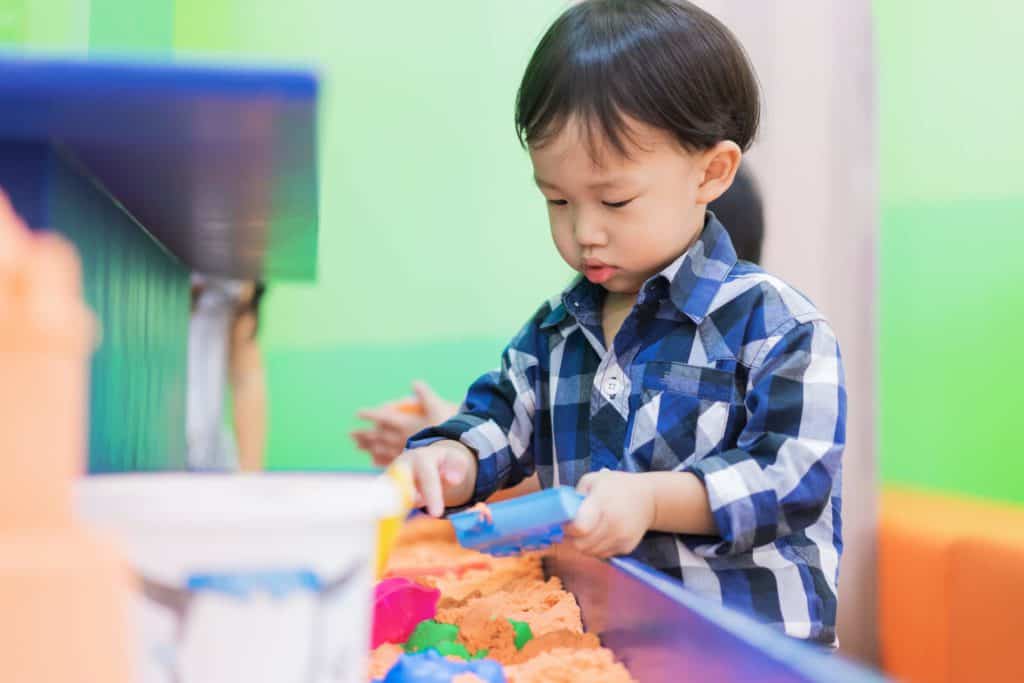 6 Easy Sensory Bins Activities for Toddlers
1. Dish Wash
For this sensory bin, take dish soap, water, and fill a plastic bin until the water is full of bubbles.
Then add in plastic utensils and dishware (the kind of play toys that come with a plastic kitchen set). Have your child "wash the dishes" with a scrub brush. You can even extend this sensory bin activity to include a drying station with dish towels and a drying rack next to the sensory "washing" bin.
This is an amazing sensory activity because it combines a sensory experience with household tasks to teach early responsibility.
2. Shredded Paper Bin
Simply take some old bills through a shred machine, then take the shredded paper and place it in a plastic bin. Now, get creative! You can add plastic animals, trucks, cars, cups, and more. Although this is a simple ingredient sensory bin, your child will need a significant amount of imagination to play.
3. Flour Pit
Flour makes a terrific dry ingredient to add to any sensory bin activity. But to make it as simple as possible, just pour a desired amount of flour into a bin. The amount you want depends on the size of the container you are using. However, there should be enough flour for your child to make small piles with it.
This sensory bin is called "flour pit" because along with flour a child can use small construction vehicles for playing at a "construction site."
4. Letter Hunt and Numbers Game
Letter hunt involves searching through a sensory bin for plastic letters or alphabet letters from a wooden puzzle. All you need to do is fill a container bin with one of the following dry ingredients:
Rice
Dry black beans
Dry kidney beans
Dry garbanzo beans
Dry bowtie pasta
You can even color the rice ahead of time with food coloring, but always make sure the rice is completely dry before using it for a sensory activity. This sensory bin can also be used with plastic numbers as well to create a counting game. Simply have your child retrieve the numbers in order. For younger children, you can add the numbers 1 through 5 or 1 through 10 to make it simpler to complete the activity.
While you can add visual stimulation with colored rice, the dry ingredients also make noise when moved to create hearing stimulation as well.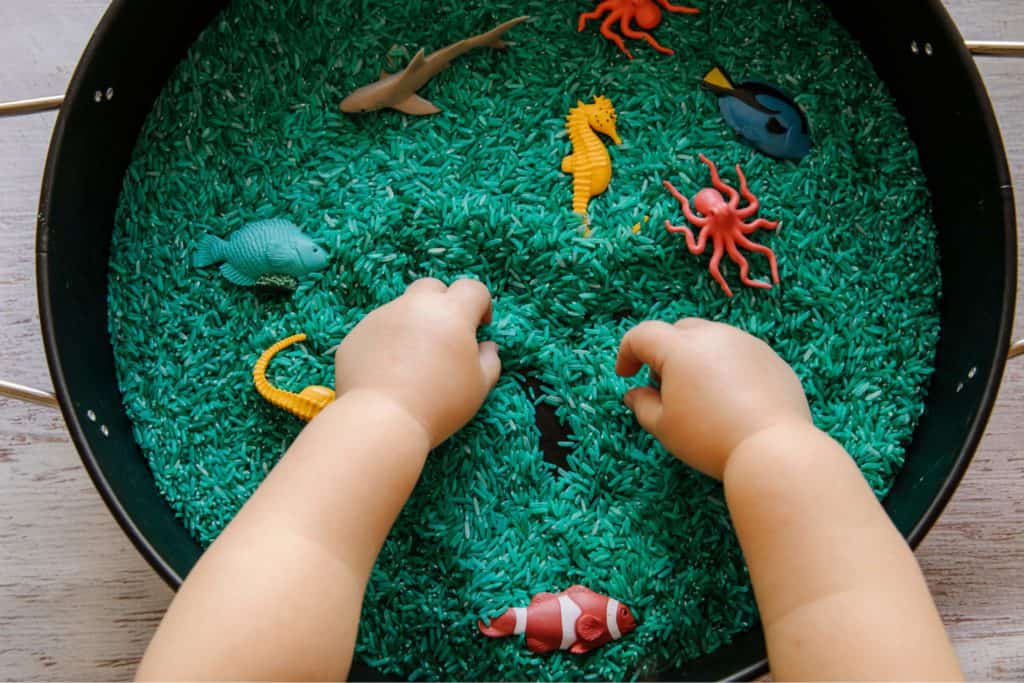 5.     Scoop and Pour
By the name of the sensory bin, you have probably guessed the activity. Just add a dry ingredient like black beans, then give your child large plastic spoons and ladles along with an ice cube tray. Now all your child must do is scoop and pour the black beans into the ice cube tray. This same sensory activity can also be done with your child's favorite cereal and it will be completely taste-safe!
6.     Smashing!
Another activity involving cereal is the sensory bin "smashing." This activity is great for children needing help with fine motor skills or for kids who like destroying things! Take cereal like Cheerios or Fruit Loops and supply your child with a small plastic or metal hammer. Place the cereal into a plastic bin and instruct your child to smash each circle one at a time.
My son loves this activity because he likes destroying things to see how they are put together.
This is an activity that allows him to appropriately destroy something. Plus, all the mess is contained in a shallow plastic container which makes for easy cleanup!
Your Child's Interests Provide Fun Sensory Experience
When you start learning about sensory bins, there is an overwhelming amount of information out there! However, once you learn some key ingredients, add in your own creativity, and your child's interests' sensory bins become a fun multisensory experience for both you and your child.
If you have a child on the autism spectrum or he/she has sensory processing disorder, sensory bins are an easy way to slowly expose your child to new sensory stimulation to lessen an overreaction to sensory input. Plus, providing these experiences gives your child a healthy outlet to help manage anxiousness related to external sensory input.
About the Author
Liz Talton is a mom of 2 wonderful boys, has a Masters in Psychology, and is a creator of Pitter Patter Baby Feet – a blog dedicated to everything related to motherhood. She also advocates for her son with autism; that is why she joined content creators at Speech Blubs, a speech therapy at-home app that helps many kids with speech difficulties produce first words and sounds.