Breastfeeding always looks easy on paper, but a lot of new mums do end up looking for tips and advice as it's not quite as straight forward as it looks in the films or on social media. Breastfeeding can have highs and lows. But, Anita (who has also previously submitted a This Is Family story here) has been kind enough to share with us and our audience some of her best breastfeeding tips for new mums.
We hope that they prove to be useful!
---
At 10:56am on the 20th March last year, the anaesthetist (who'd somehow kept me calm through major surgery), uttered the words, "are you ready to meet your baby?" Minutes later, my beautiful daughter was born, fiercely suckling her tiny fists.
As I lay cuddling her in recovery, I felt completely overwhelmed with love for this little person I'd made. It was easy to see why this precious skin to skin time was known as the 'golden hour.' She latched on effortlessly and fed solidly for an hour and a half. Almost a year later, I am still breastfeeding; a journey that has been full of ups and downs, but has ultimately proven to be immensely rewarding.
I wanted to share twelve breastfeeding tips for new mums. They are things I've learned (one for every month), for anyone about to embark on this chapter. It goes without saying I'm not a professional and this shouldn't replace expert advice. But I hope it provides some guidance, as many of them are things I wish I'd known myself!
1. Learn As Much As You Can During Pregnancy.
Most couples and new mums enrol in antenatal classes (I loved my Bump & Baby course, even though lockdown moved it online) to find out some breastfeeding tips, but these might only include one session on the topic of feeding. The sad reality is most postnatal wards are incredibly busy places with midwives stretched beyond their resources (which isn't their fault at all!). It just meant I left the hospital as clueless as when I went in. Aside from a perfunctory glance at my latch, I didn't really receive any support. So consider reading books or looking for courses online that focus specifically on infant feeding. Instagram proved a really valuable source of information for me too. I particularly love @olivia_lactation_consultant, who makes the science very accessible.
2. Be Open To All Kinds Of Feeding.
I found combination feeding (formula and breastmilk) in the first few months a sanity saver. When I was struggling to cope with the marathon cluster feeding sessions, it meant my husband could help and I used the time to catch up on much-needed rest.
It saddens me now that at the time I felt like a failure for sending my husband to buy that bottle of ready-made formula. It was 10:30pm and I'd been pinned to the sofa all day. I needed a break for my own wellbeing and there was absolutely nothing wrong with that. It doesn't have to be all or nothing. I'd recommend Lucy Ruddle's book 'Mixed Feeding' for an unbiased and really thorough guide on how to do combi feeding successfully, whilst protecting your milk supply. Lucy is an IBCLC (International Board Certified Lactation Consultant) and passionate about supporting parents, however they choose to feed their babies. At around 2 months, I moved to exclusive breastfeeding but many choose to continue with combi feeding.
3. Practise Different Breastfeeding Positions And Find The One That Works For You.
Cradle hold is lovely but can be sore when recovering from a caesarean. Side-lying feeding is hands-free and means you can rest. This is still my preferred way to settle my own baby to sleep at bedtime and for some naps. You don't necessarily need a feeding pillow so save your pennies and see how you get on before investing! I found mine quite cumbersome, although I know they can work brilliantly for others.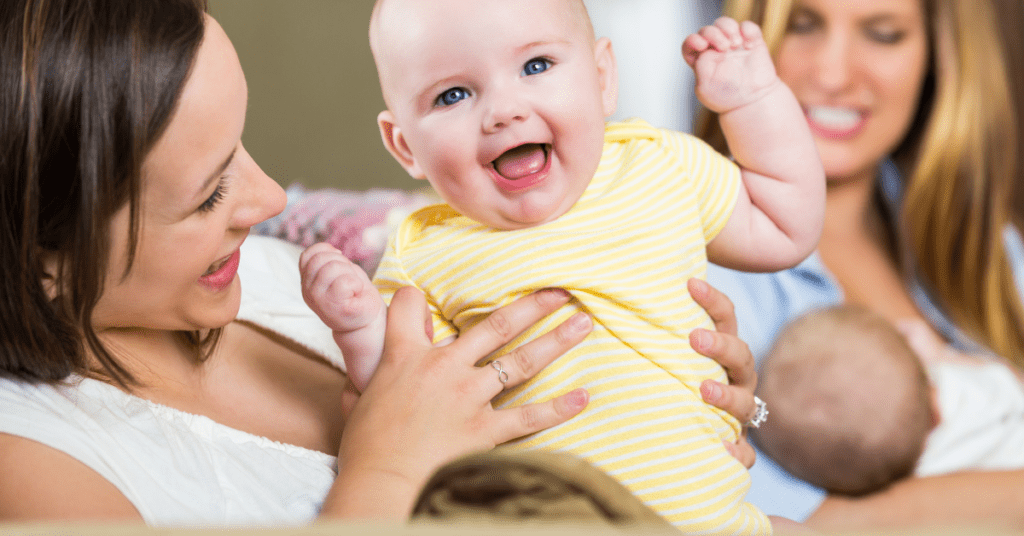 4. Find A Support Group
Both La Leche League and my Local Council Service have been so helpful for me. My LLL group has been a place to gather twice a month and gain invaluable advice from others. As time passed, I also found it incredibly rewarding to be able to offer my own advice to those in the earlier stages of their journey. There is such camaraderie in a room full of people breastfeeding. These meetings are free to attend and run by trained volunteers but rely on donations to keep going so it's always appreciated when attendees take out a membership. There are also several helplines you can call, including the NCT feeding line or the National Breastfeeding helpline. I can't recommend them highly enough.
5. You Don't Have To Replace Your Wardrobe!
One great tip is to simply wear a vest and another top over it to keep your tummy warm. But if you did want to invest in a top to help make breastfeeding easier when out and about, I'd recommend the B shirt. If you feel self-conscious, these are a great option as they have a flap you pull up to feed. I have a plain black vest, which goes with pretty much everything. A friend recently recommended the Facebook page 'Can I Breastfeed In It? UK' as another place for sartorial feeding advice.
6. Try To Get Comfortable Feeding In Public If You Can.
It's totally normal! Your baby is just eating. My first alfresco feed was on a sweltering June day following a turdnado of epic proportions. And it was still lovely! Just so you know, nobody can stop you from breastfeeding in public unless you are causing a literal obstruction! Get to know your legal rights.
7. Breastfeeding Can Be A Quick, Reliable And Comforting Way To Get Your Baby To Sleep.
If you find transfers tricky, you can feed to sleep lying down and then enjoy lots of lovely snuggles afterwards. Perfect! In fact, I'd go so far as to say it's become my solution to everything. Jabs? Boob. Poorly? Boob. Bumped their head while cruising? You've guessed it: boob!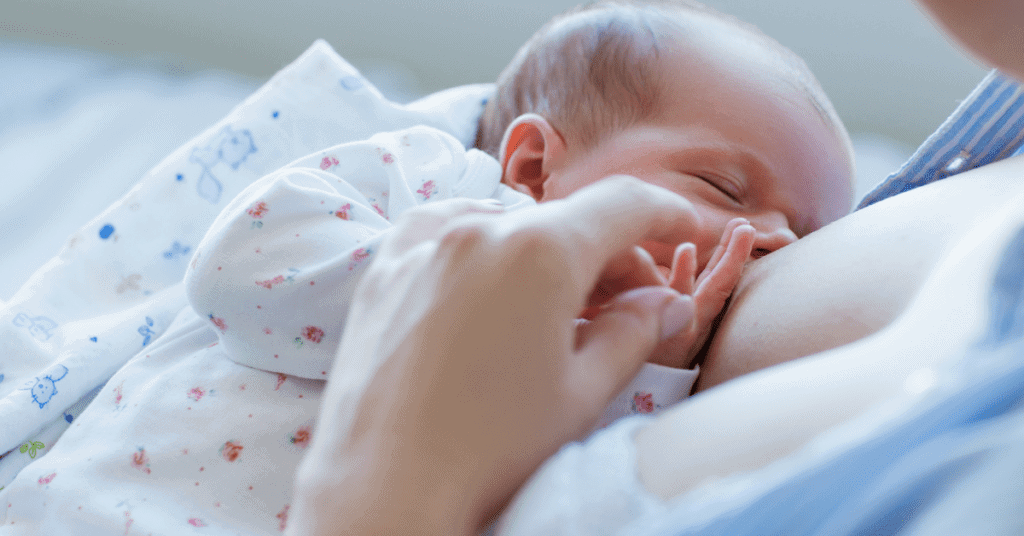 8. It Is Totally Possible To Continue Breastfeeding As A New Mum When You Return To Work, If You Choose To.
I have opted to continue as a way to help my baby cope with the transition to childcare and to help us reconnect after being separated during the day. If you choose to partially or totally wean, make sure you do this gradually to avoid blocked ducts or Mastitis. Again, the support services I mentioned earlier are a great resource if you're not sure how best to approach this.
9. You Don't Have To Buy A Pump Before Your Baby Is Born.
First, give yourself time to see how breastfeeding is going and whether you actually need one. Mine packed up after two uses (a very expensive £90!). I also struggled with a strong physical aversion to the sensation of an electric pump. I had much better success with a manual pump (I liked the Medela). Try to practise hand expressing too, which can be a good way to gently relieve some discomfort when needed.
10. Eat, Eat, Eat!
Breastfeeding can use up to 700 calories a day. It's really important to replace all of that lost energy and nourish your body. In the fourth trimester, it's helpful to set yourself up with a little snack and drinks station and your favourite boxed set. A great excuse to eat lots of Hobnobs, as if you needed one! If you have a partner, this is a good way for them to help out too. Those first few weeks are all about your recovery so accept any help that's offered. You're literally keeping a human alive and that's no mean feat!
11. Don't Get Bogged Down With Feeding Schedules.
Breastfeeding is likely to be affected by a variety of factors. Illness, starting solids, the climate and periods of separation are all things that can impact the duration and amount of feeding. There'll be times it feels like they'll never unlatch and others they're distracted by everything in sight. Trust in your baby's ability to communicate their needs and learn to recognise their unique cues. That said, if you do have genuine concerns, there's no harm in seeking expert advice.
12. Be Proud. Breastfeeding As A New Mum Isn't Easy!
Finally, however long you choose to breastfeed, celebrate and be proud of yourself. Whether you exclusively breastfeed from day one, combi-feed or switch to formula after a week, every single feed counts.
---
Thanks for these brilliant breastfeeding tips for new mums, Anita! These are incredibly useful, and we hope that everyone who has read through the post has managed to gain some insight, or picked up a few useful ideas to try out for themselves.
---
If You Liked This Post, You Might Also Like:
Sleep? I Hardly Know Her (Also written by Anita!)