Happity has been recognised by British businesswoman, Jacqueline Gold CBE and won prestigious #WOW Award! 🥇🎉👏
We were selected as one of three winners selected by Jacqueline  in her 'Women on Wednesday' – a competition launched in 2011 to celebrate the growing number of UK female entrepreneurs and businesswomen.
About #WOW
#WOW takes place every week and is run through Jacqueline's Twitter page.
The competition rewards female entrepreneurs who demonstrate good business acumen and who have spotted a gap in the market that meets the consumer's needs. Jacqueline also looks for strong brand values; quality products and services; well-designed websites; and the potential to grow and succeed.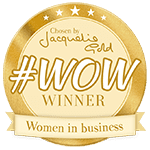 "I chose Happity as this week's #WOW winner because it provides a really user friendly platform to connect parents throughout London," says Jacqueline. "It can be tough for any parent to find activities and clubs your children can attend in the local community, but Happity has found a solution with their dynamic app.  As a mum to an eight-year old, I know I would've appreciated this app when my daughter was younger and I am confident Happity will continue to grow throughout London." 
"For me, #WOW is all about inspiring and celebrating female entrepreneurs. My vision is for women in the UK to come together, celebrate their strengths, skills and fantastic businesses, and do all that they can to inspire other women to realise their potential.The WOW community is a fantastic network which offers female entrepreneurs the opportunity to share advice, support each other, trade and most importantly celebrate their successes!"
Discover more about Women on Wednesday.
What to expect from Happity in 2018
2018 is going to be an exciting year for Happity. We've already expanded to take listings from across London and we don't intend to stop there. Our team of remote and flexibly-working parents is growing, as are our ambitions!
If you know a great activity that's not listed, let us know. 👶🎼🎭🏐🎾🎨
Visit Happity to find baby and toddler classes and activities near you, or subscribe to receive our newsletter.
If you'd like to be the first to hear about opportunities to join our team, sign up to our jobs list.