A childhood friend of mine, Emma, who is a wife, mumma, dramatherapist and home-maker has created an amazing A-Z of ideas to keep littlies entertained during lockdown. She has been posting them on her personal Facebook but knowing how much we all need inspiration I asked if she would be happy for us to share them as posts and a blog and she was more than happy to!
She describes this A-Z as "finding was to keep my little ones (and myself) entertained during lockdown; currently through creating an alphabet themed activity box for my daughter to find each morning."
We are posting a new letters on our Instagram and Facebook throughout the week, which then get added here as they are posted!
I think you'll agree with us, that they are amazing inspiration and she has done a great job!
If you try any of them out, please do tag us on Instagram (@happity.co.uk) and we will share! We would love to see you and your littlies having a great time! Do tag Emma too (@nesting.in.hope)!
Over to Emma!
Hi I'm Emma; Wife, Mumma of two and Dramatherapist.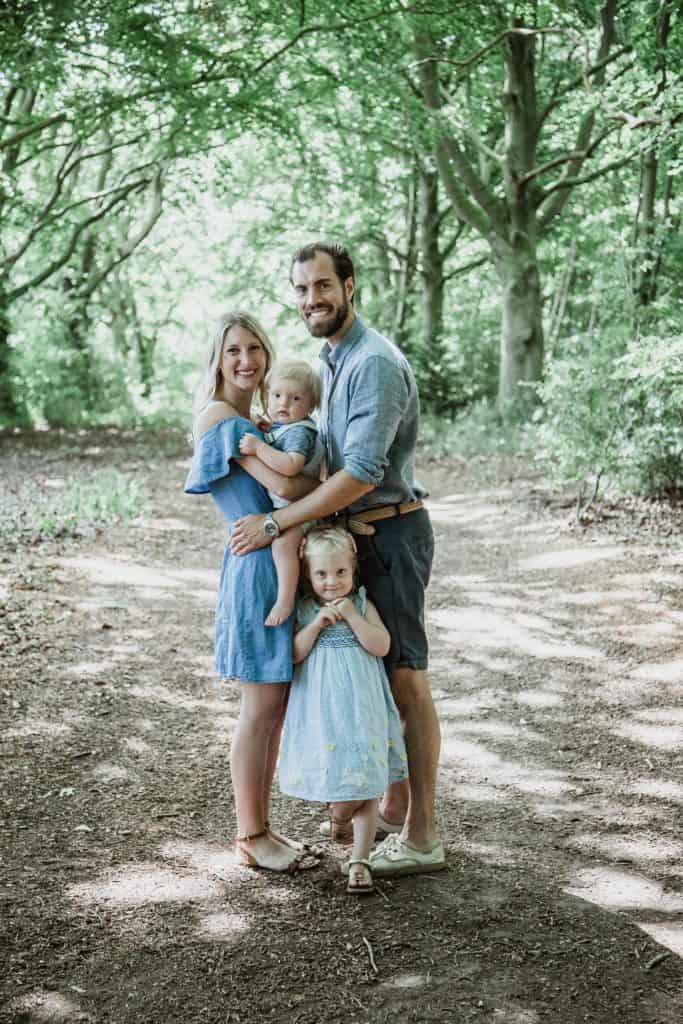 As a Dramatherapist (creative form of psychotherapy) I work primarily with children, adolescents and their families, specialising in trauma, attachment and emotional/behavioural issues.
I've been on maternity leave for the past year and as lockdown set in and my own mum became poorly with Covid19 I found motivation levels to parent took a dip. Creating a daily alphabet themed activity box for my daughter to find each morning helped install a spark back into parenting and made life at home easier. I hope some of these ideas help you too.
Tips:

1) Choose activities that you want to do so you're excited to do it with your child. Some parents love arts and crafts, for others getting messy is a parenting nightmare. Make it fit you and your family.

2) If your child chooses to disengage in an activity you spent time preparing try doing it yourself, I promise it will leave you feeling less downhearted, give you a boost and might even convince your little one it's more fun than they originally thought.
A is for…
Painting APPLES with icing & decorating them with sprinkles ready for snack time, doing APPLE paint printing, having a paper AEROPLANE competition in the garden whilst dressed up as one ourselves, making an AMBULANCE to play in & saving lots of peoples lives (including a toy helicopter and a duck doorstop) and going on an ANT hunt on our daily walk, which started with one very ANGRY toddler who had been refused an icecream & ended with an ANNOYED mum as the toddler then woke the baby!
To see the next letter hot off the press, head to Instagram or Facebook!
B is for…
Celebrating my goddaughter's BIRTHDAY over Zoom, painting with BUBBLE-wrap, making BUNNY shaped BISCUITS & a BIRD feeder out of a coconut & (my favourite of the week) an indoor BEAR Hunt using the story as inspiration for some imaginative and sensory role play.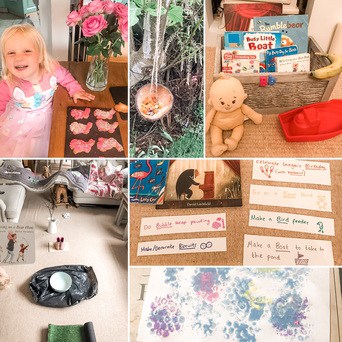 C is for…
Changing the names of a game to 'what's the time Mr CROCODILE', writing/posting a CARD to someone we miss, growing CRESS in emotion themed egg cups we had painted, making a paper chain CATERPILLAR, pretending to build a CASTLE to live in & then packing our bag to go pretend CAMPING.
@nesting.in.hope
#DailyABCbox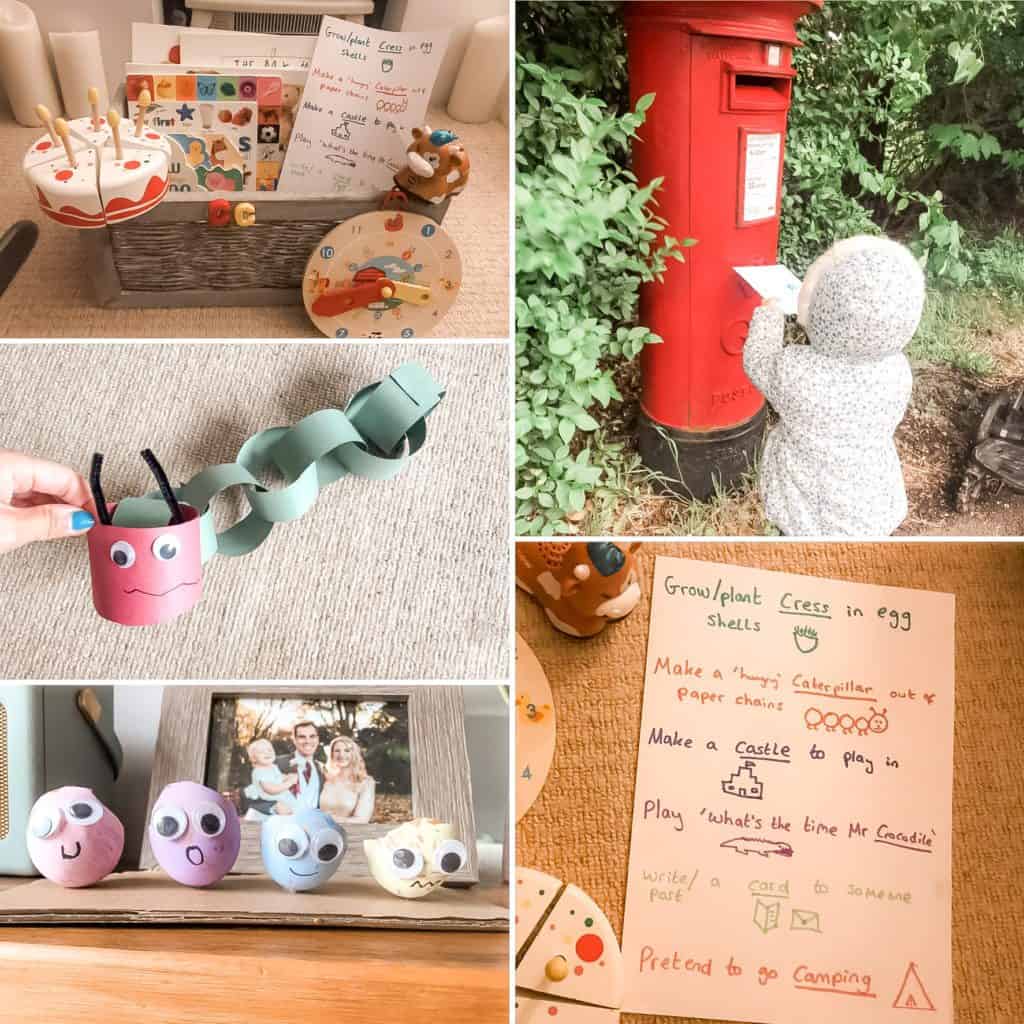 D is for …
Helping Mummy lead a DRAMATHERAPY Zoom session, DANCE competitions, DRAGON craft, playing DOCTORS with teddies, hiding toy dinosaurs around the house for a DINOSAUR hunt & squeezing in DAISY chain making once the rain stopped.
@nesting.in.hope
#dailyABCbox
#alphabetbox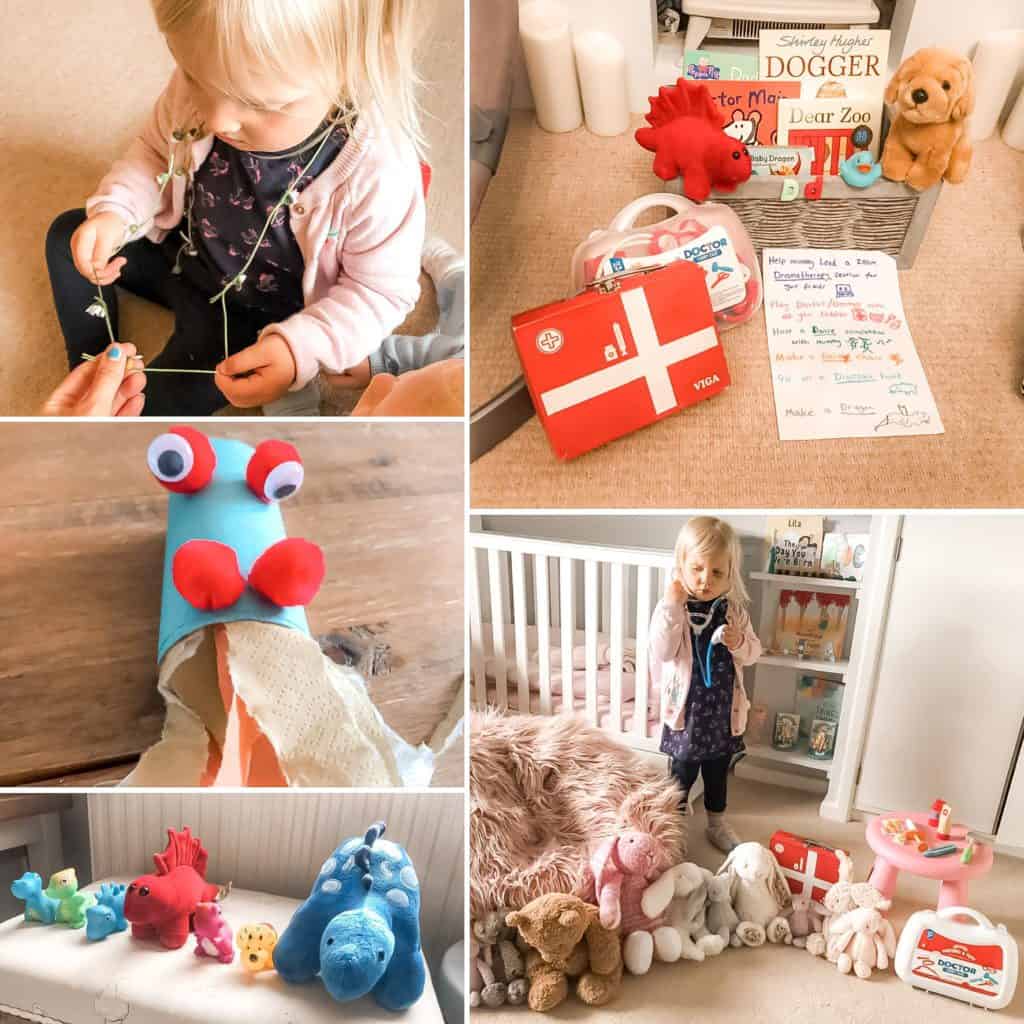 E –
F –
G –
H –
I –
J –
K –
L –
M –
N –
O –
P –
Q –
R –
S –
T –
U –
V –
W –
X –
Y –
Z –