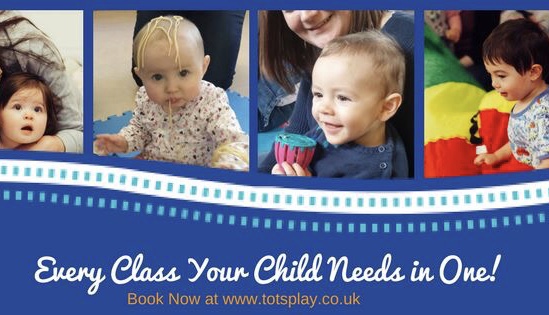 BABY DEVELOPMENT COURSE
Course gives new parents a range of skills & activity ideas to aid development
Fixed course dates
0 months - 6 months
Book with Happity
£60.00
miles from
NB: This event MUST be booked in advance. No drop-ins.
Description
A Strong Foundation for Growth and Development Tots Play's Baby Development course is designed especially for our youngest babies, and provides new parents with a range of skills and activity ideas to give your baby a head start in life.
The 6 week course includes:
Baby Massage – a simple routine to help you calm, connect and communicate with your baby. Includes specific strokes to help relieve colic and digestive problems.
Baby Yoga – stretches, poses and movements to both stimulate and soothe baby, and a great way to have fun together.
Baby Sign Language – how to start using signs to aid communication with your baby.
Effective Ways To Use Songs and Rhymes – introducing the benefits of music and movement.
Play Activities to Boost Sensory and Body Awareness – using a variety of everyday items to aid learning.
Tummy Time Techniques – why tummy time is important and how to make it more effective and fun.
Cuddles, Smiles, Bubbles and Lots of Fun!
Classes run for around 50 minutes and are friendly and relaxed, with a maximum of ten babies (plus mum or dad!) per course. To ensure you get the most out of the course you will receive a full colour workbook, giving details of all the techniques and activity ideas covered at each session, plus background information on each of the topics.
You will also receive a Free Music Download containing a selection of the songs used during the course and a bottle of massage oil so that you can practice both massage and yoga at home with your little one, and get other family members involved.
The course is also a great way to meet other mums and babies, and sets the foundation for the ongoing Tots Play Baby and Toddler Play Programme.
Booking info & prices
Prices
6 Week Baby Development Course: £60.00
Booking info & prices
Prices
6 Week Baby Development Course: £60.00
Upcoming dates
Sun Mon Tues Wed Thu Fri Sat
1 2 3 4 5 6 7 8 9 10 11 12 13 14 15 16 17 18 19 20 21 22 23 24 25 26 27 28 29 30 31